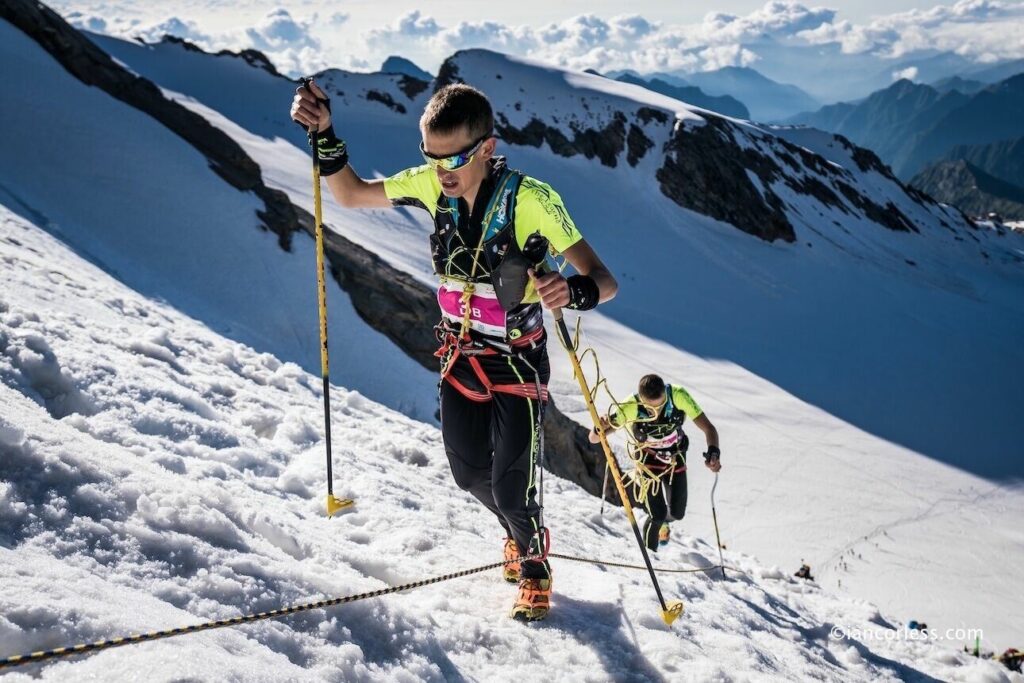 Alagna Valsesia (Piedmont). The highest race in Europe is back in the Italian Alps, the birth place of skyrunning where it all began in 1993.
The successful 2018 relaunch saw 300 world class athletes from 23 countries retrace the original course to the summit of Monte Rosa at 4,554m altitude.
This unique event in true skyrunning style traverses moraine, snow fields and glaciers for 35 kilometres with a gruelling 7,000m ascent and descent. The athletes race in teams of two, roped together for safety.
Once again top athletes, international skyrunningstars and ski mountaineering champions will line up for the race of the century in an attempt to beat the standing records established in 1994 by Fabio Meraldi (4h24') and Gisella Bendotti (5h34').
Come join us!
ACCOMODATION MONTE ROSA SKYMARATHON
21/22 JUNE 2019
ACCOMMODATON PACKAGES
Valsesia is waiting for you! The race organisers are pleased to offer you two special packages designed to make your stay in the land of the Walser people a memorable experience.
WELLNESS
A package for those looking for comfort and relaxation before and after the race.
– Single bed in a twin room on a sharing basis, dinner and breakfast with access to the Wellness Centre
– Cost per night with dinner and breakfast included: € 75 per person
Selected hotels:
WALSER
This package is designed for those who would like to get to know all that Alagna and Riva Valdobbia have to offer.
– Single bed on a sharing basis in a hotel or apartment. Dinner and breakfast will be in a nearby restaurant just a few steps away (the name will be communicated at check in)
– Cost per night with dinner and breakfast included: € 65 per person
Selected hotels:
A GIFT FOR YOU! If you wish to spend more than one night, you'll get special conditions, for you and those travelling with you! Ask your host for further details!
FURTHER INFORMATION ABOUT ACCOMODATION
The hotel or apartment can be either in Alagna or Riva Valdobbia: Select your preferences listed on visitmonterosa.com and alagna.it websites.
Athletes staying in Riva Valdobbia will be transported to Alagna on race morning and back in the afternoon.
FRIDAY JUNE 21:
The room will be available from 12 am on June 21 until  10.30 am on June 22.
A shower will be available in the hotel/apartment until 5 pm on June 22
Dinner 7.30 – 8.30 pm.
SATURDAY, JUNE 22
4.30 am – 5.15 am Breakfast for Monte Rosa SkyMarathon athletes
5.00 am Athletes' transport from Riva Valdobbia to Alagna
6.00 am Breakfast for AMAVK2 athletes
7.00 – 8.00 am Athletes' transport from Riva Valdobbia to Alagna
From 11.00 am Athletes' transport to Riva Valdobbia
Showers are available in the accommodation until 5 pm 
ATTENTION! The same conditions apply in the event of postponement of the race from June 22 to June 23.
Bookings available at visitmonterosa.com and www.alagna.it