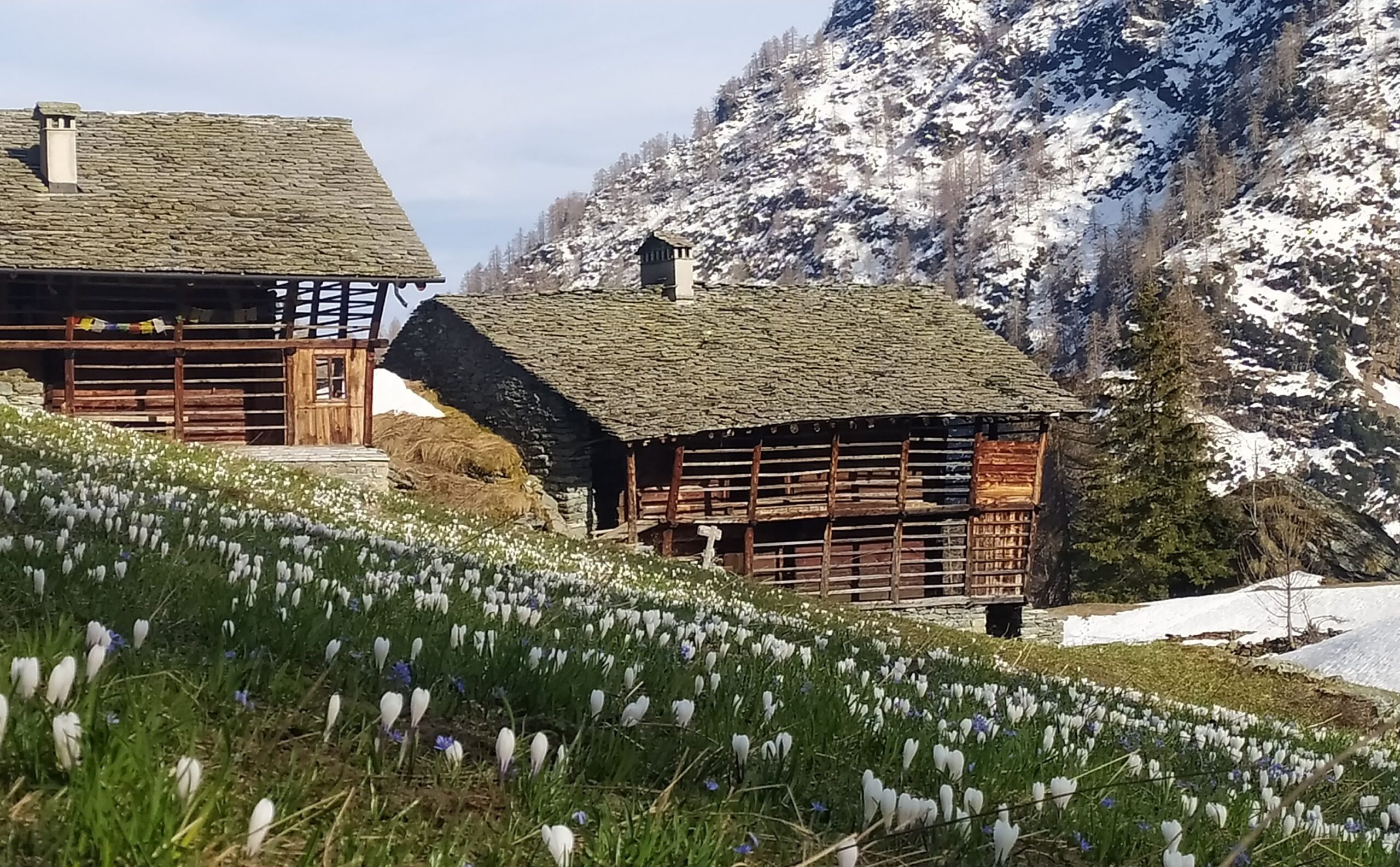 Spring has finally come and Alagna is ready to reveal her highest territories and secrets.
It's the beginning of the ski touring season: on the 5th of March Gnifetti Hut is going to open as well as Rifugio Mantova on the 23rd.
For the ones who's dream is to overlook the glacier and his 4000m,  the Monterosa's refuges are the place to be, reachable with  skins starting from Indren.
Ski can still be a part of the game with his "Firn" snow (soft on the top, hard at the bottom) loved by every free-rider.
Days start to get longer and you'll have more time on your hand to discover the territory,
there are many trails to get started, one of the most remarkable is the one leading to Otro valley, where you can admire the ancient Walser houses.
A few steps away from this path, you'll find the manganese mine, still used during the second World War.
The Sesia river that was in hibernation, awakes, with the start of the fishing season:
you can buy daily permit at the playground  in Ponte hamlet. (Il Baretto +39 328 9089493)
Walser's museum opens every Thursday morning, Lorena will take you on a journey to the past, showing to you the 1628 house, discovring their way of living and the tradition.  (Booking is required  +39 347 1377404)
Even if you don't ski, you can take the lifts up towards Pianalunga or Salati pass, where sun shines until 6p.m. and you will lose your sight overlooking the Po' valley.
At the end of the day, it's finally time for a little relax time, if you want to know more about Alagna's Spa, click here.
Lifts
Time table:
Until the 6th of March and every weekend: from 8.00 to 17.00
From Monday to Friday: from 8.30 to 17.
Mob. 0163 92292
You can either buy ski passes at the office, or on the website.
Prices are dynamic, it means that it keeps changing and it's different one day to another, based on the inflow.
To access the lift you must have the Green Pass certificate, just after checking his validity you can enter.
If you buy them on-line, you have to tick a box that certificate you have the Green pass, sample checking will be made.
ZTL
Be careful transiting the central street of Alagna!
Electronic control is active from 7a.m. to 12a.m. and from 13p.m. to 17.30p.m.
Ski school
Our ski schools offers plenty of opportunities; private, group or technical lessons! Suitable for every level!
Ski Academy +39 346 7581096
Alagna Ski School  +39 349 4684270
Oxigen ski  +39 328 6386220
Valsesia FreeLine  +39 329 9810819
Indoor Climbing
Open every Saturday from 18p.m. to 20p.m., at a price of 5€ per person, the maximum capacity is 14 people.
If you are willing to have a private lesson, please contact 345 835738 for booking.
If you want to reach Alagna with public transport, click here!
From  Milano or Torino, you can take the train to Novara or Vercelli.
From Vercelli you then take the ATAP 50 line to Alagna, from Novara there is Baranzelli service.
On Sunday night there is a direct bus from Alagna to Milano Lampugnano departing at 17,25.