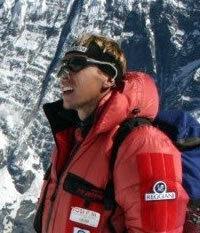 Right guys, no more chit chatting. My name is Christian Gobbi, with an "H", mind you. Christian Gobbi, born in Borgosesia in Cascinone, province of Vercelli, 2nd June 1970 (Repubblic day for those who don't know).
I became an alpine guide, well, an aspiring alpine guide, because I told my parents to enroll me for a mountain guide course. God knows what my mum thought, but there I was, with skiis on my feet, a couple of ice picks in my hand and a 20kg back pack hanging on my shoulders. It was the surprise of my life. You won't believe it, but I actually liked skiing with a group of friends so much, that I decided to try Telemark skiing. I have improved even if I am continuously being told the exact opposite ( I really don't understand), but I'm talking too much!
If you are interested in going skiing with good company IN and OFF piste, maybe with a little powder, which is always appreciated and a few snack and drink breaks after jumping over crevices here and there! Call me and we can organize some outings together (if I don't answer, you'll find me at the bar).
If you prefer a swim with a great barbecue at the river, you know, just to relax after an ascent to the top of Monterosa to the highest situated refuge in Europe, it's better to wait for the warmer summer season. Either way, my number is still the same (I might have changed bars, though!).
After all this fatigue, in my free time, I travel around the world looking for fun: Norway-California-Nevada-Utah-Arizona-Costa Rica-Mexico-Cuba-Santo Domingo-Thailand-Egypt-Morocco-Turkey-Greece, and all over Italy (in Sicily they make delicious Cassata).
All this leaves me very little time for poetry lessons and choir practice in the church San Giuseppe, but you can't do everything! Now I must leave, because it's Thursday and I'm late for poker night with the boys at the bar. You know the drill, gossip, some beer, 2 or 3 insults, a good brawl, you know, the usual stuff!
p.s Other than Italian, I also speak a little English!
Do you need a ski guide? fill the form, we'll reply you immediately