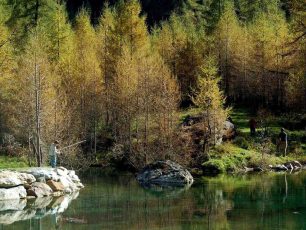 It is said that fishing in Valsesia is a sure guarantee of an extraordinary experience… Could it be due to the diversity of the territory, the beauty of the valley and its numerous reserves? Along the river's trajectory towards the valley, the melting waters of the Sesia glacier on Monte Rosa, are joined by those of its tributaries, creating a unique river for all water sports. Runs , waterfalls, gorges and pools alternate in the fishing itineraries , a fisherman's paradise with innumerable corners of unspoilt nature, immersed in silence and cradled only by the sound of the water.
The Valsesian Sportfishing Society of Varallo, has for almost a century now, been the concessionaire of the waters of the Sesia, and provides for its protection, increase of the fish heritage and surveillance.
Its jurisdiction extends from the Ponte della Pietà in the Municipality of Quarona to the sources of the Sesia and includes all the tributaries and alpine lakes. It is a modern incubation plant, which produces five million specimens a year, and guaranteeing a vast reservoir for sowing brown trout fry destined for the global restocking of the concession waters.
Some curiosities about fly fishing
The technique used in fly fishing
This technique represents the tradition of fishing in Valsesia. It implies a perfect understanding between fisherman, nature, the seasons and the territory. "Valsesiana fly fishing" is a world in which fishermen take care of and study every single detail: the season, the hatching of insects, the color and transparency of the water to create perfect silk fly hackles in various colors from wild bird feathers to attract the prey.
Valsesian fly fishing
Valsesian fly fishing is the result of a set of spontaneous and harmonious gestures, all aimed at making the fly hackles seem as natural as possible to the fish. It is an art, where the fisherman, using a fixed rod, intends to find the right harmony, in a succession of soft and elegant arm and hand movements, to carefully place the flies on the water, which to the fish must seem to have fallen from the sky, transported by the current, lazily drowned, hopping and elusive, just like mayflies. .
Sorry, no holiday packages were found