Monte Rosa from Alagna Valsesia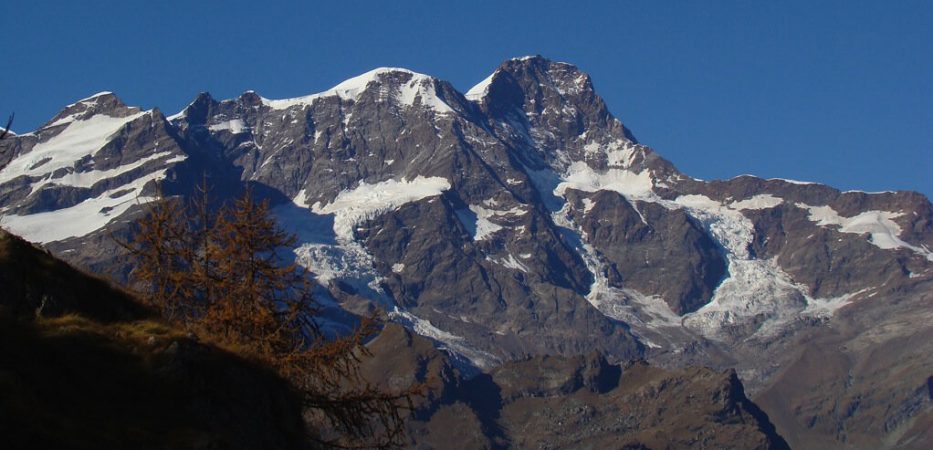 By length and importance, Mont Rosa is second in the mountainous chain of the Alps and is the highest in Switzerland. It is situated in the Pennine Alps and it extends into Italian territory into the communes of Alagna Valsesia, Gressoney La Trinitè, Gressoney Saint Jean, Macugnaga and Ayas-Champoluc and into the Swiss communes of Saas Almagell and Zermatt. The highest summit is Punta Dufour at 4.634 meters.
In 1983, Don Erminio Ragazza wrote " Alagna and Mont Rosa are an inseparable duo". But you cannot see Mont Rosa from Alagna. Its view is blocked by Corni di Stoful, but its majestic Southern wall is clearly seen in Riva. Mont Rosa is the historic principle and continuity of the two communes and above-all, the origins of the future of Valsesia, headed by the ancient Pietre Gemelle.
Known throughout the centuries by various names and appearing on ancient documents as Nelkron or Nelikron: crown or Monte Silvio which is perhaps a change from the German name, Silbner (silver); as Mont Pan, in honour of the god Pane and as Griessus mons and Gletcher, German terms meaning glacier. And it is the very ice that gave its name of today. Rosa originates from the Longobardic term Hrosa, whence Roise, Roises and Royses, which means Mountain of Ice. The oldest document where the name Rosa appears, dates back to 1377. On many XVII and XVIII century papers the name appears as Biosson, the Bioso of Leandro Alberti and the Monboso of Leonardo who defined it: where "the air is mysterious and the sun here is much more luminous than on the lower plains"
Do you want to find the best accommodation at the foot of Monte Rosa?
---
---
You will find the best price and you will make a careful choice for an ethical and sustainable tourism.