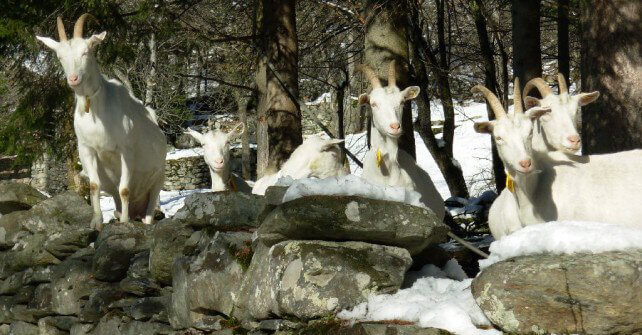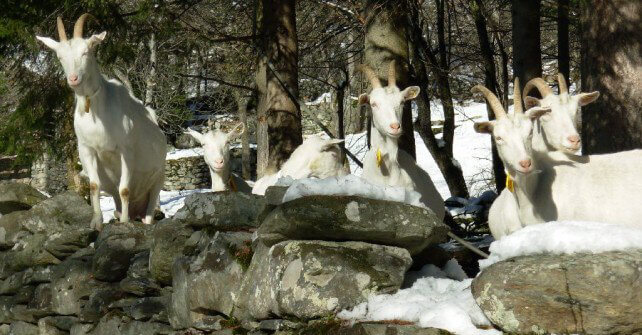 Welcome to Fattoria le Beline!
The company was founded by Anna and Marco in November 2002 with 11 Saanen goats and today they have 40 goats, 2 bovines and 1 horse. The goats give birth between December and the beginning of February and from this period until the end of October or the beginning of November, they are milked twice a day. The milk, produced so abundantly, is prepared on the farm where it is possible to buy it either pasteurized or raw.
Since spring 2008 they have also been producing natural yoghurt (Capryò), without added preservatives or additives and sold in 200 and 330gr jars and in 1lt bottles.
They also produce fresh and seasoned cheeses and coagulated cheese both lactic and curdled and are sold in various weights from 300gr to amount in kilo.
It is possible to visit the farm anytime during the year, announcing your intention in advance with a ph. call.
During the spring and summer months (the best period both for weather conditions and to observe the most important activities of the animals) you can see the does being milked, the young, exuberant kids in their prime, the pastures of the adults goats and you can observe their social behaviour and have information about their origins and characteristics of their breed.
During the autumn period, and in the weeks preceding the births, the outings are sporadic, while during winter, walks are limited due to weather conditions.
Normally the farm can be reached on foot as it is about 300 meters from the parking area. The dirt road is for cars only.