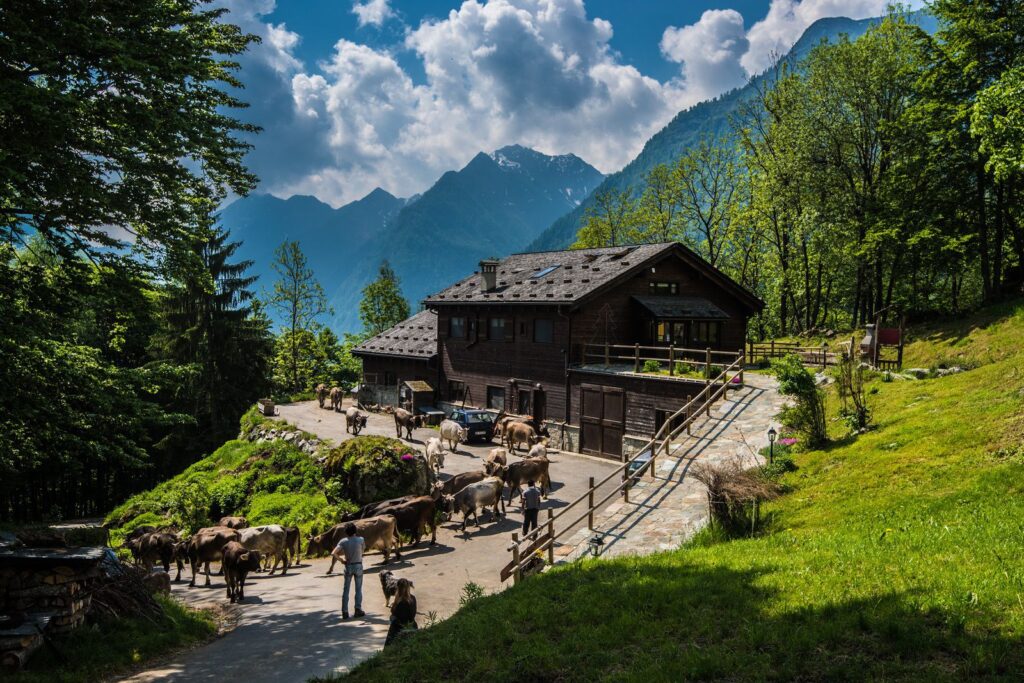 The Muretto's Farm is the passion of Vittorino, Pier, Francesco, Azzurra and Loris. At the Farm are reared dairy cows "as in the past", producing good and genuine milk.
The cows of the Farm are living between the meadow and the forest in a little hamlet built in the 14 century, called Rusa. The stable where they are living is a new building in wood and stones, but the cows are there from generations, daughters of the daughters, and they are a little piece of Alagna Valsesia history, guarantee a soft connection between the Walser past and the Touristy present.During the summer months they stay at the pastures in the Alta Valsesia Natural National Park, between the mount at the bottom of the Monterosa mountain.
The Muretto's Farm give hospitality to dairy cows, calfs, goats, rabbit, hens, cocks, often big litter of sheep dog and the Queen of the farm, Sabina, a beautiful haflinger horse.
The farm produce: milk, toma cheese (dairy cheese), butter, ricotta cheese, goat cheese, cream cheese, biological dung, eggs.
– Milk
– Toma cheese (dairy cheese)
– Butter
– Ricotta cheese
– Goat cheese – Cream cheese
– Biological dung
– Eggs
The products are sold at the Latteria, located in the centre of Alagna, between the post office and the newsstand.
Do you want to adopt a cow? Read more regarding the curious proposal of the farm  Click here!