The ski school Alagna, founded in 1965, has a staff of 18 teachers including many alpine guides. A new generation of young sparkling, funny and very well prepared teachers are the flagship of the ski specials in Alagna!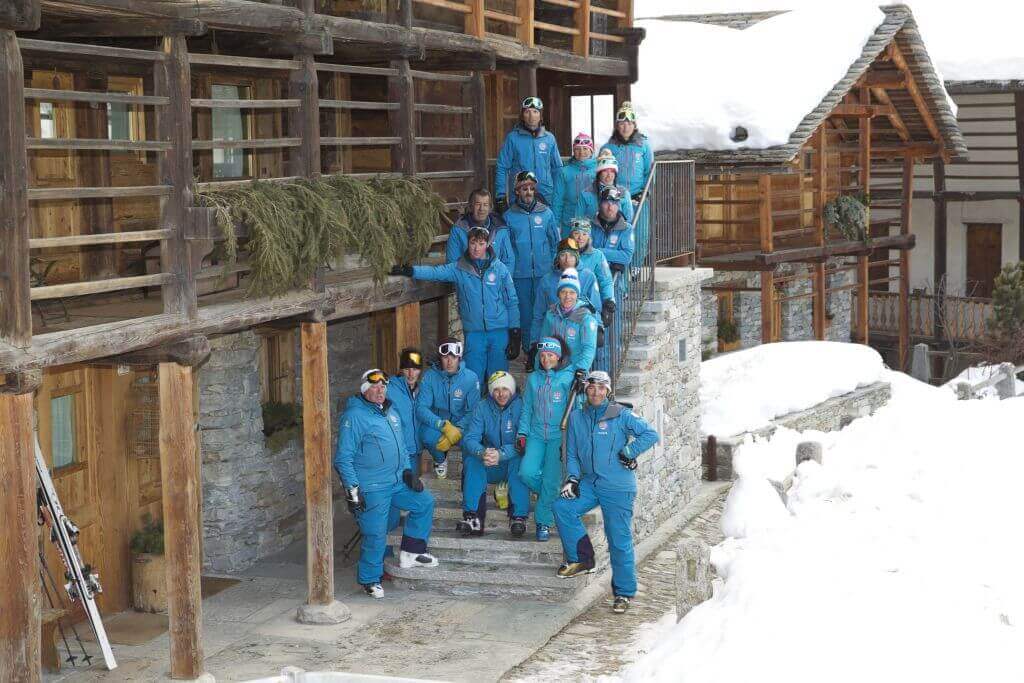 Fun and safe telemark skiing, carving, freeride and downhill skiing for beginners and experts alike are the mission of Pico, Toti, Mao, Tiziana, Daiana, Corinne and Bamby and their colleagues.
The ski school operates on the Monterosa ski area and on the pitch of  Wold. The choice should be made according to the capacities of each skier.
Wold is a must for absolute beginners, great fun for the kids (and moms can stay on the terrace of the bar to watch their kids skiing), and it's the perfect place for collective beginners. Monterosa Ski with its 180 km of slopes and breathtaking views, is the reason why you want to learn to ski with us!
INFO
Prices

Private Lessons
1 ora (55′) x 1 skier 35.00 €
+ 10€ per added skier

Group lessons at Wold for children and beginners:
2.5 hour per day 25.00 € per person

Group Lessons in the MonterosaSki Week end and holidays:
3 hours, morning or afternoon 30,00 € per person (min 5 skiers)
Whole day (7 hours) with stop for lunch 50,00 € per person (min 5 skiers)

Group Lessons in the MonterosaSki weekdays:
4 hours,morning 250,00 € per person from monday to Friday (min 3 skiers)

Daily excursions for skiers, snowboarders and telemarkers in the Monterosaski area: groups of max 4 people 330 €, groups of max 7 people 350 €

Where to book lessons

Write us and be sure to book your lesson in time: [email protected]
When you are in Alagna
ski school office near Wold lifts
8.45- 14.45 only week end and holidays
mobile (+39) 349 4684270

ski school office in Alagna Centre
Piazza A. Grober,1
4 - 6 pm closed on Wednesday
mobile (+39) 349 4684270
Are you in here for freerideing?????????
Learn with the ski instructors fun and safety in the freeride paradise of Alagna and Monterosaski. Rely on the professionals of the mountain to do your holiday a superb holiday
call us now! +39 0163 922993
or write
INFO & BOOKING