Sleeping in Alagna in a B&B is a fantastic experience. A bed and breakfast is in fact the perfect choice if you want to have fun and at the same time regenerate your spirit and your body. In a B&B you have the right balance between independence, relaxation and comfort. There are no limits either in summer or in winter, as happens for example, at camp sites or some mountain refuges that are closed during the coldest season. For this reason a B&B is the most popular choice for a very different target market, from young families with small children to retired elderly couples. And this is also why we have decided to publish a complete guide to the best bed and breakfasts in Alagna and Valsesia, certain that we can satisfy even the most demanding clients with a selection of facilities that meet the modern expectations of tourists. All you have to do is just take a look at our list and pack your bags!
1) AGRITURISMO ALAGNA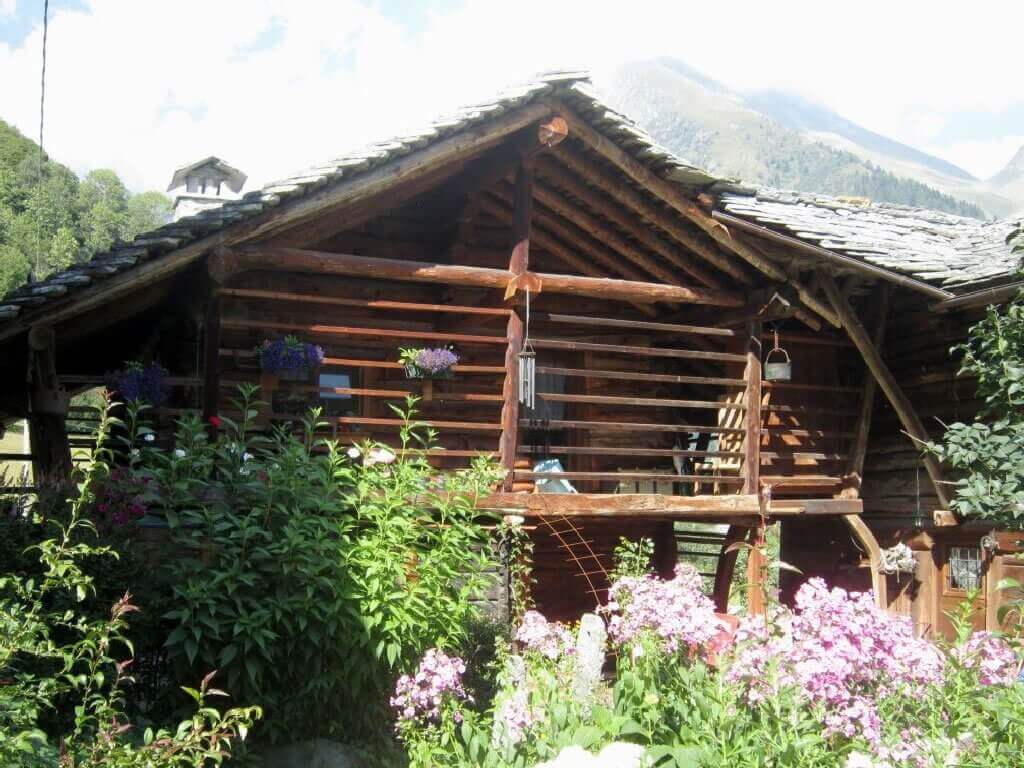 Not considered your classic B&B, but it is a place that can also offer an overnight stay in "bed & breakfast" style. Immersed in a landscape of beech trees and meadows, the agriturismo is surrounded by greenery and silence. The only sounds are the bellowing of the cows and the bleating of the goats that live in the stable below. That's right, because the Alagna farmhouse welcomes tourists and animals in a simple, but warm atmosphere, offering amongst other things food products produced on the farm. In short, a place to be discovered and enjoyed!
Visit the Agriturism Alagna farm holiday webpage and book your holiday online!
2) ZIMMER CASA PRATI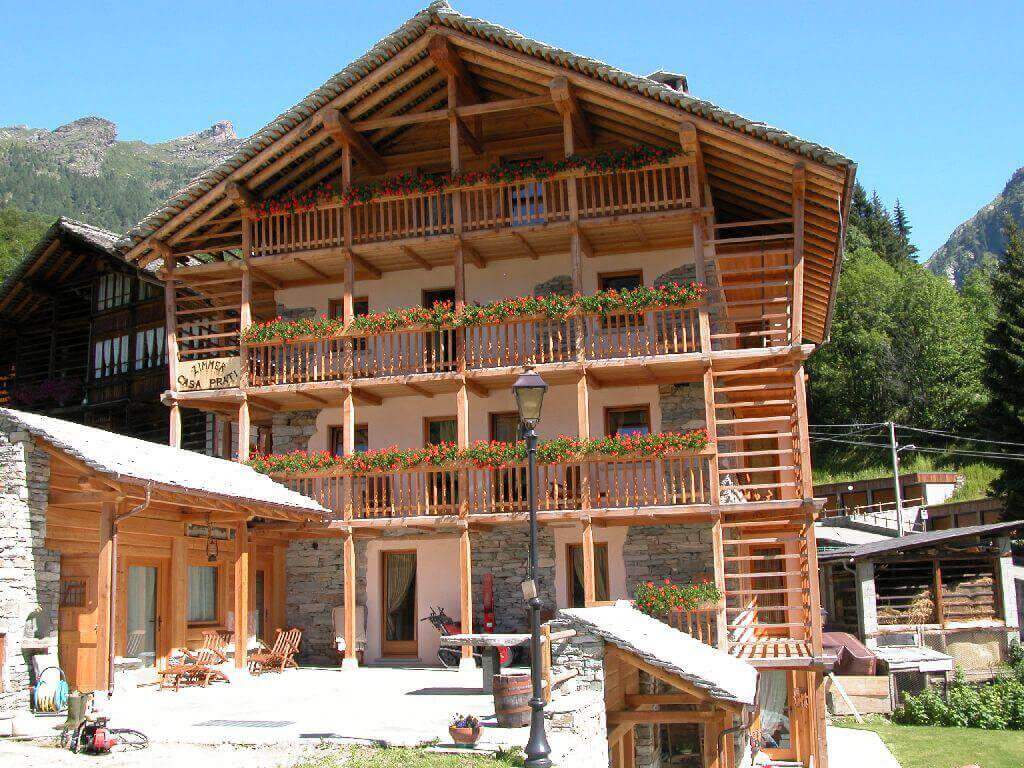 This structure is called Zimmer Casa Prati and it was converted into a B&B. As the name suggests, it is a real house located in the homonymous hamlet Casa Prati, in the municipality of Alagna-Valsesia. The zimmer, in addition to the bright and comfortable rooms, offers free access to the wellness center that has a sauna, bio sauna, steam bath, emotional showers and lounge area. What's more, this structure, like Agriturismo Alagna, is only a stone's throw from the ski slopes, 500 meters from the ski lifts to be precise! It is an oasis of peace in pure Walser style, B&B formula, free WiFi, private parking and many other services!
Visit the Zimmer Casa Prati webpage and book your room online!
3) B&B L'ARIA DI CASA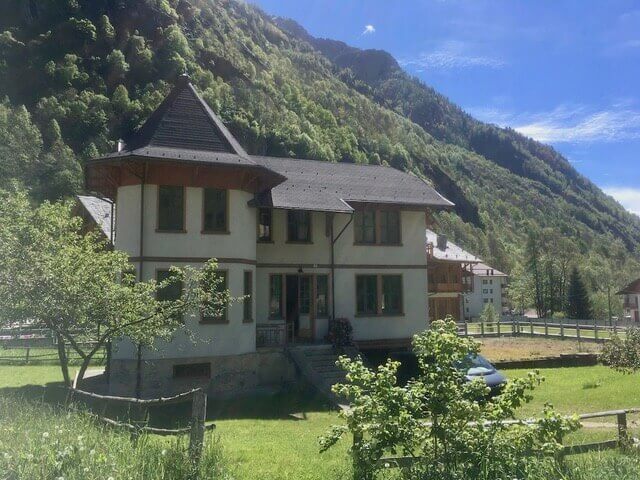 Laura and Loris, the owners of this splendid B&B, are ready to pamper couples, friends and families visiting Alagna, for a vacation of a few days or a couple of weeks on the slopes of the majestic Monte Rosa. This is a very particular villa, dating back to 1923 and was built in the belle époque style. Aria Di Casa overlooks the main street 300 meters from the town center and 500 meters from the skilifts. It is an extraordinary example of an atypical B&B, definitely not your usual style but not exclusive either. Curious to find out more?
Visit the B&B L'Aria di Casa webpage and book your stay now!
4) B&B TRE ALBERI LIBERI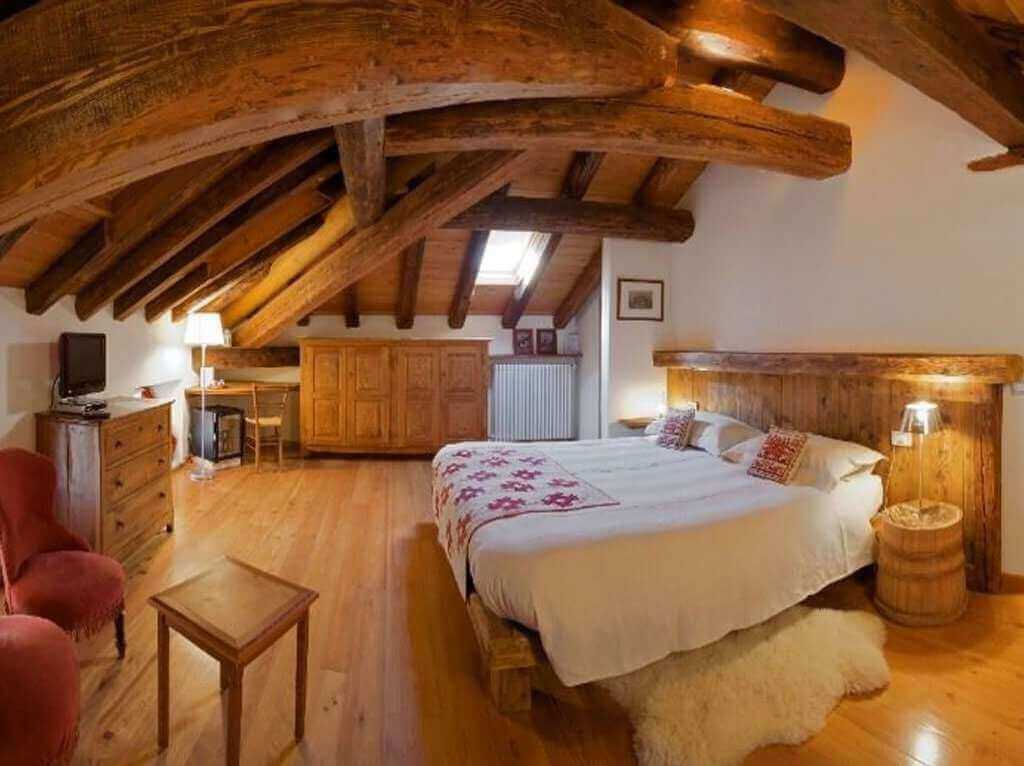 The B&B Tre Alberi Liberi is perhaps the most intimate and welcoming of those found in the territory of Alagna-Valsesia. Located in Riva Valdobbia, just 3 km from Alagna, the B&B has many rooms, plus a couple of apartments and a small chalet at high altitudes. Breakfast is a choice of sweet pastries, biscuits and wholewheat bread baked by Elena in the kitchen in the B&B, and also delicious yogurts, fresh fruit, delicious juices and smoothhies, as well as eggs, cheeses and cold cuts. Roberto who is a mountain guide, is available to accompany guests on heli-skiing, freeride and ski touring excursions. Definitely not to be missed!
Go to the B&B Tre Alberi Liberi webpage and book your holiday!
5) B&B OMETTO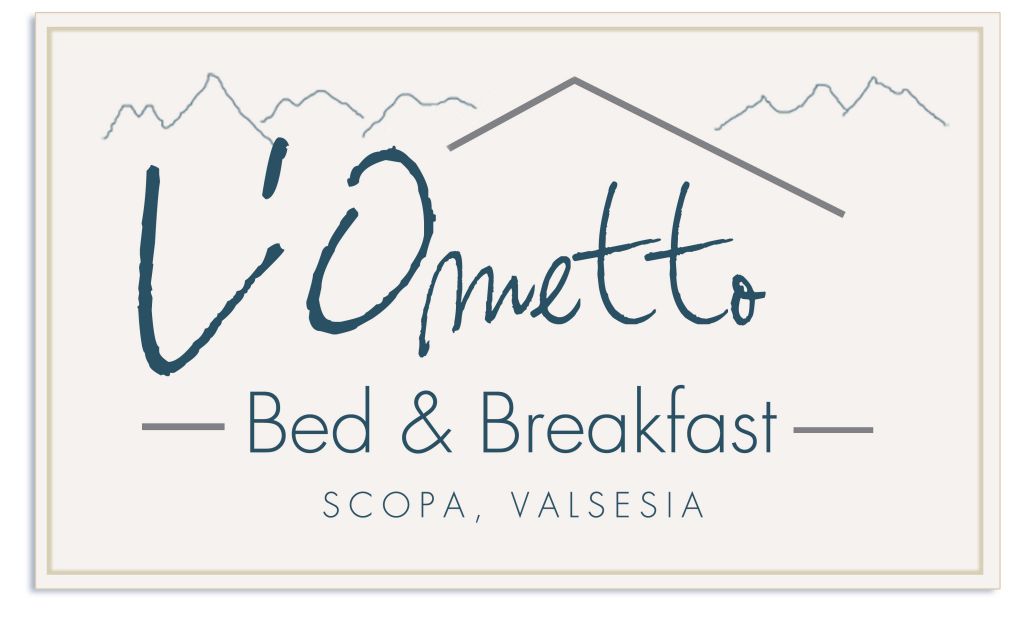 B&B Ometto is 22 km from Alagna Valsesia, but only 3.5 km from the ski resorts of Mera. It is the ideal base for those seeking not only rest, but also a place where sport comes first simply put- a dimension for an active vacation. In summer, and only a few minutes away by car, there are in fact the main rafting schools in the area, while in winter you can practice skiing, snowboarding and sledding without straying too far from your accommodation. And for those who want to have barbecues, there is a spacious garden with a picnic area and a built-in barbecue!
Discover the details of the B&B Ometto and book your room today!
6) B&B SLA PIANA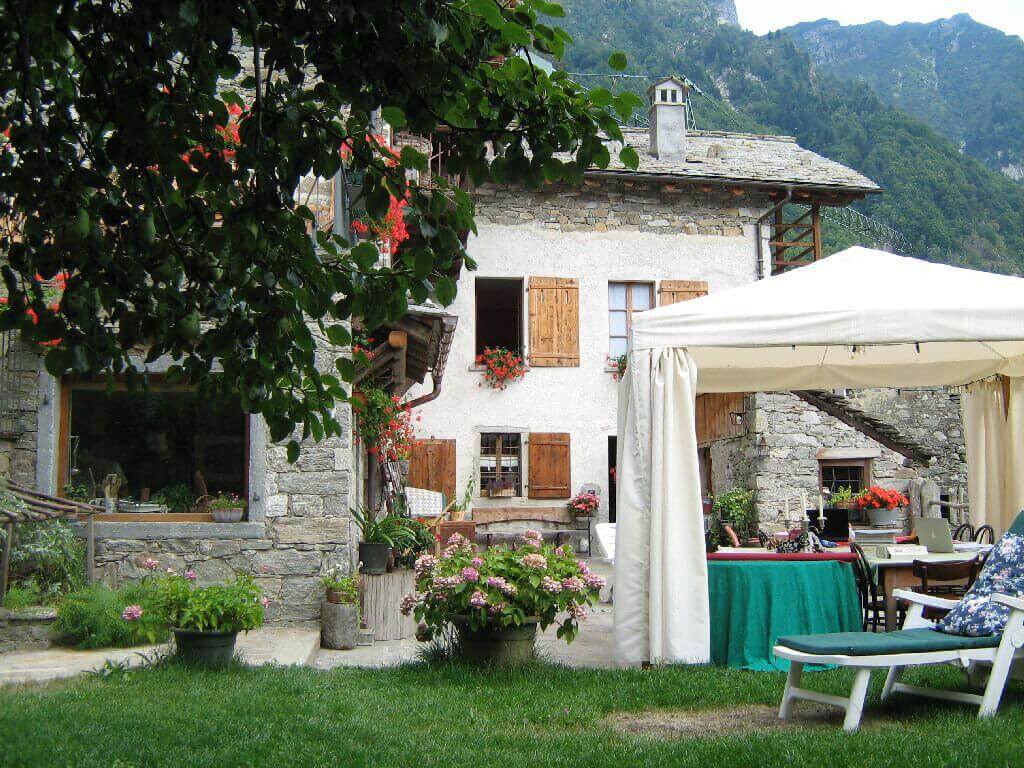 The sixth B&B in Alagna that we recommend you evaluate is called Sla 'Piana. A magical place, entirely built in stone and wood, located in the ancient hamlet of Piana Fontana in Mollia, about a ten-minute drive from Alagna and Scopello. The structure stands out for its spectacular location, at 1,000 meters above sea level, surrounded by beech, fir and chestnut woods. Outside you may experience close encounters with roe deer, foxes, owls and sometimes even deer in search of food. These experiences will enrich and repay every km it takes you to get here! Ready to go?
Visit the B&B Sla 'Piana webpage and find out what is waiting for you!
7) B&B LE MIE RADICI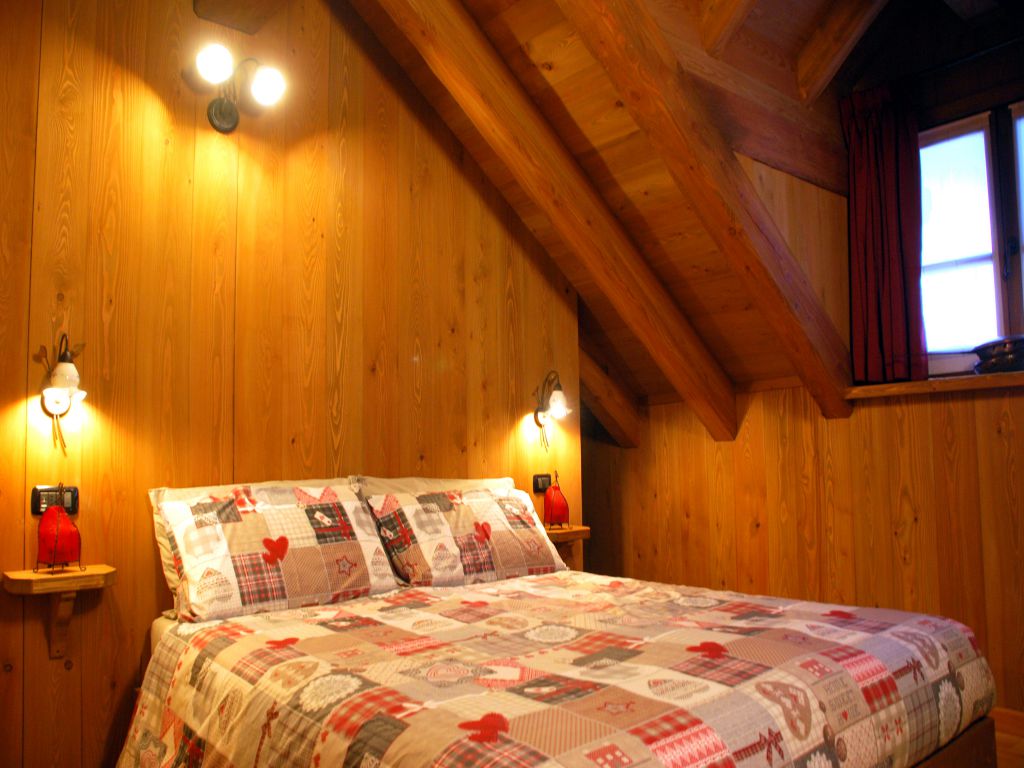 Our short list ends with the B&B Le Mie Radici, a solution appreciated by those who prefer the convenience of location (situated along the provincial road no.299, with reserved parking) and in the proximity to all necessary services (everything you need can be found in the nearby town of Pila ). Magnificent fireplaces in the rooms where you can warm up in winter, while the summer sun just makes you want to go out in the garden to sunbathe or simply relax under an umbrella. Sun or snow the result does not change: recreation and rest are guaranteed!
Visit the B&B Le Mie Radici webpage and get your bags ready!