Imagine a range from brown to intense yellow and look around you.
Imagine a range from brown to intense yellow and look around you. Autumn foliage is as explosive and stunning as it can get. The walk that goes from Montella to the hamlets of Rusa and Goreto passes through a majestic forest of beech trees with flaming red crowns. In the past, beech leaves were collected and used to make "pagliericci" (mattresses) because wool was precious and used for clothing.
In the hamlets, the houses are ancient, and the dark color of the larch wood bears witness to their age. The roofs in the villages touch and embrace each other in a dance that has lasted for centuries.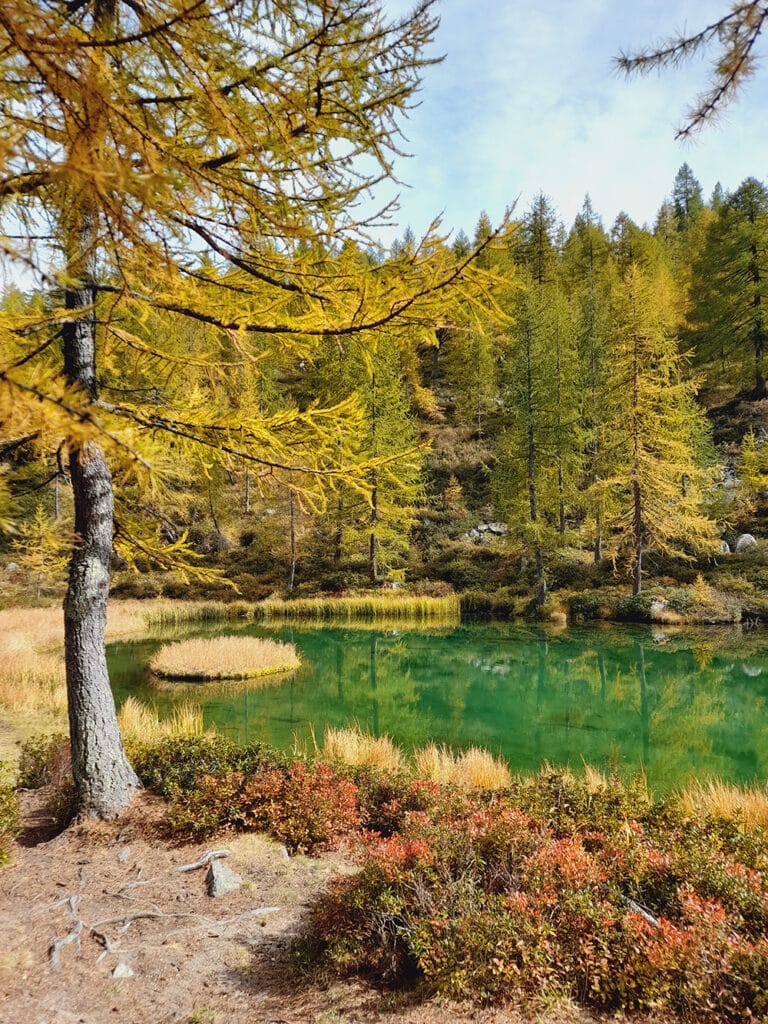 There is plenty of snow in the long winters, but the paths between the houses remain accessible and free thanks to their proximity.
From Rusa, crossing a small stream, we see the remains of ancient mills and reach the hamlets of Piane and Dosso. Oratories, chapels, bread ovens, and monolithic fountains testify to the life of the so-called Dorf (independent villages).
If you're in the Vogna Valley, head up to Selveglio from Ca' d'Janzo and tour the upper hamlets all the way to Peccia. Here, the wild cherry trees light up in intense red and guide you along the path.
The grazing cows take advantage of the last grass, having recently descended from the alpine pastures, and the shepherd is ready to sell his products (DE.CO). You can taste them from the terrace of the Dosso hamlet while admiring Alagna from above.
October is also a time for reflection, with the Procession of the Flowery Rosary being particularly significant. It starts at the small chapel of Flua and reaches the oratory of Sant'Antonio. The faithful wear the ancient Walser costume, with colorful shawls and precious bodices. The procession is meant as a thanksgiving for the good summer season and a prayer for their deceased loved ones.
The days grow shorter, but when the village is in shadow, the people follow the sun as it lingers on the slopes and slides toward the peaks. The most well-known solarium is the Piana Fuseria hamlet, situated on a terrace facing the village of Riva Valdobbia. The view stretches from Monte Rosa to the Vogna Valley.
If you're lucky, as the sun sets, you might see the deer and hear their roaring. It's the mating season, and the males are calling out to the females... but to win the hearts of the beautiful does, they must first establish their dominance 😊."