During your trekking adventures in Alagna Valsesia and Monte Rosa, you will have the opportunity to encounter a diverse and fascinating wildlife. Here are some of the animals you might come across during your excursions:
Alpine Ibex: Skillful climbers often spotted at high altitudes. Maintain a respectful distance and do not feed them
Marmot: Curious and adorable creatures inhabiting meadows and rocks. Enjoy observing their natural behavior from a distance.
Golden Eagle: Majestic predatory birds frequently sighted in the alpine regions. Observe them discreetly from a safe distance.
Snow Hare: Cute rodents known for their camouflaging abilities. Be quiet and avoid disrupting their behavior.
Alpine Chamois: Symbol of the Parco Naturale Alta Valsesia, the chamois is one of the most sought-after sightings. Respect their space and maintain distance.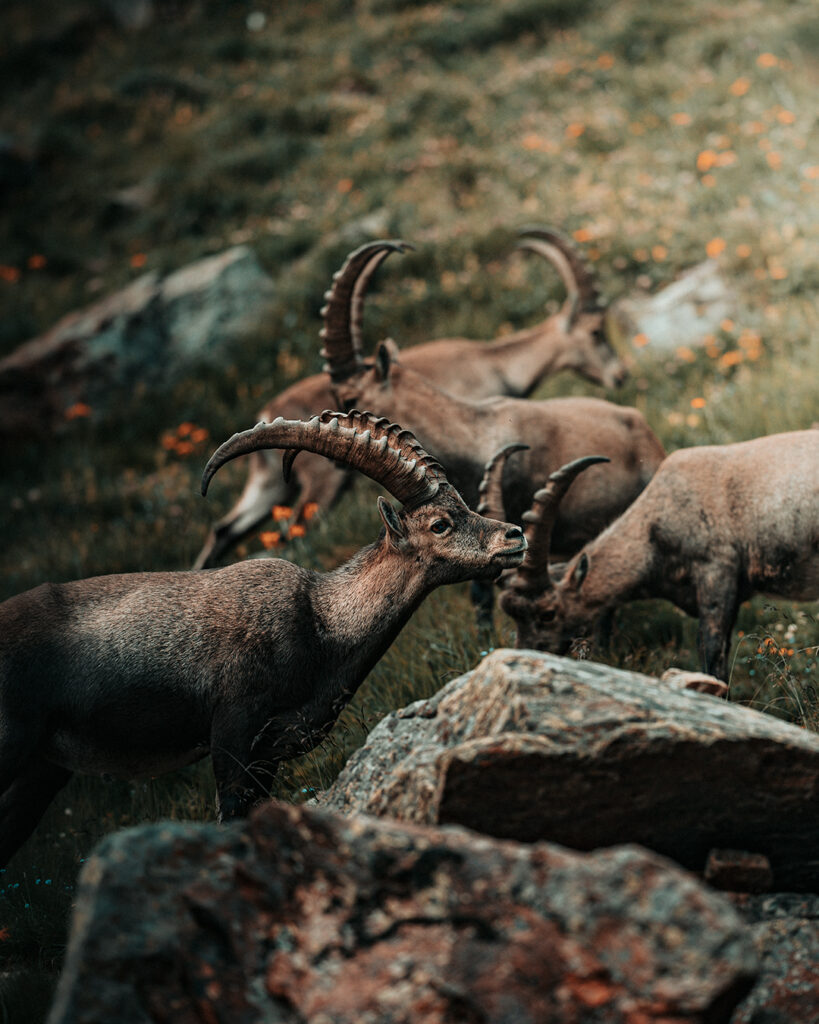 Helpful Tips for Coexisting with Wildlife:  
To ensure the well-being of the animals and fully enjoy wildlife sightings during your treks, follow these guidelines:
Maintain a distance: Respect their personal space and avoid getting too close to wild animals.  
No disturbance of nests: During the breeding season, avoid approaching nests to prevent disturbing the activities of parents and offspring.  
No human food: Refrain from feeding wild animals. Human food can be harmful to their health and natural behavior.  
Silence and calm: Be quiet and calm during sightings to avoid startling the animals.  
Stick to designated trails: Stay on designated paths and follow the guidance of parks and nature reserves to protect the animals' habitat.  
No flash photography: If you wish to take photos of the animals, disable the flash on your camera to avoid frightening them.  
Leave only footprints: Carry all trash with you and respect the natural environment around you.
By adhering to these coexistence tips, you can have an unforgettable experience, respecting the wildlife and preserving the integrity of this precious ecosystem. Happy trekking and happy wildlife encounters in Monte Rosa!