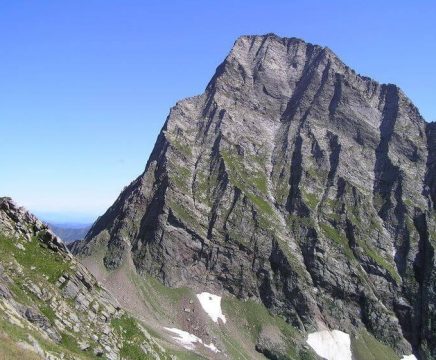 Monte Tagliaferro (2964 m) is a stupendous, powerful pyramid of beautiful rock which rises in front of Mont Rosa between Val Sesia and Val Sermeanza. From the top the panorama is magnificent: it seems asif Mont Rosa is inviting you to touch her while the south slope is dominated by the great Padana plains.
The north edge, first climbed in 1925, is one of the most beautiful, classical routes on the Valsesian mountains and it offers an enjoyable climb on compact rock with routes up to grade 4 and one route of 5-.  It is 600m above sea level with differences in height of 900m.
Your adventure starts from Ronco, a hamlet of Alagna Valsesia, via a steep trail directed towards Tagliaferro.  After a short hike you reach Alpe Mud where you can quench your thirst at a little fountain of fresh water, continuing further passing via Alpe Wenghi you reach Ferioli mountain hut (2264m). From here the view of the crest is imponent and pleasant especially at sundown.
The hike starts after a good rest at dawn, via a trail that quickly takes you to Colle Mud where the hike to the peak starts. The start is an easy, grassy slope that quickly changes to beautiful rock.
At first the routes are easy, grade 2, then it becomes more difficult until the base of the famous plaque of 5-. After a short rest and having studied the route, you start with the overhang on the plaque on the north slope, and after about 20m you are on route to the crest again. After some more short climbs you finally reach the peak. (Approx. 4 hours).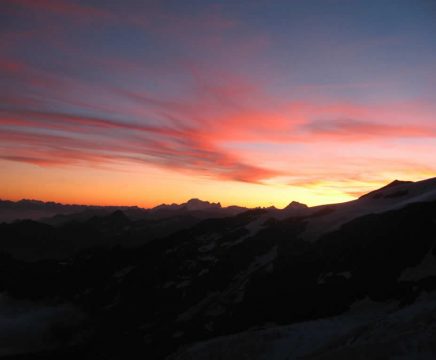 Make sure you write a dedication in the book of the peak found under a little bronze statue of Mother Mary. Afterwards the easy descent starts on a trail which at times crosses over exposed terrain. The trail descends until Passo del Gatto and then towards the mouth of Moanda where you enter the valley directed towards Alpe Campo. This is an enchanted place, the perfect conclusion to a perfect climb. On the terrace of the CAI mountain hut you can enjoy a well deserved plate of polenta and a glass of wine served by the famous "nonno" Gilberto who will entertain you with his mountain anecdotes of forest gnomes and years gone by.
This itinerary requires experience in classic rock climbing and you must be in good physical condition.