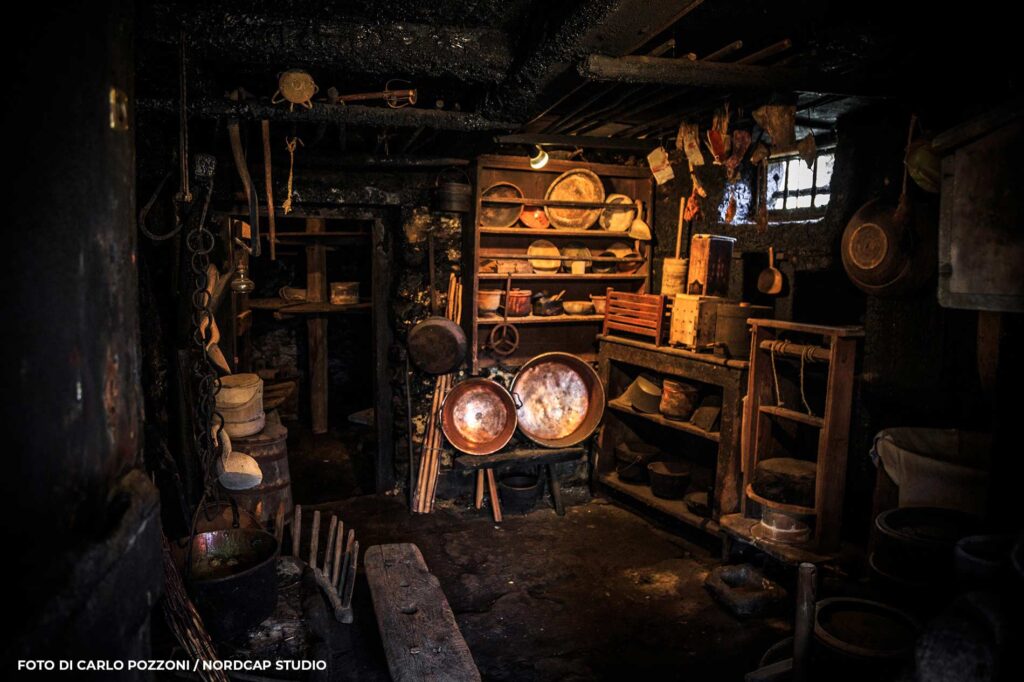 Rabernardo hamlet offers extraordinary views across the valley. Just before meandering through the houses, the track from Ca' Vescovo meets the one coming from Sant'Antonio, which can be used to head back down after visiting the hamlet. It is situated on the itinerary called "Alta Via dei Walser" (High Walser Trail), among the so-called "Sentieri dell'Arte" (Art Trails), designated by the Italian Alpine Association (CAI) of Varallo, taking visitors to the old Walser hamlets that are not accessible by road.
This hamlet is arranged over three levels: Tetto di Rabernardo, Rabernardo, Sotto Rabernardo.
The line-up of houses in Rabernardo include one private dating from 1640, which was converted into an ethnographic museum by Cavaliere Carlo Locca, at the end of the '80s. Great passion and careful research have brought this wonderful dwelling back to its original organisation of space, uses and style of furniture, back to a time where its heart beat to the rhythm of day-to-day life. During the summer season, it can be visited in the company of its owners.
We personally receive and guide you, because we believe that a visit to our Walser House Museum should be a genuinely pleasant and interesting experience.  
When to visit the museum
July and August: Saturday and Sunday between 11.00 and 15.00
During the two middle weeks of August: Monday to Sunday between 11.00 and 15.00
Visits and Fees
€ 5,00 per person
€ 3.00 per person for groups of 3-10 people
For group bookings, we kindly ask you to contact us, so that we can arrange the visit to best suit your needs.