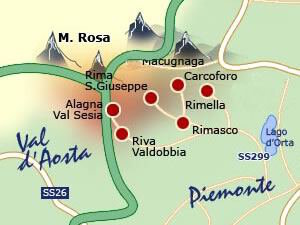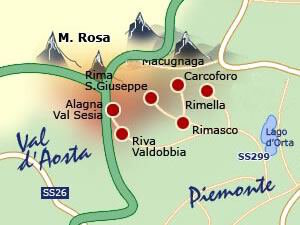 The Walser colonies south of Mont Rosa (Alagna, Riva, Rima, Carcoforo, Rimasco and Rimella) were founded between the XII and the XIII centuries. Here the colonies tilled the soil and made it arable, they traced trails and built homes in wood and stone in unmistakeable designs in small, scattered groups. The distinct architecture was the fruit of constant research to adapt the construction to the climate and type of work.
In fact the Walser homes are an example of spontaneous architecture that fitted neatly into the landscape, adherent to customs and way of life, organized to facilitate communication among them. Each of which had a specific work function: special rooms (lobbie) to dry the hay, milk rooms, salt rooms for meat, rooms to keep foodstuff in and the section of the stall that was used as living space for evening activities taking advantage of the heat of the animals.
For centuries, these people lived in near complete isolation which was made even more so by the German language in an Italian territory. The latter helped to keep their religious rites, lifestyle, clothing designs, food, economy and physical traits unchanged for a long time.
Then, mainly thanks to seasonal migration of the strong-built, highly specialized men from all the Valsesian Walser communities and subsequent schooling, customs and costumes once almost identical, started to change, giving the six colonies the look that we know today.