In Alagna Valsesia, freeride by helicopter or heliskiing ensures an unforgettable experience to make fantastic memories. Your day of heliskiing starts early in the morning: you have a rich breakfast, load the equipment and fly to the snowy peaks, alone or in the company of friends. The high altitude valleys that roll down onto the territory of Alagna, submerged in snow even in spring, offer numerous locations where you can enjoy the snow, both on skis and on snowboards.
Here Freeride is always an adventure, but this is not to say that there are no rules, on the contrary: every flight and heliski activity is managed by following a rigid disciplinary code, to ensure adequate safety standards and to leave the delicate mountain ecosystem undisturbed. Those of us who live and work in these valleys are the first to want the environment to remain intact. How do we meet this need with the practice of helicopter freeriding?
Let's find out!
THE PHILOSOPHY OF FREERIDING BY HELICOPTER IN OUR OPINION
There are places in the world where freeriding by helicopter is practised without any rules, and with obvious negative consequences in the long term. Here in Alagna it is different because everyone and everything is taken into consideration : you, the tourists; we, the inhabitants of the valleys and last, but not least, the animals that inhabit this wonderful area. But what precautions do we follow to avoid causing damage and accidents?
First of all, trips are carried out, only and only, in perfect weather conditions, with the consent of the pilot and UIAGM alpine guides who, by law, always accompany the skiers. Visibility, snow and all other factors that play an important role in a successful trip must be optimal, otherwise it is postponed. Also considering the fact that we are situated inside the Alta Valsesia Natural Park, we limit the number of flights to maximum 10 a day for no more than 8 days a month.
In random places? Absolutely not!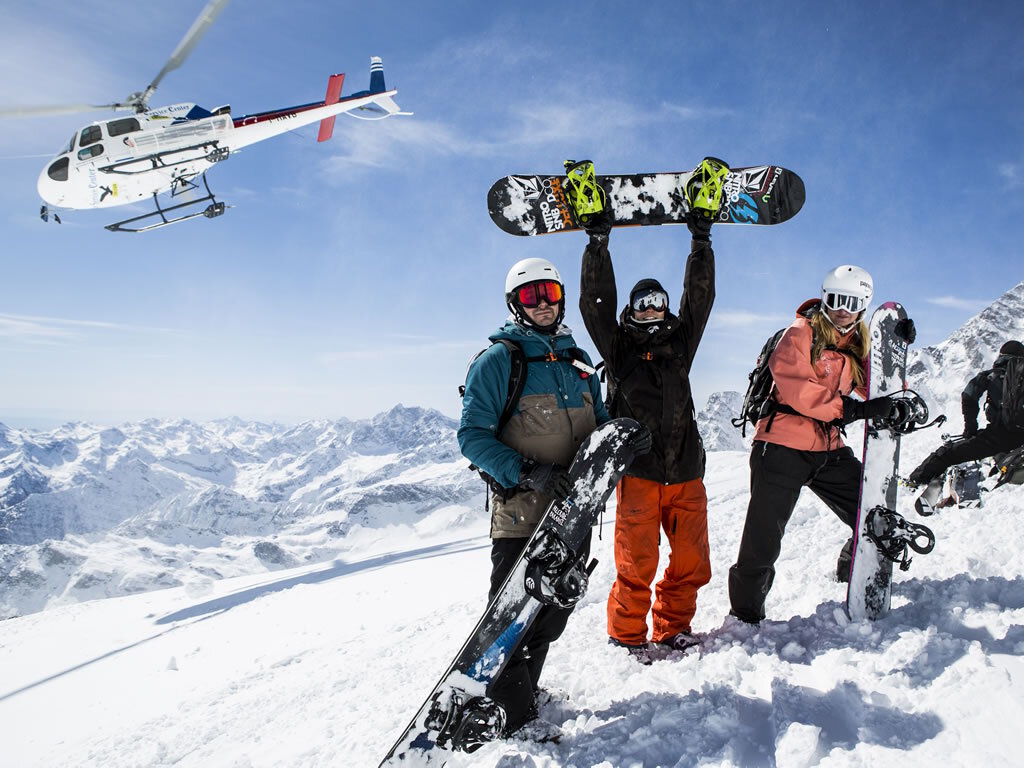 Helicopters for freeride are allowed to only land in designated areas, i.e. in 8 pitches where there is no danger of disturbing the animals or ruining the soil. The white partridges, the eagles, the ibex and the martens living in these mountains must continue to reproduce in peace and consider man not as an enemy, but as a habitual presence, which does not pose any threat. And, in terms of size, our habbo model helicopters are compact and carry a maximum of 4 people in addition to the pilot and the guide.
This means that if there are numerous groups, they will be divided and dropped on two different locations or they will do the descent at different times. This allows us to combine tourist demand with respect for the mountain and its breathtaking landscapes.
FREERIDE BY HELICOPTER SOLUTIONS AND TARIFFS
Many people think that helicopter freeriding is a sport for the chosen few: too expensive for a "normal" person. This is not the case: tariffs range from one extreme to another, according to the needs of each person. There are skiers who want to enjoy a solo descent and therefore, pay the highest amount, but there are also groups of friends who fill up the helicopter and then share the cost amongst four participants.
If you then book several days, you can reduce the costs of travel and accommodation, with an additional savings margin. Here is an example. One freeride day for a single skier costs € 990 all included (flight, guide, safety kit), while the same day, for four, only costs € 260 (less than a third!). But when is the best time to go heliskiing? It is usually from 6 January to 15 April, but we always recommend calling for updated information on the opening and closing dates of the season.
We are sure that you will take to freeriding too: book now and enjoy the fresh snow!
Discover our heliski packages for 1 day, 1 week end or 1 week