As mentioned before, the Upper Valsesia territory has many alpine lakes of glacial origin which are found around 2000 and 3000 meters above sea level. Most of them have brown trout and brook char. Rainbow trout are found in Lake Nero in the Vogna Valley and Arctic char has been introduced in the Tailly lakes in the Otro valley and in Lake Camino.
You can enjoy fishing for up to 10 days in the Alpine lakes with a season fishing permit.Lake Bianco and Lake Nero of Rissuolo in the Vogna Valley
These two lakes can be reached by car along the Valsesia state road 299 to Riva Valdobbia and then by following the road signs for Ca 'di Janzo where you can park your car. At this point, you start walking along the dirt road that goes up the valley, take the path on the right following the signs for Rifugio Carestia. After about 3 hours you will reach the refuge, and from there, only thirty more minutes and you will find yourself on the gentle shores of Lake Bianco. It is shallow but well populated by char, reserved only for no-kill fly fishing (Catch and Release system).
Skirting the lake and continuing on the path, you will reach Lake Nero in an hour and a half. It is surprisingly deep and populated by char and rainbow trout as well as some beautiful brown trout. The path you should follow is number "202", from Cambiaveto to Lago Nero.
The hints for fishing here are simple and essential: Fishing the "Tocco" method, fly fishing with thin tippets and long leaders; in the presence of lots of fish near the surface, using a dry fly becomes very effective, otherwise sinking lines and nymphs are a better choice.
Small undulating or rotating spinning is always effective, but it is better if very heavy to be able to launch well into the centre of the lake and to be able to probe all depths. With natural bait, simple bottom fishing can give unexpected results.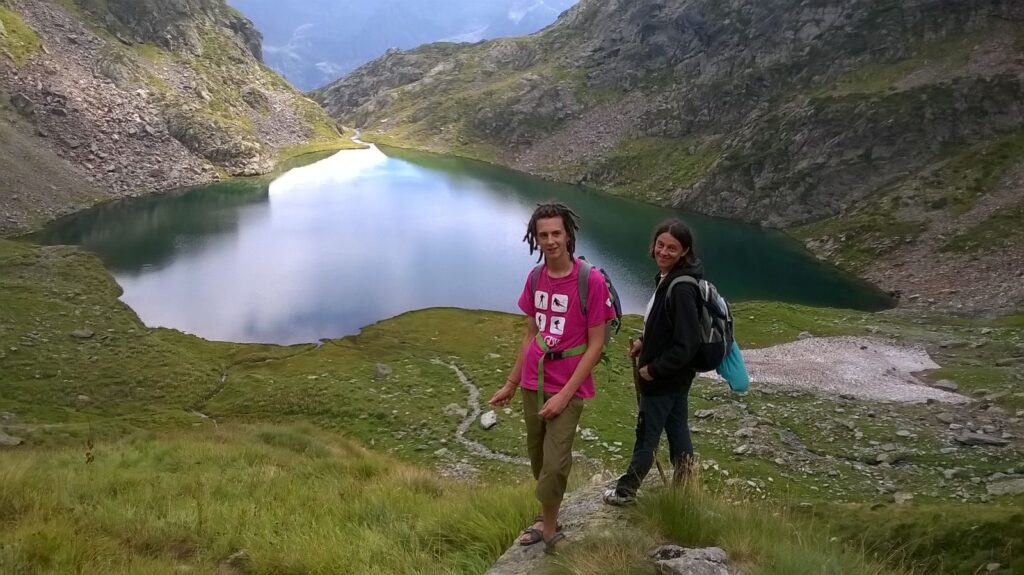 The Vogna stream
The section of the Vogna stream covered in this itinerary can be reached by driving along the Valsesia state road no. 299 to Riva Valdobbia. Turn left to enter Val Vogna and follow the signs for Ca 'di Janzo where you can park your car. From here continue on foot on a short asphalted stretch up to Sant'Antonio then, skirting the stream along a dirt road, after about 35 minutes from where you left the car, you will reach a little bridge over the Vogna beyond which you can start fishing right up to the hamlet of Peccia.
Alternatively, you can continue to follow the path, which is always on the orographic right until you reach the Napoleonic bridge (about 1 hour from Ca 'di Janzo) where you can start fishing. The landscape is characterized by rhododendrons and larches, often with sightings of chamois deer. For fly fishing, nymphs and small sinking lines will be the optimum choice, and even in the summer, towards evening, a nice sedge can make a real difference. When spinning, small rotation movements should be used, while making sure to have a light touch while fishing and to move with caution so as not to alarm the trout.