L'Alta Valsesia è costellata da splendidi laghi alpini di origine glaciale situati tra i 2000 e i 3000 metri di altitudine. Nella maggior parte di essi sono presenti trote fario e salmerini di fonte. La trota iridea popola il lago Nero in Valle Vogna e il Salmerino alpino è stato introdotto nei laghi Tailly in valle Otro e nel lago Camino.
Con un permesso di pesca stagionale è possibile pescare 10 giornate nei laghi alpini
The White and Black lakes of Rissuolo in Valle Vogna
They can be reached by car following the SS 299 of Valsesia as far as Riva Valdobbia. Once there turn left towards Val Vogna and follow directions to Ca' di Janzo where you can leave your car. Walk alongthe dirt road going upwards the valley then take the trailto the right following directions to Carestia refuge. After 3 hours you will arrive at the refuge and in other 30 minutes at the gentle banks of Lake Bianco, not very deep but rich in Arctic chars, where only "no-kill" fly fishingis allowed. Proceeding along the banks, farther alongthe trail you can reach Lake Nero in one hour and a half, quite deep and rich in chars, rainbow trouts and some beautiful brown trouts. From Cambiaveto to Lago Nerothe trail to follow is number "2". Fishing recommendations are simple and essential: fly fishing with thin tippet and long tips, if fishing on the surface the floating tip is preferable while under the surface nymphs and sinking tips are better.For spinning spoons are always perfect. During the period with activity on the surface, dry flies are very profitable, otherwise submerged flies and nymphs are better.For spinning, spoons are better if heavy,so as to allow long casts in the middle of the lake to soundall depths. Live baits can be very effective in bottom fishing.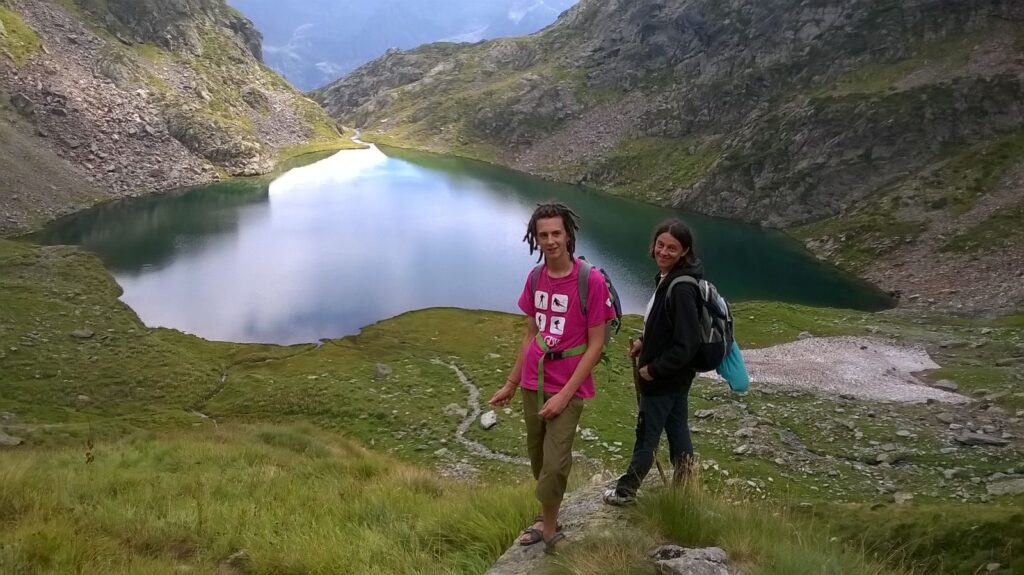 The river Vogna
To reach this section of Vogna riverdrive on the SS 299 of Valsesia towards Riva Valdobbia then turn leftto get into Val Vogna following directions to Ca' di Janzo where you can leave your car. Proceed on foot along a short paved stretchas far as Sant'Antonio then, follow a dirt path along the torrent bank and in about 35 minutes you will get to a little bridge over the Vogna across which you can start fishing till the hamlet of Peccia. Alternatively you can continue following the trail on the right until you reach a Napoleonic bridge (about 1 hour from Ca' di Janzo) where you can start fishing. The area is richin rhododendrons and larch trees, you can often see chamois and roe deer.For fly fishing nymphs and sinking tips are very efficient, even if in summer eveningsa "sedge" can make the difference. For spinning, small spoons are preferable while for "live bait" styleit is advisable to use light tip and to move cautiouslyin order to avoid alarming the trouts.