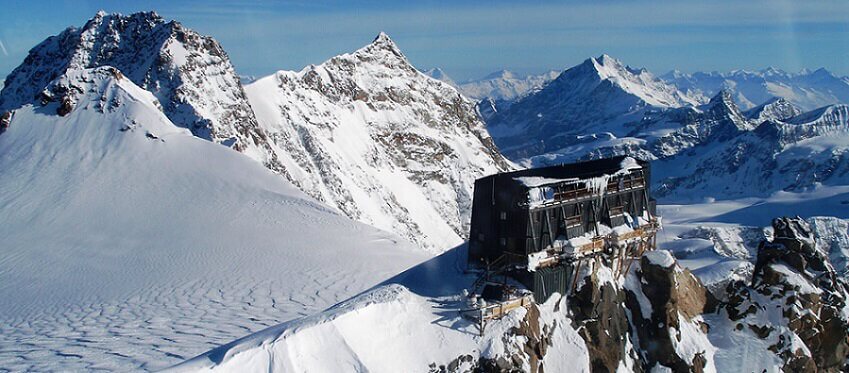 The Regina Margherita Hut, on Punta Gnifetti of Monte Rosa at 4554 m. is the pride of Cai Varallo that has renewed and managed it for more than 100 years. Also clearly visible from the bottom of the valley, it imposes itself on the gaze of anyone looking towards the peaks. It is the highest refuge in Europe, it houses an important physical-meteorological observatory and is dedicated to Queen Margherita of Savoy who stayed there in 1893, the year of the inauguration. Today it is entrusted in management with the Capanna Gnifetti by Rifugi Monterosa srl which is moving it towards a future made of attention, hospitality and technology.
Ha una capacità di 70 posti letto distribuiti in camere con letti a castello ed è dotata di sala bar ristorante, bagni in comune, illuminazione elettrica, corrente 220v, accesso internet, biblioteca. Nei periodi di chiusura è sempre aperto un locale non gestito per gli .
Nel 2002 la Capanna Regina Margherita ha ottenuto la Certificazione UNI EN ISO 14001 che comprova il suo minimo impatto sull'ambiente circostante.
Contatti Rifugio Capanna Margherita:
per prenotare bisogna collegarsi al form di prenotazione
disponibile qui
Periodo d'apertura rifugio:
il
rifugio Capanna Margherita è chiuso in inverno.
Sempre aperto invece il locale invernale non gestito.
D'estate il rifugio è aperto da metà giugno a metà settembre. Le date di apertura vanno controllate sul sito
Rifugi Monterosa
Guarda anche: Capanna Margherita su Wikipedia
Come arrivare alla Capanna Margherita
• Dalla
Capanna G. Gnifetti
attraverso i
ghiacciai del Lys
in circa
4/5 ore
di cammino tutto su ghiacciaio.
• Dalla
Monte Rosa Hutte
attraverso il
ghiacciaio del Grenz
in circa
5 ore
di cammino tutto su ghiacciaio.
• Dal
Rifugio L. Resegotti
per la cresta SE (Cresta Signal) con un itinerario alpinistico di notevole difficoltà.
N.B: Visto l'ambiente d'alta montagna su cui si svolge il percorso è consigliato farsi accompagnare da una guida alpina UIAGM