Alagna and Gressoney are considered myths by most riders, who live to ski off the beaten track. A perfect freeride day between Alagna and Gressoney start here. The Indren ski station, at 3260 m, is the gateway to Monte Rosa and offers limitless adventures, which do not take into account the kilometers of groomed slopes but the hectares of virgin slopes, which the second highest mountain in Europe offer in abundance.
What are the cult descents between Alagna and Gressoney?
I can give you a list of names like: the Bettolina, the Malfatta, the Vittoria, the Salza, the Stolemberg and even names of steep exciting channels such as the Mines channel or the Jakkette, the Liekke Shlof and the Aquila channel, which are names known in the imagination of each freerider. But this is not the right approach to planning your freeride holiday.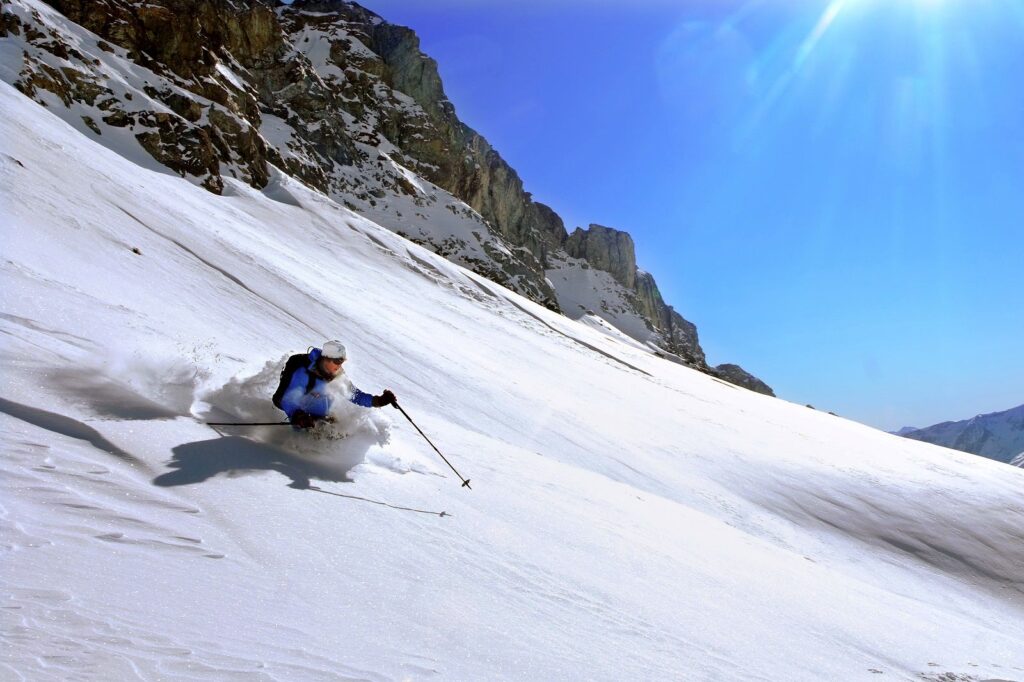 How to organize a day of off-piste skiing?
Seize the moment, choose your goal from what the mountain offers on the day you will be on Monte Rosa. If you think of Monte Rosa as an immense playground, as a place where you can test your limits in total freedom immersed in nature, you must remember to broaden your horizons:
Do not choose a route before your arrival: organize your holiday and when you are in the valley of Monte Rosa, find your descent by evaluating the weather, the season and the temperatures. The exposure of a channel determines the type of snow, just as the wind, the cold or sudden snow shape the slopes.
Don't get stuck on a slope; the Malfatta can be a frightening descent with windy snow and the Miniere channel is nothing to write home about if the snow is compact or crusty.
day freeriding between Alagna and Gressoney is perfect if you learn to breathe in unison with the slow pace of the mountain you are skiing,listening to its whispers and following its advice.
And if you are not ready to go alone?
Put your trust in the guides of Monte Rosa.They have the same passion as you do, they were born in this valley, they know their mountain inside out; the guides of Monte Rosa and Monte Rosa understand each other at a glance, because theirs is a love story that withstands the test of time!
How do you define a perfect day freeriding between Alagna and Gressoney?
We are used to using epic phrases to define a descent in powder snow but we believe a perfect freeride day is pure adventure in right place, at the right timeshared with the right people!
Suggestions for your freeride holiday on Monte Rosa