Address: Piazza degli alberghi 12
Phone: (+39) 0163.923209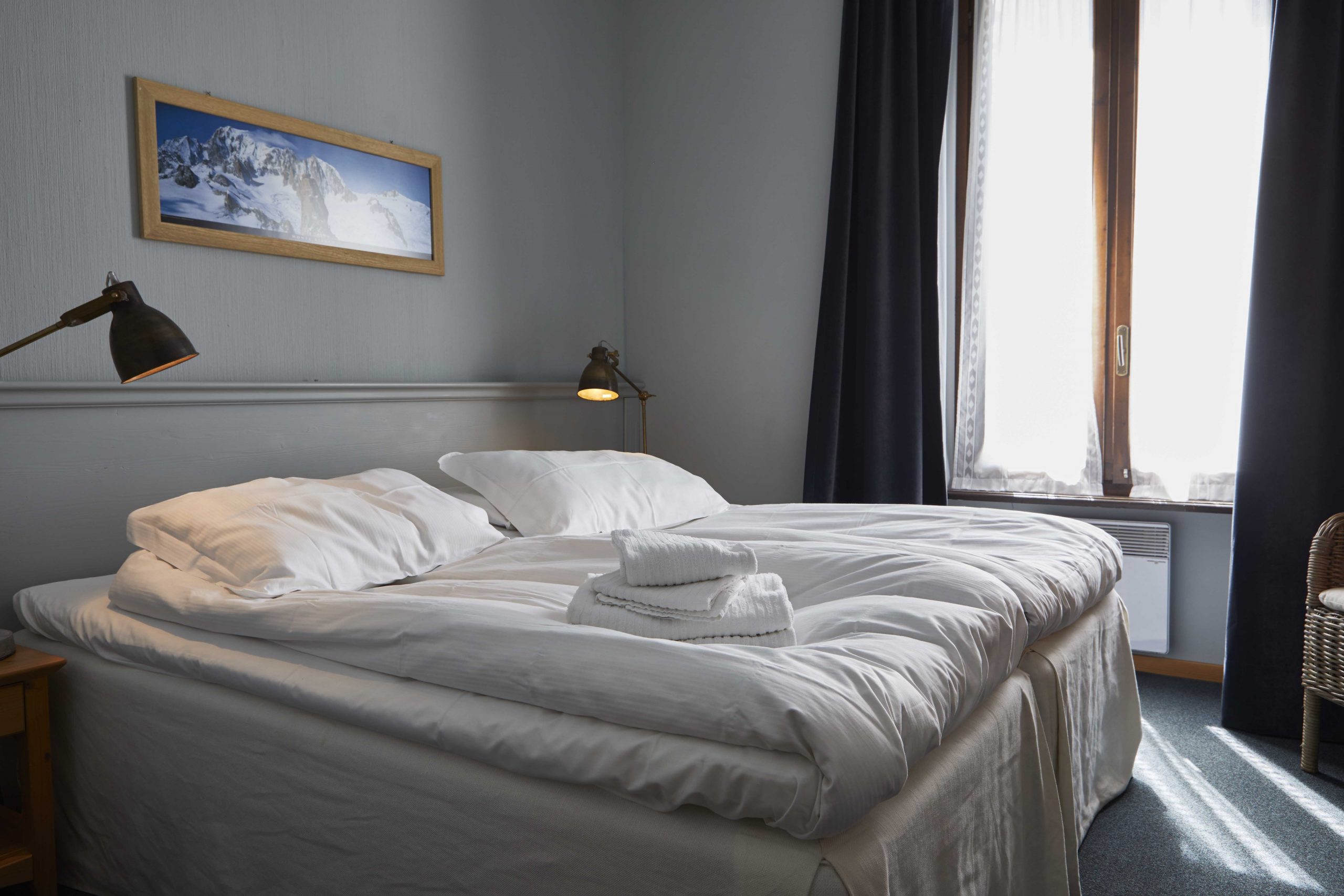 The Hotel Olen is in a remarkable position right next to the lift station. On leaving the hotel you step immediately onto the stairs leading to the start of the cableway.
Managed by Stefano, who also runs the Bacher wine bar and Dir Und Don restaurant and pizzeria, the hotel benefits from bed and breakfast facilities, but also a massive 30% reduction on lunch and dinner in the Dir Und Don.
There are 7 individual rooms made up of:
1 suite for 2 people;
1 apartment for 5 people;
2 rooms for 3 people, and
3 rooms for 2 people.
Breakfast in Olen Hotel is included with all reservations and will be served directly at the hotel at the small buffet or in rooms.Address: Frazione Bonda
Phone: (+39) 342 943 7393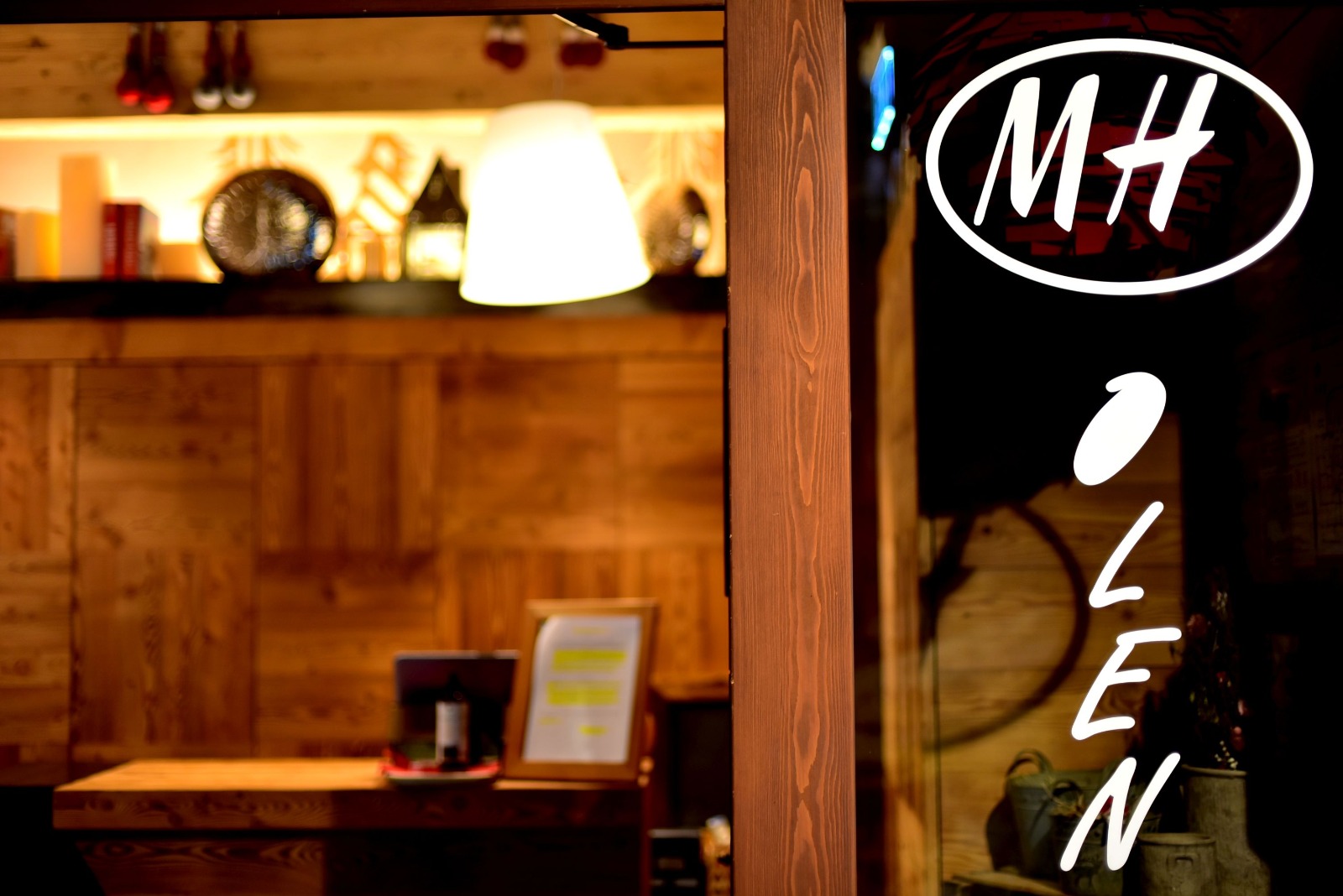 The hotel Montagna di Luce, located in the characteristic Walser village of Pedemonte, was born from the renovation of a house of 19th century
The Hotel has 8 rooms, all with idromassage shower or jacuzzi, private balcony, phone, internet connection.
The ancient atmosphere of the hotel can be felt also in the restaurant, with his cooking exquisitely typical, based on products of the Valsesia valley.
Sauna, heated ski room, meeting-room for 10 persons, wide reserved parking, garden-solarium with deckchairs.
The owner, Sergio Gabbio mountain guide of Alagna, is the reference point for guests of Hotel Montagna di Luce for advices on trips, excursions on Mount Rosa, off-piste skiing and heli-skiing. It 's the perfect location for a weekend getaway, a vacation away from the noise, for a week or free ride in a warm antique charm where time is crystallized. The hotel Montagna di Luce is 1 km from the ski lifts in Alagna Freeride Paradise.
Address Montagna di Luce: fraz Pedemonte 19, Alagna Valsesia
Phone: (+39) 0163 922820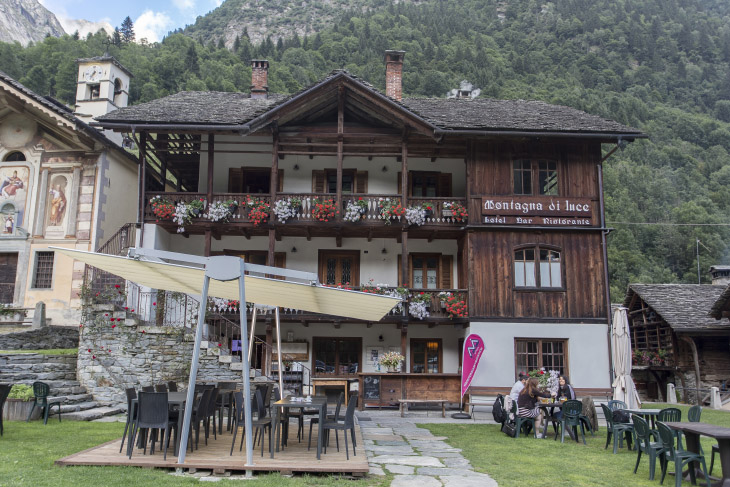 Hotel MH Cristallo
Founded in 1932, Hotel MH Cristallo has always been the protagonist of the history of Alagna. Settled in the heart of the village, next to the lift that connects Valsesia to Passo dei Salati and Aosta Valley, it offers an elegant setting and a legendary attention to details. The wide and bright rooms , fully equiped, are designed for guests' well being, while the traditional and modern interiors create a timeless style. The river terrace, the Lounge Bar, the international Restaurant as well as the central location makes your stay at Hotel MH Cristallo the ultimate experience in the lushy Alagna.
New opening on winter season 2021 is our renovated SPA with sauna and indoor pool where our customers may indulge themself in a relaxing massage session or choose from a range of beauty paths to restore after a day on the slopes.
Address: Piazza degli Alberghi 7, 13021 Alagna Valsesia
Ph: (+39) 0163 326460 / 349 8791362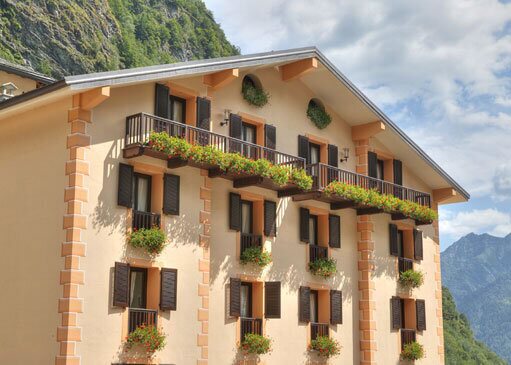 Address: via Martiri della Libertà 1
Phone: +39 0163 91350
Email: booking.alagna@mirahotels.com
Web site: www.alagnaresort.com
Social:
Instagram: https://www.instagram.com/alagnaresort/
Facebook: https://www.facebook.com/alagnaresort
Codice CIR: 002002-CIM-00010
In the heart of the Piedmont Alps - and not just for a purely geographical reason - Alagna Mountain Resort & SPA is the perfect place to indulge in a vacation filled with sports and wellness, immersing oneself in an authentic dimension that preserves the Walser tradition and enjoys the suggestive embrace of Monte Rosa. A pool that literally comes out into the open seems to assert, in a visually striking manner, the sophisticated structure signed by Mira Hotels & Resorts, integrating aesthetically and materially with the surrounding environment, in a fusion of stone and wood that sounds like an ode to a nature capable of offering unforgettable opportunities for relaxation and leisure, both in summer and winter.
Just 300 meters from ski lifts that open the doors to a universe of ski slopes and trails, the resort is designed in a style that combines the past and present, embodying a philosophy expressed in the realm of hospitality through 50 rooms of various sizes and a wellness center accessible in the form of a Spa Day even for those not staying at the hotel. In the absolute silence of a space that breaks down the boundaries between interior and exterior, the health of body and mind becomes a rule to be respected through the use of products obtained with natural formulations. The ritual guaranteed by a temple of wellness like Acqua Bianca extends to the kitchen, where the rich buffet breakfast is supplemented by the Piedmontese tradition represented by the typical Merenda Sinoira, a break-time (bread, jam, pizza or focaccia, local cheeses and cold cuts, and delightful pastries) to properly conclude a day spent outdoors. The immersion in the scents and flavors of a culinary culture that fears no comparisons is complemented by the warm experience of the Pub Im Land Bierstube, a typical mountain venue where one can spend pleasant evenings with local food, soups, hamburgers, and pizzas (Open only during the winter season).
Breakfast (from 7.30 am to 10 am),
You will find spacious rooms, finely decorated in wood, in complete mountain style. Some are equipped with a loft or balcony from which to admire a splendid view of the fairytale landscape surrounding the resort. All are composed of a living area with a sofa bed and a sleeping area with one or more bedrooms.
The territory at the foot of Monte Rosa is extraordinarily rich in nature, art, history, and traditions, both in summer and winter. It is a place to be explored, with sports and outdoor activities. Staying at the Alagna Mountain Resort means discovering the thousand nuances of this wonderful location, perhaps taking advantage of the weekly excursions organized by our staff. In the summer, under Monte Rosa, a network of mountain bike trails unfolds, thanks to the convenience of renting directly on-site. Easy to moderate mountain trails suitable for families and more challenging tracks, designed for those who love adrenaline rushes and the thrill of freeriding on two wheels. Among ancient hamlets, some of which are now uninhabited, streams, woods, and alpine lakes, you will discover a territory with a unique charm. The history and morphology of the Alagna area offer numerous possibilities for hikers, climbers, and passing visitors, who can walk among the flora and fauna typical of mountainous areas. In the winter season, it is possible to explore the Alps by every means possible: Alagna is the perfect place to engage in sports such as skiing, climbing, and snowshoeing. A stay at our resort is the right opportunity to scale the highest peaks of Piedmont and ski among the best slopes in the area, with over 135 km of descents and 27 ski lifts.
Merenda Sinoira and dinner at Pub Im Land Bierstube are also open to external guests (upon reservation and availability).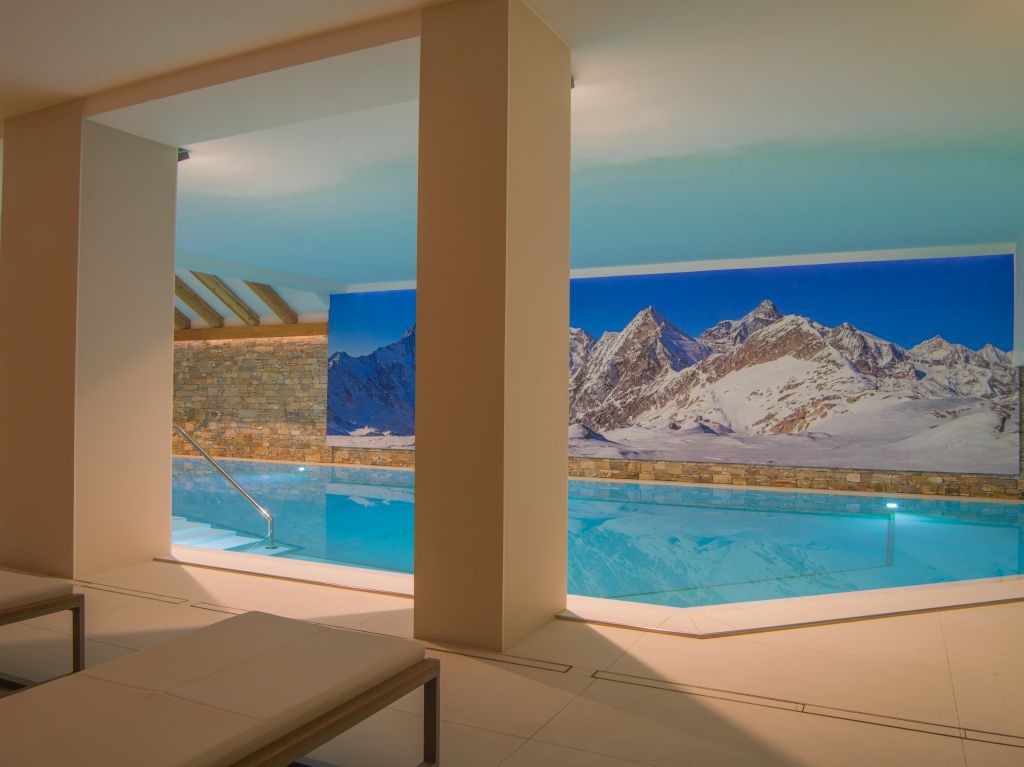 Mirtillo Rosso Family hotel is the only place in the world where it's Christmas all year 'round.Experiences that become memories, comforts, well-being, emotions and a little bit of magic.The services for children and the daily outdoor activities are at the heart of your holiday. We organise everything so that you can enjoy every minute in the hotel and discover the beauty of Valsesia and Monte Rosa.
The kitchen
Local, sustainable and traceable products are at the core of our recipes.
Omar Bonecchi, a Valsesian native, led the kitchen of the Michelin starred Trussardi alla Scala for 3 years. He has been back home for a year, in Varallo Sesia, a Sacro Monte UNESCO world heritage site. He started creating new takes on the dishes of Italian regional tradition in 2020, shifting his attention to nutritional values, for cuisine that is healthy and tasty.
In line with the philosophy of Mirtillo Rosso, local products form the core of his recipes. The restaurant is run by our Maître Geremia the elf, the most loved of us all.
Rooms
The little ones need sleep and so do you, because you take care of them.
Sound-proofing, hypo-allergenic materials, pocket sprung mattresses, wooden floors, natural heat. The Comfort and Double Double rooms are open plan so you can be closer and cosier.
The Family rooms and Suites have 2 areas, one just for the children and one for mum and dad, for added privacy and space.
Spa Sogni d'Oro (Sweet Dreams Spa)
Well-being for adults and families.
A Spa area, divided into adult and family zones, accessible to all our guests and just a few external guests.
Adults only: timeless, warm, restful, golden place. A 300 sq m area only for adults with an indoor/outdoor pool, salt water flotation tank, hydro massage tub, two saunas, steam room, sensory showers and four treatment rooms for your well-being and beauty.
Family Spa: the Sandman, who is a friend of Father Christmas, will bring you from the world of Christmas to the world of the Sweet Dreams Spa, where the children play in the warm water of our salt water pools, heated to 34°. The family area covers 400 sq m with an indoor/outdoor pool, one with a slide and one 30cm deep pool for the little ones.
Family
The services for children and the daily outdoor activities are at the heart of your holiday. We organise everything so that you can enjoy every minute in the hotel and discover the beauty of Valsesia and Monte Rosa. You can choose:
Baby club 1 - 3 year-olds: this service must be booked;
Mini club 4-12 year-olds;;
Teen club 9-12 year-olds: the Mirtillo Rosso elves are friends with the Nintendo "inventioneers"! The Nintendo Labo technology workshop is especially for older siblings and opens 3 afternoons a week to create magical Toy-cons!
Baby-sitting 0-1 year-olds: to be certain of Baby Sitter availability, the service must be booked at least one week in advance.
Sustainability
Mirtillo Rosso is a member of Ospitalità Natura (Nature Hospitality), which promotes sustainable tourism.
The Mirtillo Rosso building uses green construction. The entire structure is made of wood and insulated with cork. Single-use objects are biodegradable. A water fountain is provided for free in order to cut the use of bottles. Instead of single-use products, in the rooms you will find dispensers.
100% of the electricity we use comes from renewable sources. Our boiler, which heats the entire building as well as the pools, runs on pellets, a by-product of timber processing. Our south-west facing roofs are home to 45 sq m of photovoltaic panels for the production of electricity.
The hotel has a double electric vehicle charge point. The electricity supplied is from 100% renewable sources.
You will be served excellent Valsesian milk, yoghurt, cheese, wines, cured meats, and hazelnuts. The list of organic products grows with every season: juices, jams, cereals, pulses, some fruit and vegetables, the pasta for small children, some flours and cooking and pastry making ingredients.
Family Hotel Alagna Monte Rosa, Italian Alps, Italy - Mirtillo Rosso (mirtillo-rosso.com)
Ph: +39 0163 91810
Email: info@mirtillo-rosso.com
Indirizzo: Strada della barriera 8, Alagna Valsesia (VC), località Riva Valdobbia
Facebook: Mirtillo Rosso Family Hotel | Facebook
Instagram: Mirtillo Rosso Family Hotel (@mirtillo_rosso_hotel) • Foto e video di Instagram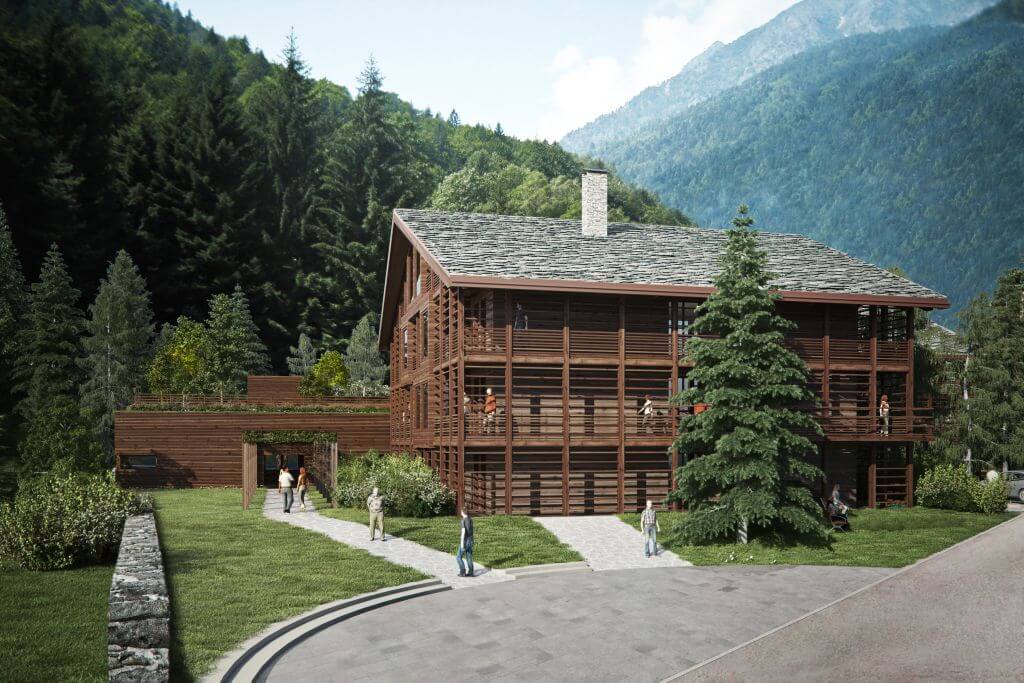 Genzianella Guest House is a small family run hotel 100 meters from the lifts. Closed to the arrival of the Alagna return slope is the ideal choice for those who want to reach the hotel on skis! It offers simple, clean and airy rooms, all with satellite TV, telephone, free wi fi, private bathroom, hair dryer. Breakfast buffet and a superb wine cellar! Guests have a private outdoor parking.Address: Via Per Casa Prati 2
Tel: (+39) 0163 923205