Your chose Alagna ski resort for your next holiday and now it's time to book a bed

Holidays in hotels, residences or homes to rent from private owners? If this is your dilemma, read on; This article was created with the intention of guiding you in making the best choice.
Hotels in Alagna Ski R

esort


If you are looking for 100%, total comfort, there is only one answer: hotel, hotel, hotel.

Book now and you won't have to give it another thought!

Carefully decide which services you would expect to find and then think no more about it. In Alagna there are hotels dedicated to children, such as the Mirtillo Rosso family hotel, where young guests are treated like princes and princesses. There are charming structures such as the Alagna Experience Resort with a large spa, a massage service and a heated swimming pool. There are historic hotels such as the Relais Regina, where Sibilila Aleramo stayed over, after yet another row with Dino Campana, and there are delightfully cosy, charming lodgings such as Zimmer Casaprati and the hotel Montagna di Luce. We offer you a multifaceted range that leaves you spoilt for choice.

If, on the other hand, you are looking for an apartment to rent, the choice is more complex.

Holiday apartments and residences in Alagna Ski Resort


Many accommodation structures, all of which have a valid municipal license, offer large apartments with services similar to those of hotels. In this case, you will have to browse our choice of vacation homes and residences. These apartments are meant for weekly or monthly stays where you can be absolutely that you will be staying in accommodation regularly checked by ASL (the National Health Service) and the Province.
Smitt House, for example, the historic, liberty-styled villa in the center of Alagna, has large and bright apartments, complete with linen, complimentary toiletries, and more, while maintaining the independent feel of a private house with a garden. This type of accommodation has private parking and passes for the ZTL (traffic limited zone), without which you will surely get a fine. Similar amenities are also available at the Casa dei Fiori residence or at the Baita Walser Reale, which are reconstructed ancient Walser mountain huts, from where you can admire the allure of the mountains in a modern context.
Your stay in these accommodation structures are guaranteed by the Monterosa Valsesia Consortium that grouped the hoteliers of upper Valsesia together and their aim is to provide centralized services, including a free shuttle to the ski lift facilities, a 30% reduction on the tourist tax, and access to free guided tours which are organized by the consortium.
Simply put, rest assured and services included.

Homes for rent through private individuals in Alagna ski Resort


In the age of the "shared economy", many private apartments have also appeared on the market in Alagna. Some are really very beautiful, others a little less. Before making your choice, we suggest that you carefully check the conditions of the site you are relying on to avoid surprises that may arise later. The internet has a plethora of rental apartments and making a choice has become quite difficult. These are so-called "second" or holiday homes that are rented out by the owners for a few weeks a year, and all of them have that charming lived-in feel, each with their own personality and attention to detail that you can appreciate as a guest.
However, bear in mind, that you will not have the same assistance that you can find in residences and holiday homes. On the upside though, you will have all the freedom you could ask for and the opportunity to spend your holiday in one of the typical Walser houses.

The downside? You will not have any shuttle services and you will have to manage your reservations for weekly events by yourself, so nothing too serious, though. The most important issue is that the tourist tax will cost you € 1.50 per day per person, and that is 30% more than in a hotel. Also, you will have to do some extra necessary legal paperwork regarding the rules for registration at the local police station, ISTAT and invoicing, because if these documents are not completed and filed, both you and the proprietor will be responsible for all eventual fines.
This is a new system of accommodation and even though there aren't many guarantees, it might be an interesting option. The Valsesia Monterosa Consortium has compiled a list of homes for rent through private individuals that have been verified: it's worth taking a look.The Consortium does accept any responsibility with regards to these structures but only acts as an intermediary to check that the minimum safety standards are adhered to and that the quality of the accommodation does not hide any nasty surprises.
Are you preparing for your weekend in Alagna, but uncertain about what to do? We are here to give you the advice you need!
You can get up comfortably in the morning and after breakfast ask your hotelier to take you to Vogna Valley, as many hotels have a private shuttle service. Otherwise, you can ask for a taxi or go there with your own car, because it is only 5 km from Alagna. Go to the parking lot of Ca di Janzo from where begins a splendid walk through the Walser hamlets of the Vogna Valley. The road is comfortable and mostly flat and not at all tiring. But the landscape is alpine and very wild and even though it will feel as if you are facing a hike of epic difficulty - we can guarantee it's the complete opposite. The Vogna stream creeps into the mountains creating real canyons and the environment looks imposing.
Trekking of course

You are going to do 3 km hike on a wide, well maintained road, without any difficulty! Walking through villages of wooden houses rich in history, you will reach the hamlet of Peccia with a small lake and the church of San Grato, which witnessed the passage of Napoleon's soldiers.

Lunch at farmstay Edelweiss

Here you can have lunch at the farmstay Edelwieiss: a warm and well-kept room with a few tables where Flavia, the hostess, cooks polenta with a myriad of sauces and makes sure to take lots of care of her guests. It will seem as if you've stepped back in time There are few other places where you can feel so much at home. Remember to book. Everyone likes farmstay Edelweiss and its polenta is a must for those who choose to spend a weekend in Alagna.
Return home at sundown and when you reach your car in Ca di Janzo, realise that in between all the laughing and joking you will have walked 7 km. You will have reached the daily goal of 10,000 recommended steps without any effort. If you reached the Vogna Valley by car, before returning to Alagna make a stop in Riva Valdobbia, the small village at the end of the road. You cannot pass by and not visit the splendid church of San Michele which overlooks the town square with its huge sixteenth-century fresco depicting the Last Judgment.

Aperitif Italian style

You could stop at Da Mario, the bar overlooking the square where an aperitif with gin and tonic is a must. Remember to book your table if you want to be sure to relax at one of the vintage tables in the lounge inside.

The second day you can dedicate to visiting the centre of Alagna. It is a very small village with a central road only 2 km long.

Breakfast with empathy

Before starting your trip, we recommend stopping for a coffee at Bar del Centro It is the favourite coffee of the people from Alagna and here you can meet them discussing weather and snow. It is the right place to enter the mood of Alagna: at a slow pace and in a sociable manner.
After reading the newspaper (at the Caffè del Centro, where you can find them all) spend some time visiting the parish church: the seventeenth-century altar in gold leaf and the "portable" Walser altarpiece found in the chapel to the right of the altar are well worth a visit. The Walser, a population in perpetual movement, built an altar, which would religiously be taken with them on their seasonal wanderings.

Few steps in centre

When you leave the church, do continue on towards the cemetery. In 1990 the engineer Arialdo Daverio, patron and benefactor with a great passion for Walser architecture, died in Alagna. His grave was built as a miniature Walser house in memory of the great work done by Daverio for the census of the huts in Alagna. Since then all the tombs have that shape and the small cemetery now resembles a miniature village.

Not the usual lunch

For lunch there is only one choice if you have followed the path we have suggested: The Refuge of Zam Tachi.  Situated beyond the river Sesia, the restaurant is housed in a beautiful original 1600 Walser hut, and overlooks Alagna from its privileged position. Here you will truly find typical dishes. Try masarai potatoes (leeks, milk and potatoes) or Walser soup. Maybe they are not too light on the stomach, but the honestly, the experience is worth it and after lunch, we will guide you to the Walser museum which is one km from here and the walk willdefinitelyhelp with your digestion.

Regenerating walk

From Zam Tachi, if you keep to the orographic left of the river Sesia, you will arrive at the hamlet Pedemonte. It is a small group of Walser houses gathered around a poetic square, with the monolithic fountain in the centre, which has been bubbling for 500 years. This square faces the Walser museum, which invites you to enter a 600 year old Walser house and peek through the walls of a past life. It is worth it. After the museum, if you still want to walk, go up to the hamlet of Ronco. It is only 200 m far, but it's all uphill (the final step to burn those extra 100 kcal that always makes the difference). From there you can look at Alagna from above, between houses where time has crystallized, and the present seems light years away.

And today as well, in between laughing and joking, we made you reach 10,000 steps so now, you just have to go back to Alagna. When you are near the church, at the height of the café in the centre where our day together started, enter the old mule track.

Local souvenir

In the middle of this road you can stop at the Dairy: it is an old shop selling cheese "in the way God commands"; it is the farm shop of the Muretto farm, a place where you can still find authentic rich and flavourful products. Make sure you taste the most seasoned toma cheeses. They hold near forgotten flavours that will absolutely surprise your taste buds. And if cholesterol is not a problem for you, ask for whipped lard and garlic ... yes, we know that it is a mortal sin, but maybe, once a year, it can be done!
The query what to do in Alagna in a weekend is still in the list of your doubt?
Your holiday is about to begin and you have a question buzzing round your head: which routes are best for off-piste skiing in Alagna? Here are our tips:
Alagna Valsesia is well-known in the world of freeride because due to the high altitudes reached by the ski lifts, the differences in height are demanding and tough and the guarantee of snow is almost certain. Many skiers visit us from every corner of the world to experience the feeling of skiing down the hills of the second highest mountain in the Alps.
However, chances are that when you find yourself on the snowy slopes of Monterosa you may feel confused and not know where to go. So, here is our mini guide to the best off-piste skiing in Alagna!
Before starting, remember that it is important to always inquire about possible dangerous conditions from local experts and to always use a safety kit. If you don't have much experience, it would be a good idea to be accompanied by an Alpine Guide who will help you discover the secrets of the mountains.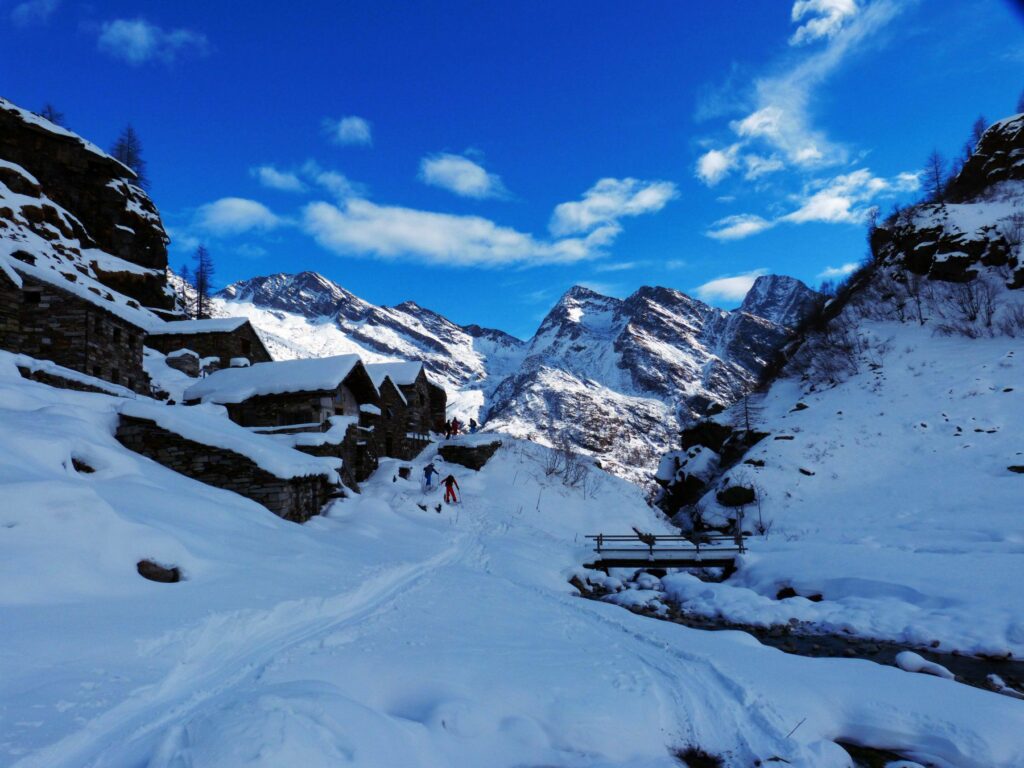 Our first suggestion on the list is without a doubt La Balma: it is a breathtaking descent into the beautiful valley from where the river Sesia originates.
This piste is an absolute must if you want to be able to say that you have done freeriding in Alagna
It is not a particularly difficult route, but our advice is to always pay attention.
The route starts from Indren (Freeride area) with a traverse from where you reach the pass and the old ski-station of Punta Indren. You descend on the eastern side until you reach the Alpe Bors plain.
The return route continues down between Alpe di Bors (see picture) and Alpe Pile snaking through a grove, which is sometimes frozen, and must be approached carefully.
This is the point where you will find Refuge Pastore and where you simply must stop for one of its legendary cold cuts and cheese platters!
To reach Alagna, you have to follow the signs that lead to Acqua Bianca, go down the service road and, once you arrive at Wold, take the shuttle straight to Alagna!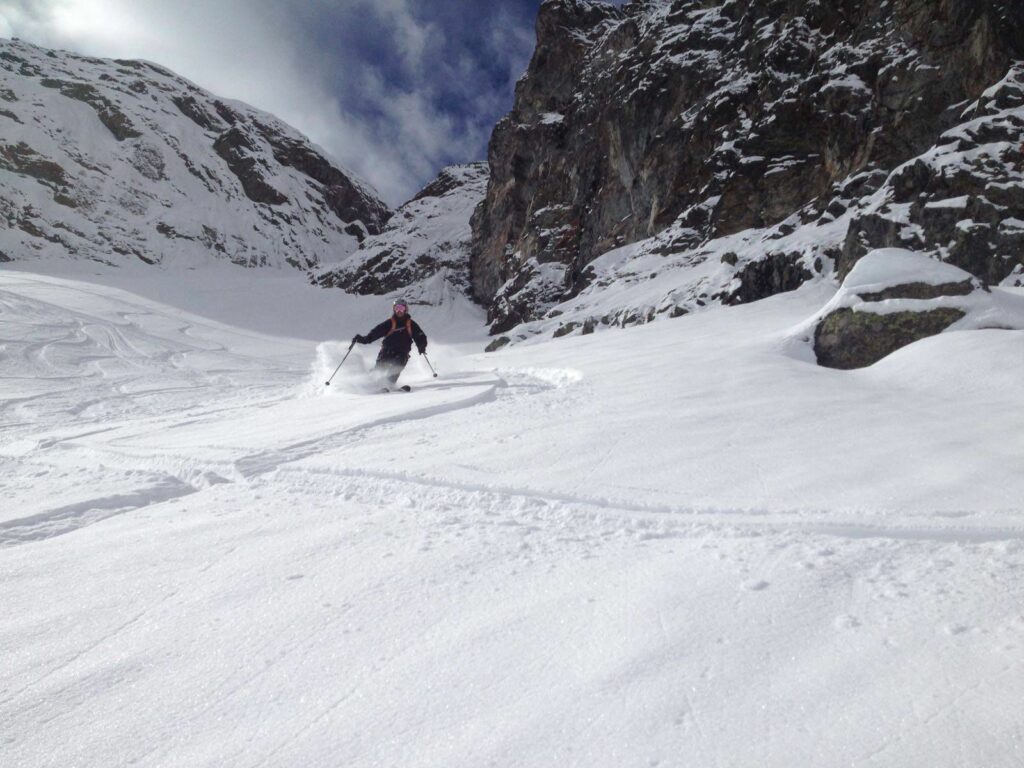 If you visit Alagna often, you will probably have already heard this name. This is one of the most difficult downhill slopes in the area, and for which a lot of experience or the help of an Alpine Guide is needed.
This wild descent that connects the Bors / Indren glacier to the Piode glacier has a complex starting point, with the possibility of abseiling. In the past access used to be via the old Indren cable car, today however, if you want to use the new Funifour you must first reach the old station or alternatively go up the Indren glacier with skins leaving from Stolemberg.
Once you have reached the Indren glacier, continue left remaining at the same altitude in a south easterly direction. When you reach the basin from where the channel of the mines starts, you must find the hill called Malfatta and go up it. The entrance is narrow and steep and a descent using the permanent belay is often preferable. After passing through the entrance you will enter the wide valley that descends towards the valley floor, and if you follow the same stretch as in the Balma route, you will reach Refuge Pastore.
Do you need to be reminded of the cold cuts and cheese platter?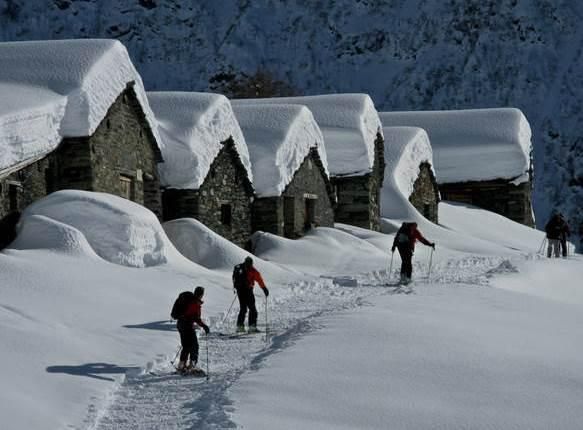 This is possibly one of the most unique ski route experiences you can choose as the magic of skiing midst houses which were built hundreds of years ago cannot easily be replicated elsewhere.
The itinerary crosses beautiful slopes higher up towards Alpe Pianmisura, after which it passes through the Walser villages of Otro. Be very careful in case of poor visibility as there are some rocky jumps that interrupt the continuity of the pastures in the upper section of the path.
The Monterosaski ski lifts will take you to where the route starts in the pass Passo dei Salati which can be reached from both Alagna and Staffal in the Gressoney Valley.
There is a 45-minute ascent using skins or on foot. From Passo Salati, go down the Gabiet piste to the bottom of the plain to where the first nets begin. Exit the piste to the left to begin a long traverse under Corno Rosso which leads to the entrance of the valley that climbs up to the Passo di Zube. After deciding whether to put on skins or to attach your skis to your backpack, go up the valley to take in the magnificent view of Monte Rosa.
From Passo dei Salati you must first cross a small valley (the one that goes down to the Jschechette Channel). After crossing the ridge, you can ski up to Alpe Zube hut (2515 m asl). Beware of the various rocky outcrops and bars that often appear when you least expect it.
From Alpe Zube just head in a south easterly direction, passing under the upper rocky bands until you see Alpe Pianmisura, cross the stream and go up to the other huts (Pianmisura Piccola, 1830 m asl).
Following the mule track you will find the hamlets of Scarpia, Dorf and Follu, with its poetic little church. After crossing the last meadows, you have to enter the woods and ski across the clearings of the old "Camoscetta" piste marked by a colored sign and by following the woods you will reach Alagna.
Off piste The Olen Refuges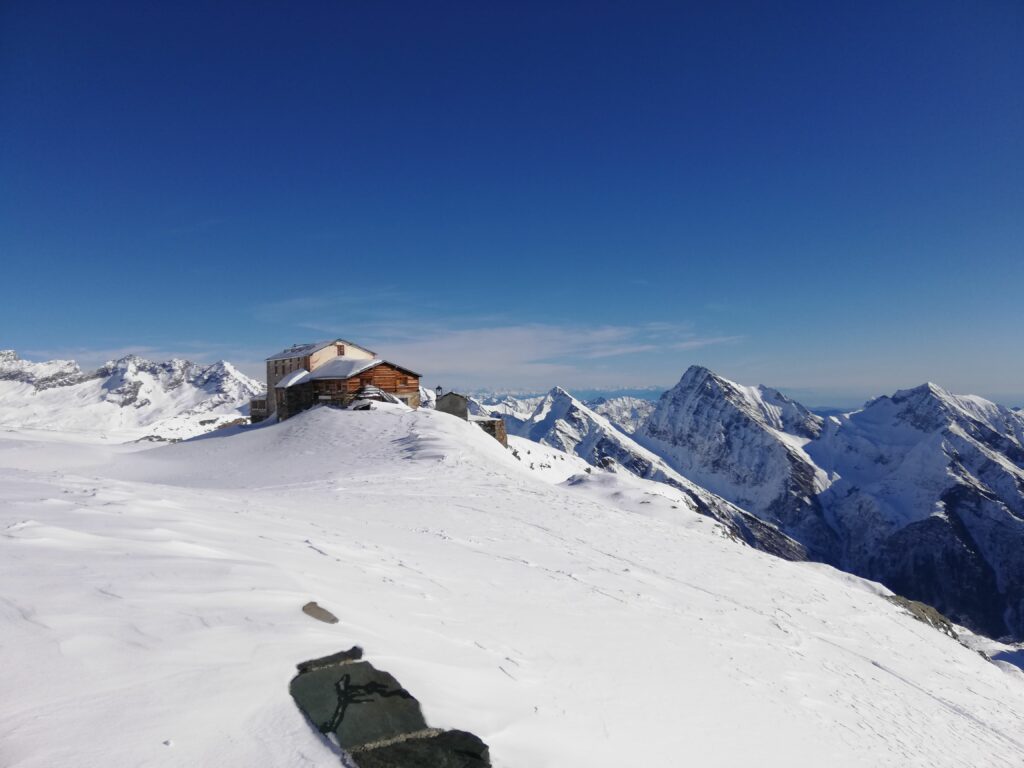 This is a simpler off-piste route and suitable for many skiers (but not to be underestimated) and has a breathtaking view. The real attraction of this section is the possibility to ski at a distance from the overcrowded slopes without going off too far, but we repeat, it is not to be underestimated.
Once you reach the pass: Passo dei Salati using the Monterosa ski lifts, and you stand with your back to the station you cannot but notice the massive top of the horn of the Chamois. Now you need to continue skiing along the top towards the left; there is usually a track. Along the way you will pass the Mosso institute and finally reach Refuge Vigevano and the ruins of Refuge Guglielmina. Here, you should turn right to stay on the path and after a hundred meters, you will find yourself at the top of the Olen valley. At this point you will start your descent. After passing the first stonewalls, ski alongside the ski piste up to Piana Lunga where you can take the cableway ride to Alagna or the funifor to do another descent!
The Boschetti or Little Woods of Alagna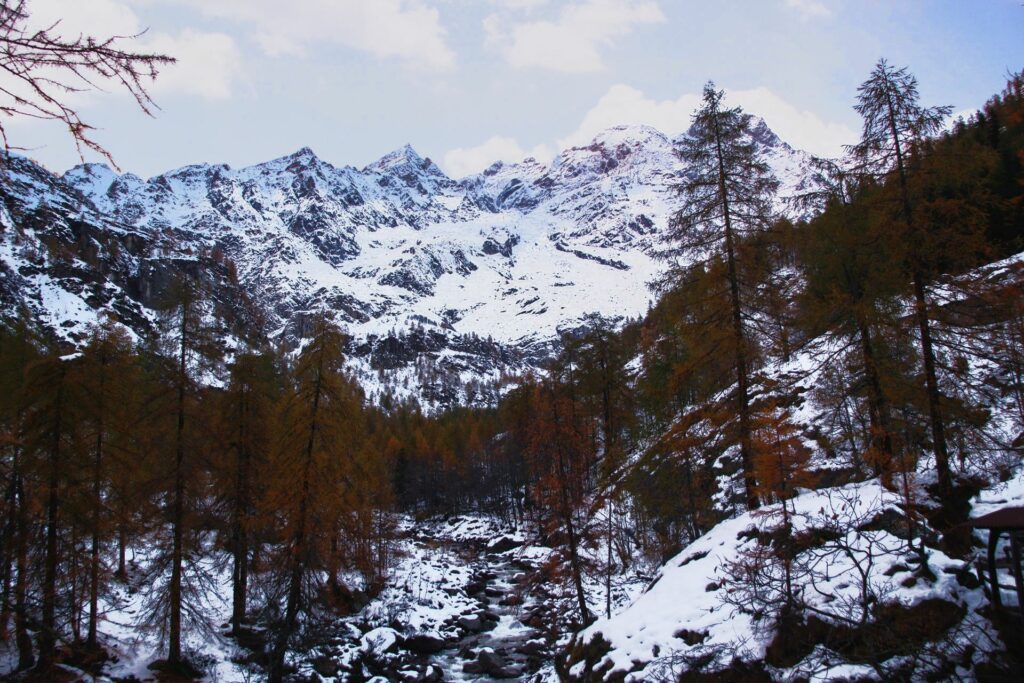 In this case we are not talking about a true off-piste route, but about a way to get the most out of a snowfall!
Skiing down the return route for Alagna you will find many little woods along the sides which, with a little imagination, can be a source of a lot of fun! Obviously, to avoid ending up in an unpleasant situation, it is prudent to understand if the amount of snow on the ground is sufficient, because towards the valley it is possible that stones and meadows are not completely covered by snow.
Last but not least, it should be emphasized that the only limit to off-piste skiing, taking into account due respect for the mountain and its conditions, is your imagination! Some emotional experiences are obtained with difficulty, others in a surprising manner, but most of the time, constant and careful preparation is needed. Remember that before venturing into paths you don't know, ask the Alpine guides of Alagna and if you have any doubts, ask to be accompanied!
Alagna off-piste slopes will give you memories of unforgettable descents.
Please, fill out this form and let us all the questions you want. You will be contacted as soon as possible.
Great things happen when man and mountain meet" - W. Blake
Are you preparing for a high altitude hike and are you already enjoying the satisfaction of your success? The sense of freedom you feel when looking at the world from above is a sensation not easily comparable.
Naturally, training is extremely important in these cases, and if you are going to subject your body to such considerable effort, there is a further and not secondary factor that you will have to take into consideration: acclimatization. With regards to timing, this important transition begins about a day after your ascent to high altitude and can be said to be completed just under a month from the same.
The good news is that our body is most efficient, and was designed specifically to adapt to variable conditions with the least possible energy expenditure.
And this is what acclimatization means: the higher you go, the more fatigued you feel, this happens because there is a significant and proportional decrease in oxygen pressure, which leads to the well-known "altitude sickness", malaise, headache, loss of appetite, nausea, lightheadedness, exhaustion. The way our body deals with this deficiency is via a process in our blood that involves a series of reflexes that activate spontaneously: breathing becomes deeper and more frequent, more oxygen is introduced in less time and this leads to an increase in our heart rate. Consider that, for an expert athlete it means perceiving a decrease in his own performance of over 25% around 3000 meters above sea level. For the less trained climber, there is a 30% decrease.
How can you acclimatize optimally during an excursion?
The acclimatization process is triggered when the body reaches between 1000 and 2000 meters above sea level. Getting you to this height is, therefore, the first step to activate it.
• If you want to reach an altitude of up to 3000 meters, staying overnight around 2000 is almost essential.
• Is your aim even higher? Step by step! If your goal is 4000 meters, it is essential that you stay overnight at around 3000 meters a.s.l.
Last piece of advice: adequate and constant hydration, the reintegration of liquids along with the intake of food such as broth and quick release energy foods help to avoid possible unpleasant situations.
The Queen of Monte Rosa4554 meters above sea level: today she is still the undisputed queen of Europe: Capanna Margherita. A dream of many, and a goal of all climbers. Reaching it certainly requires a fair bit of preparation for your heart, but it is not a feat reserved only for the most trained and prepared athletes. With the help of a qualified UIAGM guide, it is possible to organize itineraries also for beginners, which includes a refreshment stop, an overnight stay at Refuge Gnifetti, and leaving the next morning after a good night's rest to conquer the summit.
Acclimatise ... it makes you beautiful!
Precisely for the fact that we are aware of the fundamental role of acclimatization, we thought of you and that maybe before leaving for this high altitude adventure you would like to give yourself an extra treat and maybe stopover in Alagna, so here's a special rate…
One night with Bed and Breakfast at the rate of € 49.00 per person. But that's not all: on returning from your excursion you will have free access to the relaxation area of your hotel for a shower and rest so that you can reminisce in complete relaxation about your great accomplished feat.
For information, availability and booking contact: info@alagna.it  or call the number: +0163 922993
A house from the 1600s overlooking a poetic square, with a monolithic fountain in the centre, which has been bubbling for over 500 years, invites you to peek through its walls into a past life. It is well worth the time.
The Walser museum is open from May to September, and in the winter months, the following extra opening times are scheduled:
every Saturday at 6 pm you can do an experiential tour to the museum with only lanterns for lighting
€ 5 per person. A minimum of 10 visitors per group is necessary.
every Sunday at 2.30 pm there is a classic guided tour
€ 4 per person. Free entrance for children up to 6 years.
A minimum of 10 paying visitors is necessary.
private tour
€ 50 per group with a maximum of 12 participants. The tour lasts 1 hour
Tours must be booked by 5 pm on the previous day by writing to
info@alagna.it The trips will be confirmed or cancelled by 6 pm
What is the best way to reach Alagna from Malpensa, Linate and Bergamo?
So, you have started planning your trip to the mountains, and you are searching for detailed information. This article will give you sensible advice and all the necessary information provided by those who are as passionate as you are for trips in the mountains.
Alagna is located 98 km from the nearest airport (Malpensa), 164 km from Linate and 188 km from Bergamo, the other airports are further away and it is not viable to mention them. There are three alternatives from the airport: bus, car rental and taxi. The following article is an analysis of each option.
Bus
Public transport in Italy is often rather unique and regarding connections with Alagna not very useful at all, in fact, for example, if you take the bus, the only way to reach Alagna without having to plan several changes is to reach the metro station Lampungnano before 8.25 am. Otherwise, you have to take the bus to the main train station Milano Centrale and from there take the train to Novara or Vercelli where you can catch a bus to Varallo and Alagna. However, there aren't many buses in that direction and to find the right combination you will find yourself in a terrible timetable tangle, so we suggest you write to us and we will try to help you.
Write here and tell us what time you land
Auto
Your second option is to rent a car. In this case, you have to ask the question: is it really necessary? Alagna is a small town where you don't need to drive, on top of that, the streets are narrow, the parking spaces are limited and almost all of them are at a cost (€ 7 per day) and not all structures (accommodation, restaurants etc.) have private parking facilities. Therefore, if you choose to rent a car, remember to find out if there is parking space at the place where you will be staying in Alagna and if you can use the car to reach it (because the entire centre of Alagna is a traffic restricted zone – ZTL means Traffic Limited Zone). Don't forget to make sure the car has snow chains or snow tyres and uses winter fuel in case you choose a diesel driven vehicle. Finally, you need to know that Alagna has a good mechanic, but not everything is at hand and in case of breakdowns, it takes a little more time to fix than in the city.
So what should you do?
It may seem rather blatant but the best advice we can give you is to book a taxi through Alagna.it. The reason is very simple: zero problems.
At a cost that certainly does not exceed that of renting a car and does not justify an entire day spent on a bus, you have the possibility to be "transported" from the airport almost directly to your room (obviously with respect to your privacy :-)).
But the added value when you rent a taxi driver from Alagna is that not only will you have a certified and attentive professional person driving you, but also someone from the area who knows his territory by heart, who lives and works in his town and will know exactly how to make you feel like a desired guest.
Making the conscious choice for ethical and sustainable tourism will bring you in close contact with the "true" people from the mountains who will welcome you by introducing you to their community. Of course, there are online booking networks that are probably faster but they certainly do not have a soul: practically, the distance between an online booking network and an Alagna taxi driver is the same as the distance that passes between a fast-food restaurant and a proper, family-owned trattoria. Think about it…
The cost of an Alagna taxi driver is (with a 1-8 seater minibus):
From Malpensa to Alagna: 200 €
From Linate to Alagna: 270 €
From Bergamo to Alagna: € 300
DO YOU WANT TO BOOK RIGHT NOW?
Write to us and tell us what time you land and what your flight number is, and we'll take care of the rest.
Sometimes when organizing your skiing holiday in Alagna and Monterosaski you can almost feel the relaxed lifestyle of the mountains: warm fireplace, snow falling, the peace of white landscapes... But unfortunately many times we forget about the long walks to reach the lifts with skis weighing on your shoulders, endless queues at the ticket office, or maybe just the nightmare of finding parking. It's all of these issues that make those who want a more detailed attintive planning for their holiday, consider all the solutions that could satisfy every possible expectation. Now we realize that the question we need to answer is:  Where can I stay to avoid every problem? Is there any accommodation with direct access to the slopes? If these are your questions, you might be interested in our suggestions!
Zimmer Casa Prati - The real mountain prototype!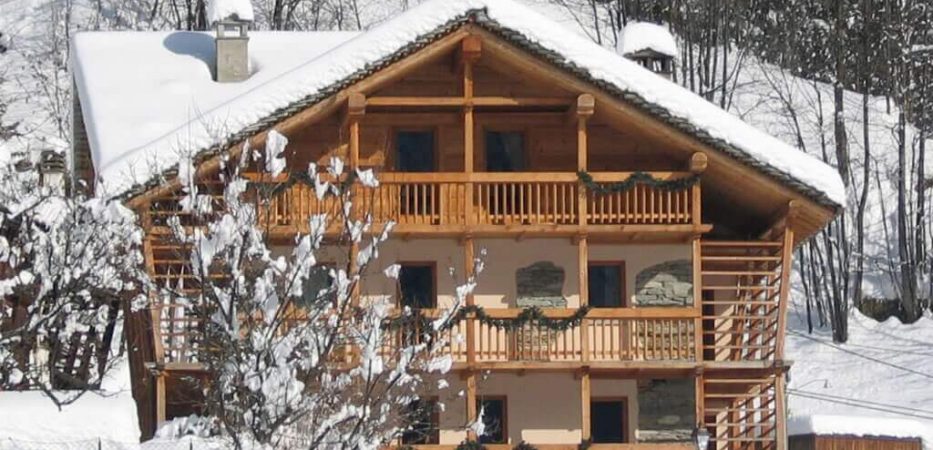 An adorable residence just 2 minutes walk from the slopes, but on most days it is possible to wear your skis directly to the front  door, and it's useless to add that is the same for the way back to the slopes! Zimmer casa Prati is a true house of charme that keeps the Walser traditions alive thanks to its typical furniture and decor. The six wooden rooms whish are bright and well heated, will make sure you spend your holiday in a perfect relaxed atmosphere and the package is completed with a wonderful bio sauna, the light therapy shower, relaxing lounge area and steam bath.
Rifugio grande Halte - A must for freeriders (and gourmands)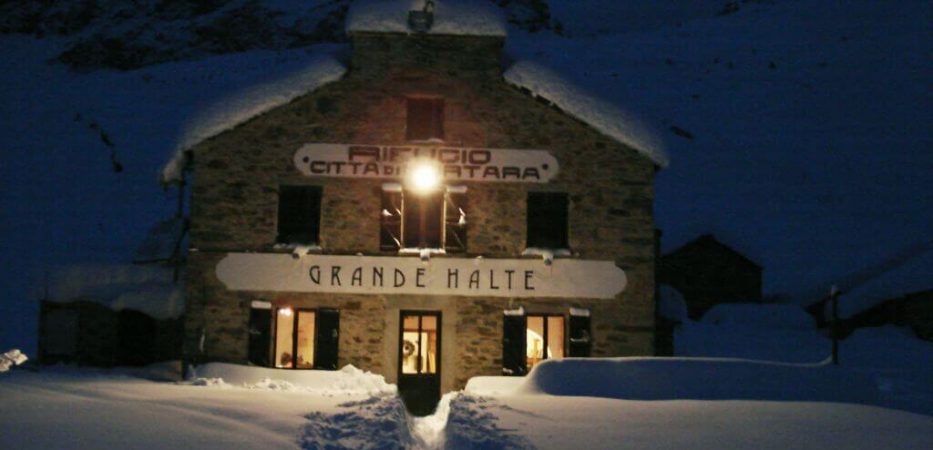 If you HAVE ever wondered how it feels to be the first one out skiing in the morning, and maybe the last one to be back at home, and then be all spiced up by a good replenishing, regenerative meal, Grande Halte is what you are looking for! Located on the way back to the slopes of Alagna, itis the best opportunity to feel the essence of the mountain. Known also as Rifugio Città di Mortara, suggestive in its vintage furniture and in its historic alpine style, the hut proposes wooden rooms with a sauna and warm showers. The common room is complete with a nice fireplace, many board games, a small library and an internet connection. Not to be up is Mimmo's kitchen with his local and natural products, also mentioned in the guidebooks:  Gambero Rosso and Le Strade del Gusto.
 La Baita Alpe Sewji- A nest in the mountains
If Mountain Hut life is not quite what you are looking for, but you don't want to pass on an opportunity of a very unique experience in the mountains, this might be the right solution. The Hut Alpe Sewji is a small stone house nestled in the mountains right near the slopes, surrounded only by snow and typical Walser huts. La Baita is a tiny hutful of  charm, furnished with a fireplace, lots of wood and nice details. The Hut  has a living room cum kitchen, A bathroom with shower, A sleeping room and a magical loft. A very special romantic nest indeed!
Hotel Olen -  (FPBC) Freeride Paradise Base Camp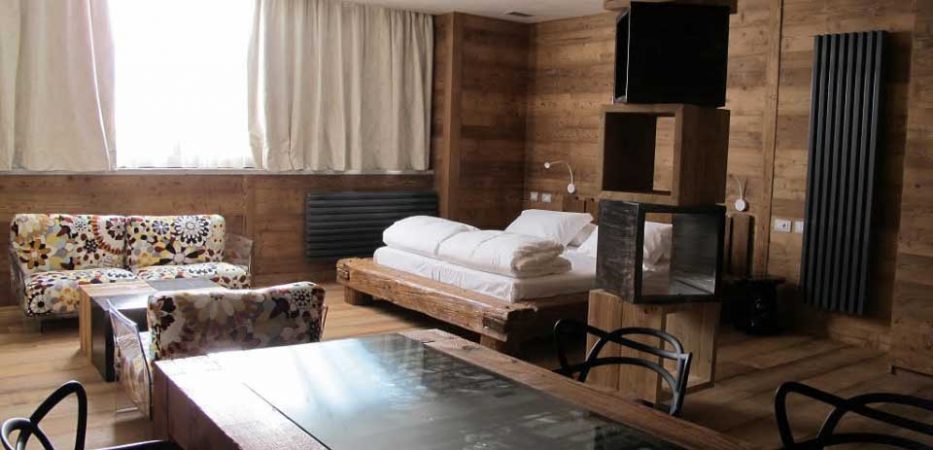 Hotel Olen - Freeride Paradise base camp
Can you imagine waiking up in the morning in a beautiful room, the result of a harmonious combination of modern and traditional décor styles, having a rich breakfast, maybe even while you are still warm under your blankets, thenk getting dressed, picking op yourskis or snowboard, and stepping out of the door…  directly into the cabin of the cableway! This is possible only at the Olen Hotel. It is so closeto the lifts that even the employees at the hotel can't get that close to reach their offices! The wide windows and the huge terraces of this hotel allow a unique view on the surrounding mountains and on the stone roofs of Alagna, while the location, enhanced by wood and stone, is characterized by the best domotic technology for use by the guests.
Pensione Genzianella - Privileged foothold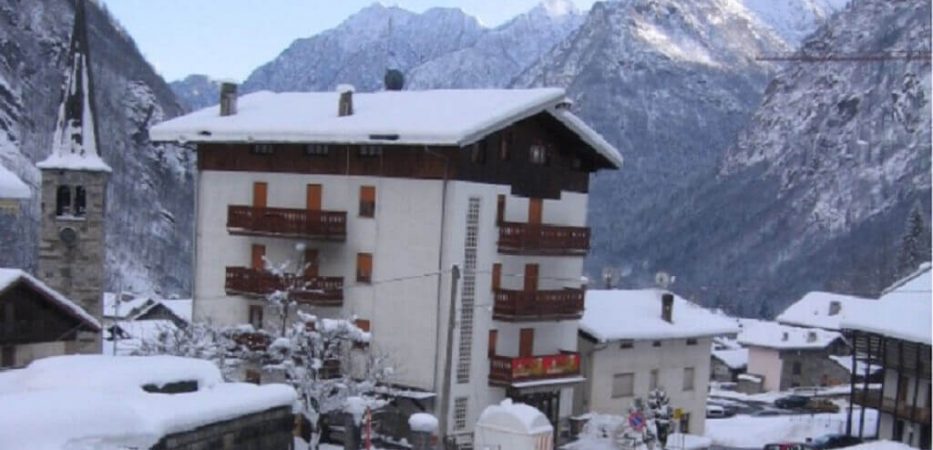 If you are interested in staying in a familiar place every time you go in a ski trip, you need Pensione Genzianella. Located exactly at the foot of the slope leading into Alagna this relaxed hotel setting offers couples and families simple, clean and sunny rooms and a dining room for meals. Pensione Genzianella is the best place where you can relax and share your experiences without giving up a little sport and fresh air.
Pietre Gemelle- for those who seek alternatives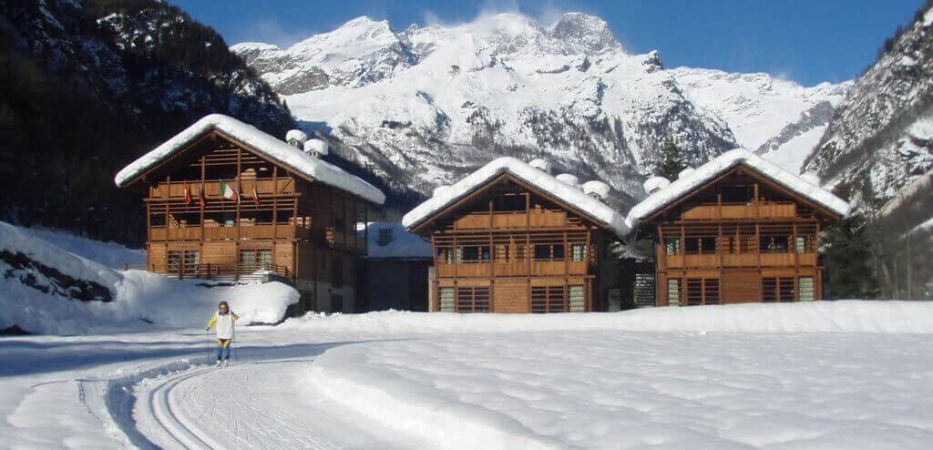 Every time you try to organize your holiday one question arises: do I have any other possibilities? Yes, of course you do! As we have explained many times, Alagna is not only about skiing and freeride, but much much more. That's why this resort, thanks to its strategic location, is able to privide a valid alternative: cross country skiing. The Marmotta Rosa is a network of itineraries located between Alagna and Riva Valdobbia comprsed of more than 10 km of well trodden paths surrounded by spectacular pine woods near the Sesia River. The hotel is equipped with private parking, SPA & wellness area, luggage deposit and garden.
Are we missing something? The answer is, YES, because it's up to you to discover all other details, and why not, share it on our Facebook PAGE!
Monterosa Ski season starts on November 17th!
On Saturday, November 17th Monterosa Ski inaugurates the winter season 2018/2019, two weeks earlier than planned!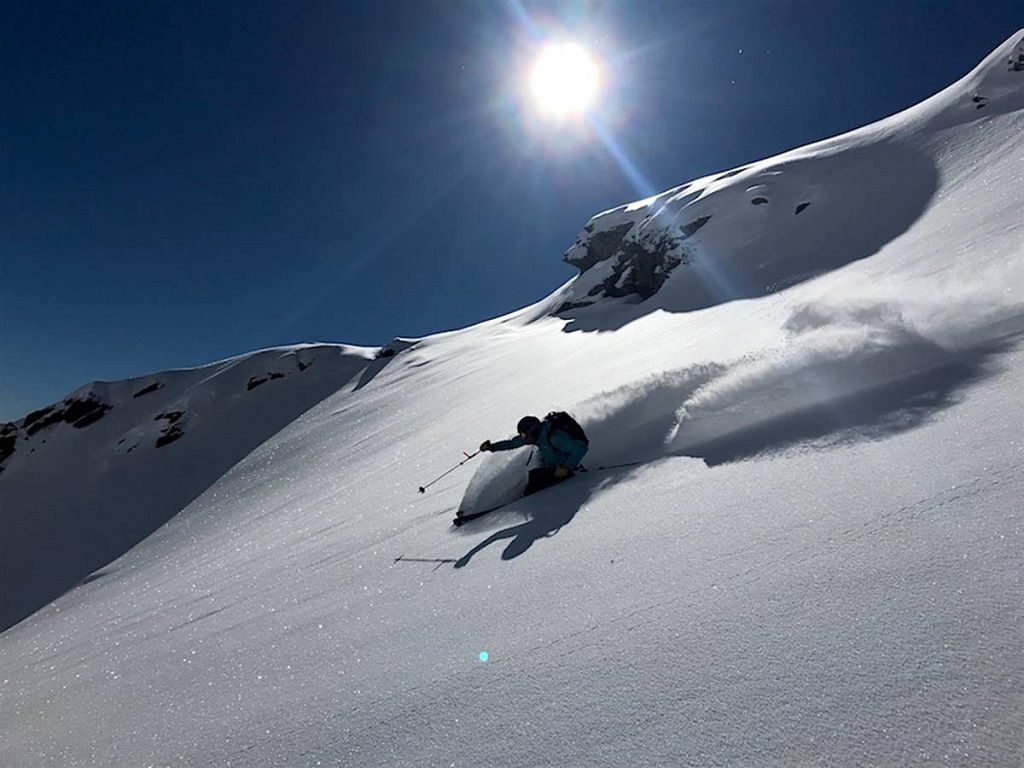 During the weekend the lifts from both Stafal and Alagna to Punta Indren will be operating and it will be possible to ski on slopes Salati, Salati 1 and Salati Variante, on Gressoney side, Cimalegna and Bodwitch, in Valsesia, that are already perfectly snow-covered thanks to the great intense disturbance of the past weeks.
But don't stop at Passo dei Salati, catch the funifor and reach Punta Indren at the altitude of 3.275 meters: now let your skis lead you and enjoy every second of this fantastic off-piste descent passing through the epic "canalino dell'aquila".
Good news for the ski mountaineers, too! The skimo track from Gabiet to Passo dei Salati will be ready for the weekend! What about you? Are you ready to conquer your best descent?
Four days of special opening on Saturday 17th and Sunday 18th November and then on Saturday 24th and Sunday 25th November to satisfy your snow craving!
We propose the daily ski pass at € 28,00 and we offer you for free the access to Monterosa Freeride Paradise: do you need any other good reason for coming to Monterosa this next weekend?
Free SKI Italy 2017/2018 Monterosa
Those who book a hotel room in Alagna at one of the hotels taking part in the "Ski for free" initiative, will not pay for a ski pass!!
If you stay in one of the hotels or apartments in the Ski for free initiative for a minimum of 4 days from 3 to 23 December 2016, from the 6 January to 28 February and from 23 March to 14 april, you will be given a free free ski pass.
Do you want to be in the midst of the 2017 winter season?
This is the opportunity you've been waiting for ! Live the experience on ski runs totaling 180km at the Monterosa ski resort of which 170 have snow making canons and don't forget the Freeride Paradise of Alagna where you can appreciate 2000m difference in  sea level with ski runs as high as 3275 m  above sea level at Indren  to Alagna at 1200m above sea level.
Find out which hotels and structures are taking part in the initiative
The winter season which has just ended has confirmed a trend common to many Alpine resorts. Little snow at lower altitudes, and only for a limited period. In some countries the first flakes were seen in late January, and in others even in February. Luckily here in Alagna snow is plentiful, thanks to its altitude and position which ensure snowfalls in our territory as soon as the temperatures drops. But in this small oasis of peace in the Western Alps there's much more: if the meadows are green and blossom again in Alagna, there is a place where the thrill of adventure and fresh snow will last for many more months. We are talking about the one and only
Capanna Regina Margherita, which stands at a height of 4454 meters above sea level and the queen confirms, in every sense, that it holds the unbeatable record to date of being the highest refuge in Europe. Here, there is still much snow, and there will be snow until the summer. Why not take advantage of it? Here are some ideas on what to do!
TREKKING AND HIKES TO CAPANNA FROM JUNE TO SEPTEMBER
For those who love the outdoors and the mountains, Capanna Regina Margherita is an absolute must. The view from up here is spectacular, the air absolutely clear and clean, the silence priceless ... while within the structure perched on a rock, there are plenty of amenities:
Sleeps 70 people in rooms with bunk beds
Bar and restaurant, shared bathrooms and electric lighting
220v current and WiFi and Internet access
library with a selection of reading on mountaineering and more
This mix of extreme landscape and modernity is the strength of Capanna Margherita. It is a magical place where you can among other things, practice ski mountaineering using skis or snowboard. But how can you experience this thrill above 4,000 meters? And from which point is it safe to start your hike
There are mainly three holiday packages already available. Have a look at the descriptions below and see what they consist of and what the costs and duration are:
2 day excursion
The quickest and easiest formula to visit the hut. In the company of a qualified UIAGM guide your hike starts from the beautiful tip of Indren and climbs to Capanna Gnifetti, where you dine and spend the night in a room. The next day you start the roped hike at the light of dawn to reach the refuge: Queen Margherita, for the usual photo taking and dutiful celebratory toast.
3 day excursion
With an extra day you can sleepover at capanna Regina Margherita. After admiring the sunset, you have the opportunity to dine and sleep the night in the refuge. The next day starts with a hearty breakfast and a visit to Christ the Vette and Pyramid Vincent, two of the 4000m peaks of the Monte Rosa massif, and then descends to Indren and Alagna, always in the company of UIAGM guide.
Ski mountaineering with capanna Gnifetti as basecamp. 
The most suitable program for those who want to prolong the winter until spring. Capanna Gnifetti, open until May 7 is the ideal base for numerous ski mountaineering routes over 4000 where the snow is still very good.

ALAGNA VALSESIA: THE GATEWAY TO MONTE ROSA
The town of Alagna Valsesia is the ideal starting point to reach the heights of Monte Rosa, both in winter and summer. The name "gateway" is not accidental: if we look at the Italian side, Alagna is really a must stopover for climbers and freeride enthusiasts. Hospitality in these parts is tradition, and is tangible in the wide selection of top quality hotels and, B & B, residences, refuges and campsites for those who love holidays en plein air.
Book now your Summer stay in Alagna Valsesia!
Summer in Alagna offers plenty of activities, from fishing to rafting, from climbing to cycling, from trekking to mountaineering ... and depending on the weather conditions you can also safely enjoy ski touring, accompanied by qualified guides who know the mountain and will accompany you on the snow without risking danger. We strongly recommend booking all tours and packages for Capanna Regina Margherita well in advance, which is very popular especially now that the official opening date is approaching.
Alagna Valsesia is a tiny village: 400 inhabitants, 400 beds, 7 restaurants, 6 bars, 1 tobacconist, newsagent 1, 2 grocery stores, 1 sports items store , 2 clothing shops, a haberdashery, a ski rental shop and a dairy shop. A simple little town and it's exactly for this genuine and intimate reason where life goes on, muffled but real. Early October is the time to book your ski holiday if you want to be sure to find what you are looking for. Here you will find all the tips to make the right choice:
If you have young children and are looking for help to manage them, your first choice is: the Mirtillo Rosso family hotel, a haven for young guests, not forgetting Mom and Dad.
Do you want constant views of Mount Rosa? Do you want to watch it from your bedroom, the bathroom, the breakfast room and the garden? Then you must choose a location in Riva Valdobbia, and your top choice is the B&B Tre Alberi Liberi: charm, breakfasts prepared with 0 km products and 5 star reviews!
If skiing, parties, long nights, and young people are a must for your holiday: Indren Hus social sports hotel is the right answer. The youngest zimmer in Alagna centers around the cult pub Freerider!
Looking for the log cabin in snowy meadows, the suspended time which stops between past and present in a separate dimension? Well, then the Agriturismo Alagna is your choice; surrounded by beech forests and meadows, it is built above Fattoria Muretto home to many cows, goats, chickens and dogs. And breakfast is strictly from the farm!
Want heliski freeride, snow with friends as your only request? Casa Smitt is for you: well cared for and spacious rooms, a short distance from the ski lifts, a villa that has spanned 150 alagnese tourism without losing an inch of its appeal!
If your skiing holiday is all indoors, skiing and wellness! Baita Walser Reale and Baite Rosa village huts offer one or two rooms perfect for families with small groups seeking informal space without sacrificing comfort with an adjoining spa.
All clear on how to choose the location? Now relax and continue reading.
La Banda Biscotti: inside the prisons of Verbania and Saluzzo, biscuits are produced; day by day, hopeful of a fairer justice, in a more welcoming community, with people less isolated and angry, and they make really delicious biscuits using excellent raw materials! Local Fair Trade products at 0 km. And do you know where you can buy them? In Alagna at the Dairy Farm of Fattoria Muretto.
Alagna is beautiful because it is true
Are you planning to have your holiday in Alagna Valsesia, near the Monte Rosa? Be warned: there are no supermarkets, shopping centers and nightclubs. We do however, have adventures to sell! If you want to ski on Mount Rosa, far from the usual trails and conquering virgin snow, put yourself in the hands of our expert guides who were born in these mountains, and they know them by heart! Have you ever heard of Alberto Zucchetti, Sergio Gabbio of Sbarde or Boris? The ultimate holiday for freeriders passes through them.
Ski School? Mao, Daiana, Stephen, Elena, Pico, Toti, Tiziana, Corinne, Bamby. Lorena is at the Walser museum, who sometimes accompanies you to also do some amazing snowshoeing. At the restaurant Dir un Don you will find the legendary Ciccio, a specialist in Southern wines, and at the Union restaurant, Paola made the dish raclette a myth and at Ca Nosta, Graziella is unmatched in the art of making desserts. So when you come to Alagna you will get to know all of them!
Alagna Experiences - Holiday packages
After telling you about which places to visit in summer, we are back again to give you advice and tips about what to visit in winter in Alagna Valsesia. We are certain that even the most expert tourists will discover new possibilities and enjoy preparing their holiday in this fantastic territory. So, let's jumpstart with a hike from Ca' di Janzo to Peccia, an easy trail, suitable even for children, which allows you to explore the heart of Valle Vogna along an antique route that connected Riva Valdobbia with Gressoney and France for centuries. Total hiking time is about 1 hour and 30 minutes on foot and half an hour by bicycle with a height above sea level of just about 146 meters. We highly recommend a traditional lunch at the refuge Sant'Antonio, where you can savour the home cooking of Silvana, mamma to farmers, cultivators and ski instructors, who transform each of her luncheons into a family lunch! A fantastic itinerary in all seasons and not only in summer.
FREERIDE, RELAXING AT THE SPA , VISITS TO THE CELLERS AND A DELICIOUS MEAL OF …..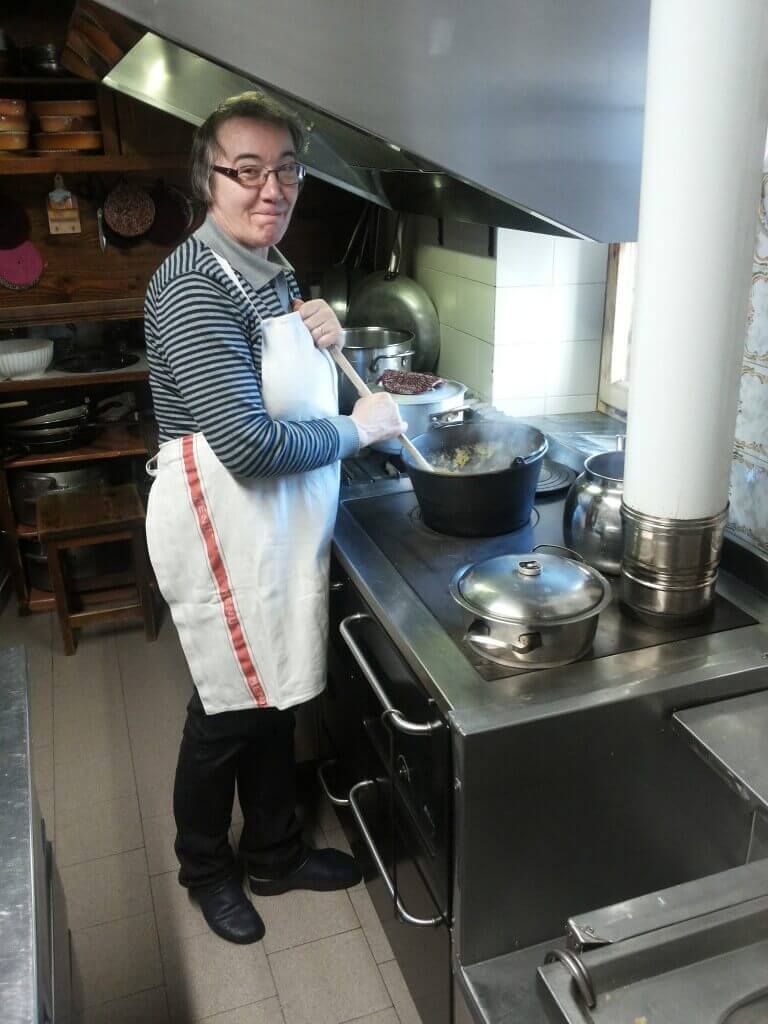 Alagna, as we all know, is the paradise of Freeride, downhill on skiis or snowboard. Accompanied by Alpine guides from Alagna is without a doubt an experience well worth diving head first into this adventure, starting with an "entry level" downhill from Balma until refuge Pastore. For those on the other hand, who prefer , admiring Monterosa while taking a short hike to refuge Pastore is a must: there is a surprise for those who decide to stop for a bite. Amongst all the spots to visit and experience in Alagna Valsesia in winter which should not be missed is the Spa, Mirtillo Rosso Family Hotel, una modern centre where you can relax and be pampered between hot baths in spring water and toning massages. The SPA  remains open until 23.00, so you can watch the stars while immersed in the hot water of the pools. Aperitive and dinner at the SPA in the company of the Comfort Zone staff for a pleasurable soak in beauty and pleasure at a cost of only 40 euro with entrance and dinner included!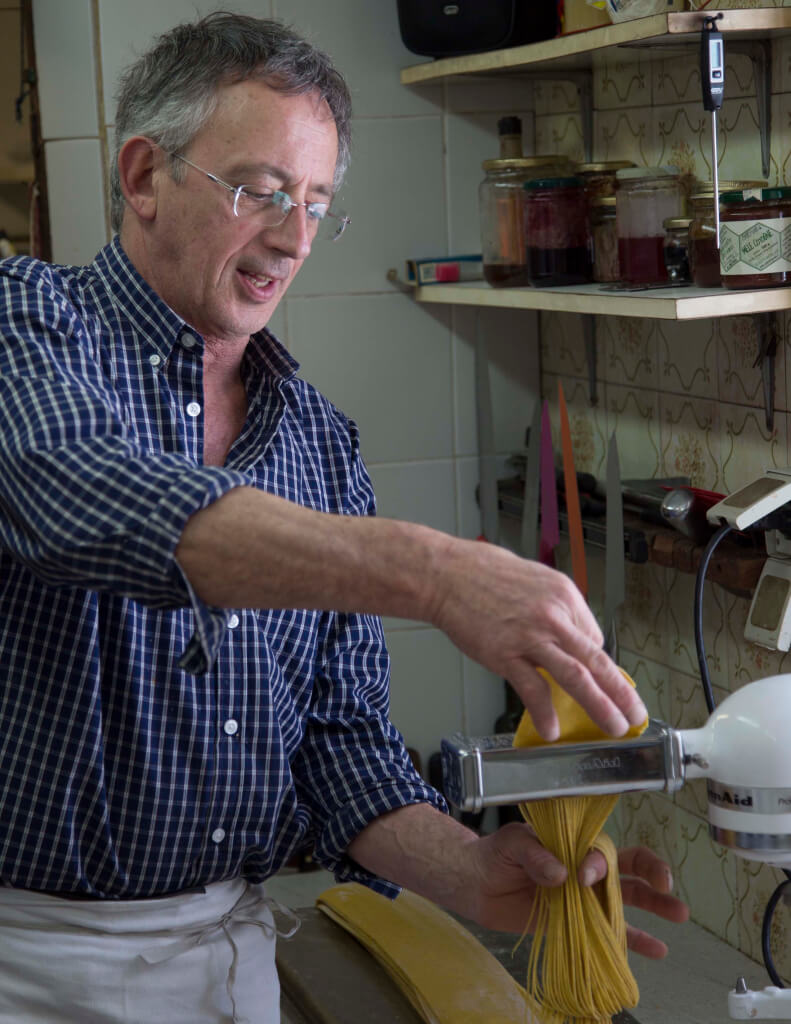 Do you love traditional tastes and flavours ? Stopover at Rifugio Grande Halte and taste Mimmo's fresh tagliolini. His cuisine has been awarded a position by Gambero Rosso Low cost and those who have tried his food did not regret it. If your passion is alpine skiing, spoil yourself and try the crossing Alagna-Rima-Carcoforo (also take a look at the other adventures shown on our portal on the webpage Alpine Skiing in Monterosaski Another breathtaking experience is elisking in the Valle Perduta, ( the Lost Valley) where – according Walser legend – rivers of wine flow and the streets are made of cheese (the writer Valeria Montaldi wrote the first novel "the wool merchant" about this legend. If it's a windy day, take the taxi and ask to be taken to Romagnano, Gattinara e Ghemme for some wine tasting and cachemire shopping, with guided visits to the nearby wine cellars of Podere Valloni and Barbaglia.
But that is so far from the truth!
If you want to meet the soul of Alagna, you have to visit it in September. After the super crowded period in August, Alagna returns to savoring the slow pace and genuine life of a mountain village with its  everyday life and human touch, but with a calendar filled to the brim of events.
The top 5 events in September
But in Alagna in September you can also choose to do nothing, to relax in our hotels, be spoiled and pampered with care and meticulous attention. Because we in Alagna are convinced that if it is true that the world today runs at a fast pace, it is also true that from total idleness the most innovative ideas are born
Book now your September stay in Alagna Valsesia!
Those who have been lucky enough to spend a weekend or a few weeks in Alagna already know: our territory is not only the freeride paradise ,  but also the kingdom of locally produced products (km 0) and "slow" holidays. There are many gastronomy tours and just as many excursions recommended for those who love to travel slowly. Read, for example, what we wrote in the article Products from our territory, lunch & SPA: a typical day in Alagna , and you will realize what and how many leisure opportunities we offer regarding food and wine, cultural and historical. The names to be mentioned are many, from La Latteria, a real temple of good food in the center of Alagna, perfect for stocking up on cheese, pork salami made by us, bread and naturally leavened cookies and all types of delicacies from the territory. For the sweet toothed travelers, we have, among other products, the 'miaccia', a local delicacy you just have to taste, at Mario's bar, an inevitable meeting point before dinner.
PARKS AND ATTRACTIONS FOR A SLOW HOLIDAY IN EVERY SEASON
Slow tourism in the Alta Val Sesia national park is perhaps the epitome of a slow holiday. But there are also other destinations and sights to satisfy your desire to slow down like visiting the beautiful Walser museum, where you can spend some time with family and friends admiring antique collections and artefacts from the Walser culture. Over 650 objects dated between the fourteenth and twentieth centuries, placed on the outside and inside a mountain hut dated 16Alta Valsesia Natural Park, the higest in Europe (alagna.it)38 in the context of an authentic Walser village, provide insight into the knowledge of this extraordinary people who founded a civilization in this territory in complete harmony with nature and its resources. There are also numerous opportunities for trekking and slow walks , suitable for all levels of fitness, athletic preparation and difficulty ( click link here for an  updated map ).Alta Valsesia Natural Park, the higest in Europe (alagna.it)
For sport fishing enthusiasts, the river Sesia's clear waters  flow right up to Mont Rosa at a height of about 2,500 meters. Trout fishing is an ancient tradition, which is rooted in the centuries of the centuries, so much so it is home to the famous Valsesian fly fishing, a technique originating in this territory to provoke the most clever and cunning prey with simple but effective gestures. Another slow sport is cycling, or better, mountain biking, with dozens of easy paths mid-mountain and suitable for families and children, but there are also more demanding routes for those seeking an adrenaline rush. A complete offer in every season of the year, to experience the slow rhythm of your breath and silence that reigns here undisturbed, far away from "mass tourism ".
Discover the Slow life breakaway packages for your slow holiday on Monte Rosa!
Reaching the highest refuge in Europe!
The challenge is about to begin: every year we prepare for the upcoming opening of Rifugio Capanna Margherita, the most charming, most scenic and definitely the highest in Europe. With its 4.456 meters above sea level, Capanna Margherita, the other name it is known for, is situated on top of Punta Gnifetti in the Monte Rosa mountain range, attracting hiking enthusiasts both in winter and in summer. In summer the ascent to Capanna Margherita is less difficult, but also accessible to non professionals, even with all the meteorological and climatic conditions that can make an outing such as this quite challenging. Naturally, not just anyone will succeed: it takes a certain level of physical preparation, a good dose of courage and, as always, we advise the support of UIAGM alpine guides . The next step now, is taking the first step towards the summit and ... go!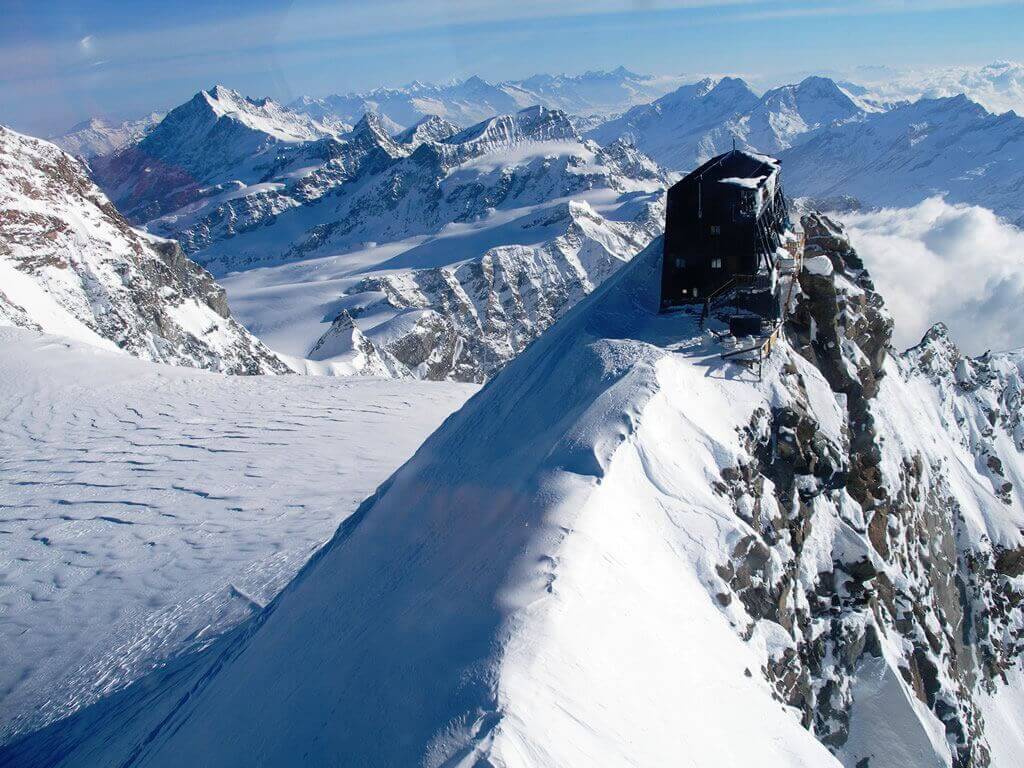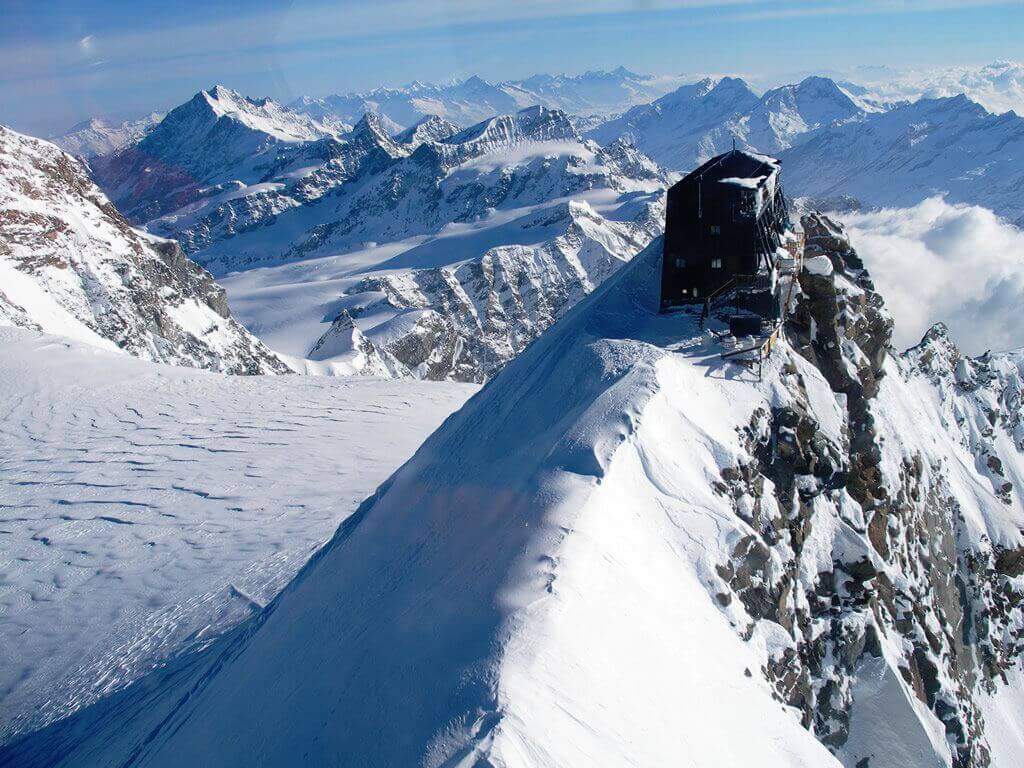 OPENING TIMES OF CAPANNA MARGHERITA PER FOR 2016
In winter the ascent to Capanna Margherita is possibile but the rooms inside are closed. Therefore, the best time to take advantage of what the refuge can offer is during the mid months of summer, thanks to the perfect organization of the structure and mindful management which pays careful attention to environmental issues. In fact Capanna Margherita is equipped with every comfort you can think of at high altitude, from bar and restaurant facilities to electric lighting and it has a quality certificate UNI EN ISO 14001 (certifying a minimum impact on the surrounding environment). There is an Internet connection and even a small library  where you can spend some time in absolute tranquility in the company of a good book. The surrounding landscape is sublime with a view that sweeps over the glaciers and Parrot, Lyskamm, Zumstein and Dufour peaks.
The structure sleeps 70 in rooms  with bunk beds, so it is advisable to plan ahead and book to ensure a place even if you only plan to stay for one day! Opening of the refuge in 2016 will run from 18th June to 11th  September. The dates are indicative so please double-check our website or better yet, subscribe to our newsletter or follow our Facebook page . As always, we strongly suggest, prudence . Remember that the climb is very tecnical and you must have the necessary and appropriate skills and be in the company of expert guides if you do not have it. A little common sense will amply reward your effort for such a high climb. Prepare your boots ….and let's go!
Book your tour at Capanna Regina Margherita online
Spring, regeneration time!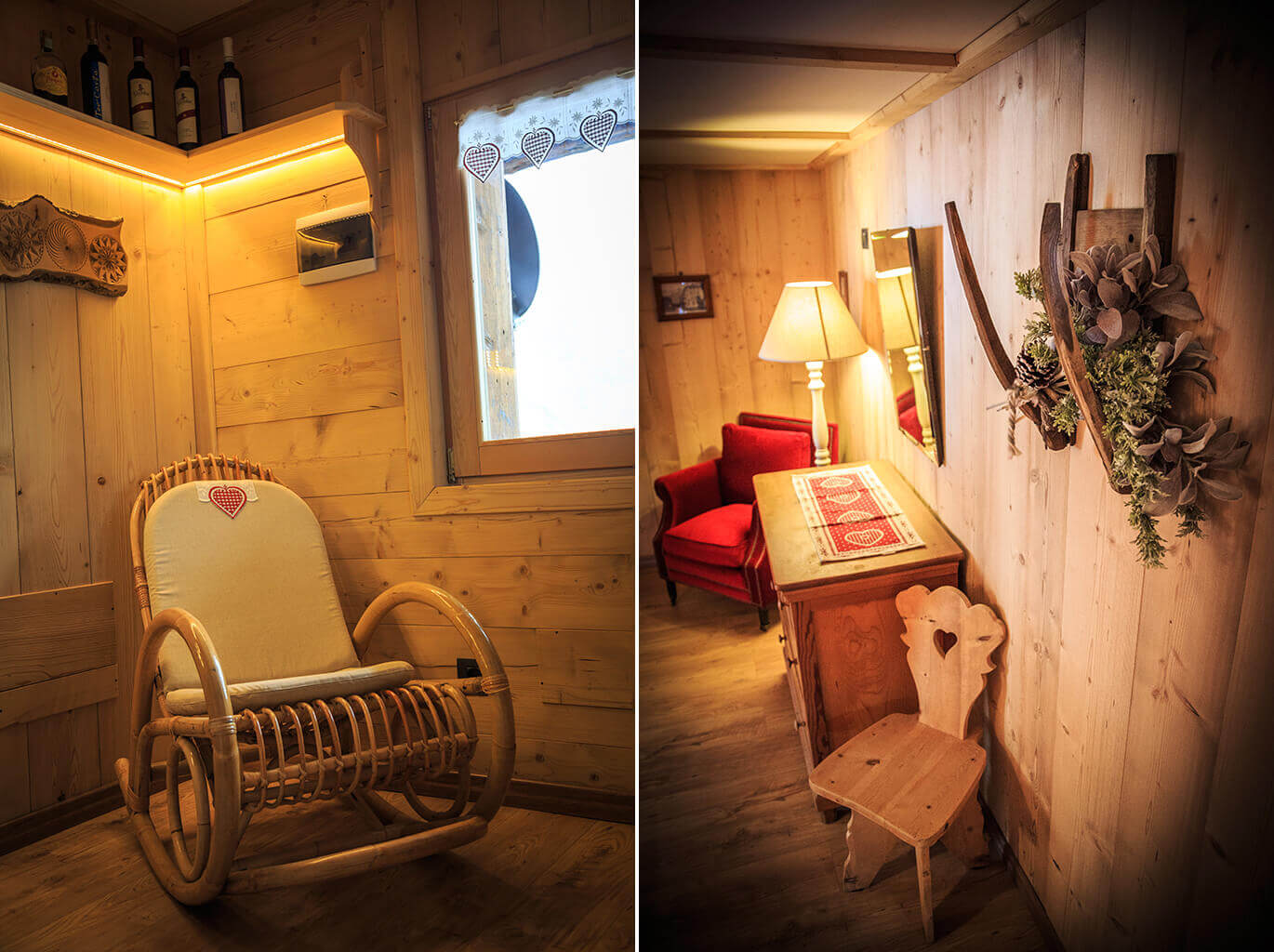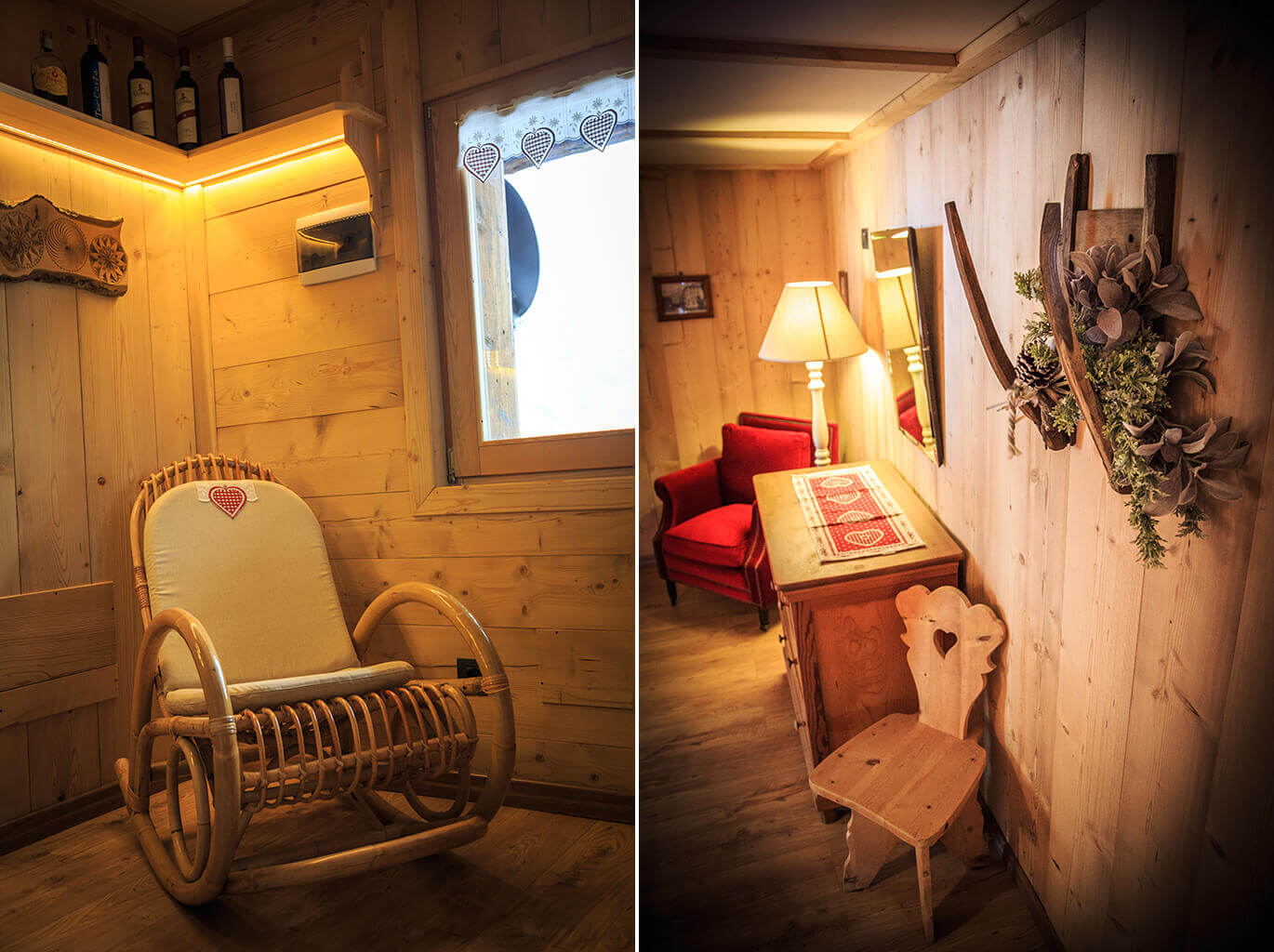 Spring, the regeneration time! Looking for a charming place to relax and read a book in peace? Far away from stress, noise and traffic? Baita Bonda is the place of your dreams: woods, gorgeous views and silence.  One spacious bedroom apartment with 2/3 beds, intimate setting, €150 for long weekends in April, € 600 for the whole month. Click here to see more photos of Baita Bonda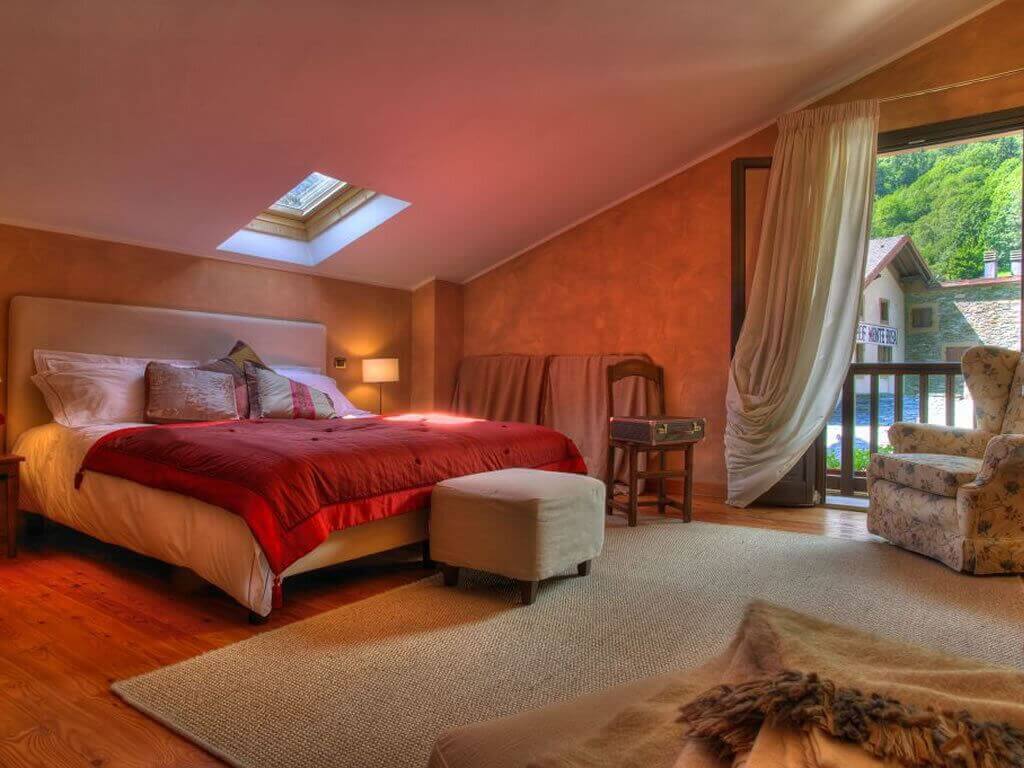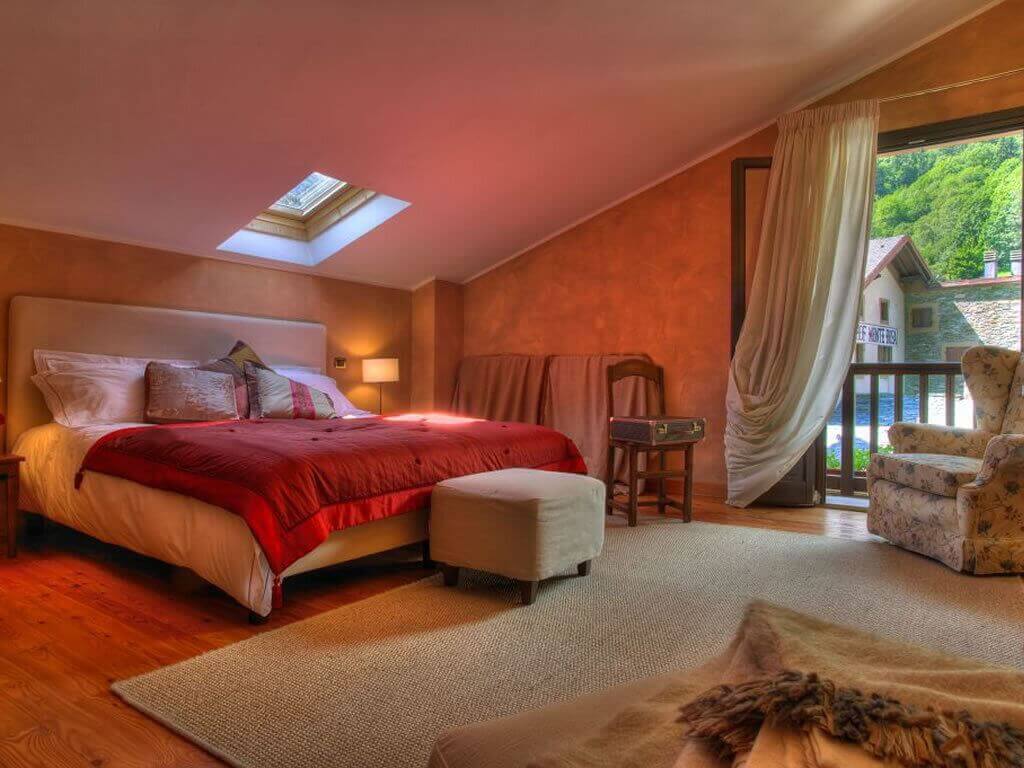 Looking for a 4 star hotel at a two star price? Hotel Cristallo offers a week end in April at an amazing rate: €50 B&B! colourful rooms, relaxation area with heated pool and sauna. Click here to us discover more about the hotel Cristallo
Some ideas on what to do in Alagna in April?
| | | |
| --- | --- | --- |
| | |   |
| A visit to the church in Riva to see its magnificent fresco | Hikes to the Felice Farm, the zero food mile mecca  | 5 things to to see and do in Alagna in spring |
Well, winter 2016 has gone. The Alagna lifts close on April10th, but slopes and off-piste skiing are still excellent. Spring snow is already there, the mountain huts are open, we enjoy cold but sunny days: everything seems as if  this late started season does not want to finish.
Our Proposal for the last ski week 2016
Casa Smitt apartments
week 3-10 April 550 euro inclusive of costs, final cleaning and parking. Two bedrooms apartment with living, kitchen and a large balcony.
Long weekend in April, from Friday to Sunday 180 euro

Mirtillo Rosso Family hotel
from March 29th purposes the best deals of the season!2/4 night for 2 adults and a kid from 61 euro per person. 7 night from 48 euro per person, breakfast and wellness centre entrance included
Tre Alberi Liberi B&B
April 3rd to April 10th: 7 nights for two people in double room at the price of 665. Late check out, sauna, wifi and organic breakfast included. Long weekends from Thursday to Sunday, or Friday – Monday from euro 260.
How is being in Alagna when the Monterosa lifts are closed?
5 experiences to know the real Alagna in springtime
Visit the Walsermuseum. In the charming hamlet of Pedemonte you can't miss to visit the Museum of the Walser Colture. Lorena, the keeper, will lead you through the past centuries.
Walking among the highest settlements of the village. The real and genuine Alagna lifestyle is outside the centre, where almost all the houses are rented out to tourist: discover it with a slow walk around
Dinner at Silvino's rifugio Valle Vogna. Here you can really eat local products from their own farm. Must try the happiest rabbit with polenta!
Walking trip with lunch at Rifugio Pastore. The walk is steep and lasts half an hour but it is really worth. The view is spectacular and the menu is a gourmet one.
Curiosities
Why Casa Smitt is so called?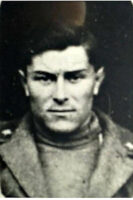 It was built in 1870 and was first given the name "Villa dei Fiori".  It was only composed by three large apartments that were rented out to the rich tourists that used to spend their summer in Alagna at the beginning of the XX Century.
After WW1 was bought by Pietro Smitt, former gunner who made its fortune in France as decorator.
From there the name. Today the house is run by Anna, who wants to transform it into an ideal place for families, because she likes houses with a lot of children. The apartments have all two bedrooms to grant peaceful sleeps to parents and kids, a large living to spend time together and a kitchen, in order to give space to the cooks, that we know, are irritable whilst cooking.
Where does it come from the name Tre Alberi Liberi (literally three free trees)?
This B&B is also located in an old villa formerly built with the purpose of hosting rich families of the early 900 with their servants. The old style of the house has been maintained after the recent refurbishment, but the name is completely new and express the owner's philosophy. Three is the recurrent and lucky number of the family; the Tree is the essence: symbol of sustainability and balance, sturdy roots and foliage free to follow the wind. And those trees are also free, free because the Sesia Valley in 1400 declared its freedom in fron of the Duke of Milan, and even now the people like their freedom above every thing
And who's Mirtillo?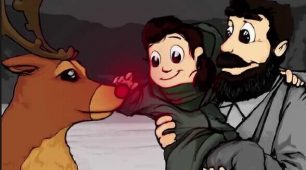 Mirtillo is Father Christmas' raindeer, the red nosed one, that seems to be settled there to pep up the days of families on holidays around the Monte Rosa. For him Stefano decided to build an adequate house: 60 family rooms, one in and outdoor swimming pool, buffet restaurant and miniclub.
Who said that you only visit Alagna to ski? Obviously freeride paradise, and Monterosaski generally  represent the main attractions during the winter season, but it offers many other alternative ways to relax. For example a tour with Alagna Card. It starts with offers from La Latteria, the dairy shop where you can buy cheeses, jam and honey, pork salami, naturally leavened bread, biscuits and much much more. For those who have the Alagna Card there is a product discount of 10%.  The card can also be used in two other stores: the Pharmacy Alta Valsesia and the Healthcare Store Angolo delle Alpi, both specializing in products for your face and body.  Here too with your Alagna Card you can save 10 euro for every 100 euro spent (a discount of 10%). And if in the meantime  it is time to have lunch, we recommend the restaurants Montagna di Luce (– 10% at lunchtime every Wednesday) and Ca Nosta (– 10% a lunchtime every Tuesday as well as in the evening), with an offer on traditional mouth-watering cuisine!)
A TRIP TO THE SPA AND AN APERITIVE WITH FRIENDS
Your day continues with a trip to the Baite Rosa Spa (– 20% on Mondays and Wednesdays), Mirtillo Rosso (– 10% at entrance every day) or Regina Margherita (– 10% from Monday to Thursday), just the place to relax in a sauna,  turkish baths and jacuzzis. For those who wish to emerse themselves in the culture of their surroundings,  a definite stop is Walser Museum, where a guided tour is free at each entry (for those with an Alagna Card). The Walser Museum tells and depicts the history of the valleys and of the culture of the people who live here, who arrived centuries ago by crossing the Alps. A legendary epic accompanied by artifacts, documents and illuminating  testimonies.
You will for sure have walked up a slight apetite by now so, head towards Baita della Eli (free aperitive from Monday to Friday with your Alagna Card) or go to Bar Mario (here you can have a free 'miaccia' if you order a cocktail). The day draws to a close and it's time for dinner.  We leave you the pleasure of discovering your favourite place,  reminding you that your  la Alagna Card allows you access  to discounts of up to 20% in certain places. For futher information go to the webpage  Alagna Card: by entering your data and the code on the card, it is possible to activate it. The card, free of charge,  is available at the hotels. Alternatively you can access the webpage where you will find a complete list of promotions. Let the fun begin!
With your Alagna Card you can win 2 skipasses for Monterosaski: enter now!
Recently a novelty which we are particularly proud of has appeared on the Home Page of our website. It is a card that allows access to discounts and special agreements reserved to those who have one. Alagna Card is undoubtedly one of the most important news flashes of Alagna-Valsesia for the 2015/2016 season . Anyone can request and obtain lower prices and free services: just stay in one of the many facilities participating in the initiative and, at a later time, proceed with the online registration  on this website. Among the hotels on the circuit Alagna Card are B & B 3Alberi Liberi, B & B 10 & Lode, Hotel Cristallo, Mirtillo Rosso Family Hotel, Residence Alagna2000, Residence Pietre Gemelle, Hostel La Minera, Hotel Montagna di Luce, Residence Indren Hus, Casa Smitt, Residence Casa dei Fiori, Agriturism Alagna, Residence Mirtillo Blu, B & B Borgo dei Folli, Residence Baita Rosa and  Residence Baita Walser Reale
FROM SHUTTLE TO APERATIF: THE BENEFITS OF ALAGNA CARD
To receive the card, simply activate it by filling out the form on the home page Alagna Cards. Add your details and the code of the card and you're done. Once activated, the card is enabled to allow you discounts and reserved specials. Some examples? Free shuttle transport between Alagna Riva ski lift and Wold, 10% lunch discount every Wednesday at Restaurant Montagna di Luce, 20% discount on Mondays and Wednesdays at SPA Baita Rosa, free aperatif on Thursdays at lunchtime at the Union Restaurant and a free guided tour to the Walser Museum, cheese tasting at Betty Food when you spend more than 10 €, 10% discount on cosmetics at Parafarmacia Angolo delle Alpi, and much, much more!
In addition, those who register have the opportunity to participate in the competition for the extraction of 2 Monterosaski ski passes valid for 6 days! The district has a total of 180 km of slopes of which 170 km covered with artificial snow, with a total of 37 ski lifts (14 Chairlifts, 10 Baby Snow Parks / treadmill for beginners and children, 4 ski lifts, 5 Gondola lifts (Telecabins), 3 cableways, 1 Funicular and 69 slopes) distributed in 6 alpine resorts in Valle d'Aosta and Piedmont (Champoluc, Antagnod, Brusson, Gressoney-LaTrinité, Gressoney-Saint-Jean and Alagna). In short, a paradise for amateur skiers and experts, with areas dedicated to ski touring and off-piste (Freeride Paradise).

Choose to save: activate your card now or get more information!
If there is a place to satisfy your desire for hiking, even with snowshoes, that place is Monte Rosa. There are so many trails: short, medium, long, with slight uphill or steep, outdoors in the shade of the woods, following a stream or through the beautiful valleys of Alagna-Valsesia.  There is a really wide range of choice, suitable for all levels of experience or age. Just the thought makes you want to put on your boots and go! But be careful: the first rule to enjoy the best hiking experience alone or in the company is knowing the hiking trails. Because there are so many trails and all of them valid, you should know how to orientate yourself, not only geographically, but also in terms of trail selection. A linear path is not necessarily suitable, even for little children, and it is possible that a route at high altitude might be more practical for those who do not have much experience. The important thing is to have a map handy. To facilitate the task, we have prepared one especially for you!
ATTRACTIONS, JOURNEY TIME, VERTICAL DROP AND DIFFICULTY
On the trail map of Alagna Valsesia- Monte Rosa, you will find lots of useful information to organize your adventure hike. For each route we have indicated, in order from left to right, the international numbering, the destination, the altitude, the difficulty, the travel time and what the level of satisfaction is according to our dispassionate opinion. For the level of difficulty, one of the highlights of any hiking map, we used the symbols of the traffic light. 1 green dot for easy trails, 2 yellow dots for medium trails, 3 red dots for the difficult paths. The word "alpine" signals paths that require a significant technical level. We have also reserved a brief introduction to cultural, sport and tips about the communes of Alagna and Riva Valdobbiadene.
To complete the map, in addition to the streetmap, here are three insights on what we believe are the most beautiful paths to be done in either spring, summer or fall. We are talking about Orteltol (No. 203), a hiking trail to discover the Walser settlements of Otro, rich in natural beauty, cultural, historical and artistic gems. Then there is the Old pass of Colle di Valdobbia (No. 201), from the village of Ca 'Janzo  to the refuge Ospizio Sottile at an altitude of 2,480 meters above sea level. Finally the wonderful trail 206 - 206th - 207, dubbed "Under the glaciers of Monte Rosa", an itinerary that runs almost entirely within the natural park of High Valsesia, at the foot of the glaciers that fall down the valley from the south wall east of Monte Rosa. A unique spectacle for both the eyes and spirit!
Download the route map of Alagna - Monte Rosa now!