Alagna-Valsesia offers a varied selection of superb experiences each year for those who love winter sports. From freeride skiing, snowboarding and outings only for snowshoeing, to heli-skiing in the heart of Monte Rosa. Never a dull moment for tourists and vacationers of all ages, experienced and not, who are united by their passion for the mountains and the snow. The 2015/2016 season promises to be super interesting judging by the many new specials on offer. The snow has already arrived and until 8 December you can get your fill of special offers. So come along and discover what this winter season has in store for us!
THE OPENING OF THE MIRTILLO ROSSO FAMILY HOTEL
December 23, 2015 is a date to mark on the calendar. In Riva Valdobbia, a village a short distance from Alagna-Valsesia, the Mirtillo Family Hotel opens its doors. A cutting-edge facility with 59 rooms from standard to family and suites, a restaurant with 130 seats, a family spa with 2 pools, a lounge bar and sunbathed terrace for sun tanning and events. Also a shuttle bus to the Monterosa-ski lift as well as the airports. It's time to get prepared for the official inauguration!
PLUS REDUCED RATES FOR UNDER 18's
Those born after 31/10/1997 benefit from reduced rates on ski passes. First the reduction was only applied to under 14's. The formula must be requested at the ticket office and is called the Monterosa Ski Ticket Promo Teen under 18.
NEW EQUIPMENT FOR THE SKILIFTS
The Pianalunga- Bocchetta chairlift will be equipped with a boarding platform, a great help for those who are beginners with skiing or snowboarding.
SHUTTLE SERVICE FOR ALAGNA AGRITOURISM
The Alagna agriturismo is located at the foot of Monte Rosa in the ancient village Walser "the Rusa" (Fun for Rufinu), is offering a free winter shuttle service this year. Getting to the slopes will be even easier!
BAR/RESTAURANT 'MONTAGNA DI LUCE'
The Montagna di luce restaurant, on the ground floor of the hotel with the same name, has a new chef and a brand new natural and organic food menu, with Walser food tasting, cider, mead and excellent craft beer. The shuttle service for the ski lifts even arrives here!
FREERIDER PUB RESTAURANT
The Freerider pub also has important changes on the horizon. In addition to the renovation of the interior, the restaurant is offering typical cuisine based on rich buffets, high quality burgers and mega aperitives for the season 2015/2016. There will be a screen showing the sports videos of clients and other live events, but also live music and bar. The shuttle service for ski lifts stops here as well. Freerider Pub Restaurant: a cult meeting place for teenagers!
B&B 3 ALBERI LIBERI
Back by popular demand are 'evenings in the tub' at B&B 3 Alberi Liberi, via Nicolao Sottile at Riva Valdobbia (VC). From this year fares also include snowshoes and ski poles, subject to availability and reservation (4 pairs in total).
RESTAURANT DIR UND DON
Even the pizza restaurant Dir und Don is changing their style and is reformulating their menu to one strictly Walser. Authentic, abundant cuisine, the result of a passionate research on the tastes, the ingredients and the terminology of the original territory. Well done!
A DEPANDANCE FOR CASA SMITT
The apartments of Casa Smitt now boast a real depandance in front of the cable car. A real cache coeur for those seeking privacy in pure Walser style.
A PHARMACY IS OPENING IN THE CENTER OF RIVA
The pharmacy Angolo dei Alpi is opening a second new store in the center of Riva. Same owners, same service that pays careful attention to the needs of a diverse clientele, with a wide selection of wellness products, diet and health, all strictly organic.
We look forward to seeing you in Alagna for an even more spectaculous vacation: make your reservation now!
September and October have flown by and it's time to prepare for winter. The key words to relive  an adventure immersed in snow are 3: snowshoeing, heli-skiing and off-piste (freeride).  You can organize each of these activities on your own, but our experience suggests caution to avoid that your adventure turns into tragedy. Even with snowshoes you have to be careful. Many tourists each year get lost in the woods because they lose track of the time and a serene afternoon turns into a nasty night  or because  they don't have a simple map. We at Alagna we have heard far too many of stories like these. If you like walking in the silence of a snow-covered forest, good for you, but watch out for dangers. The smartest way to go snowshoeing is to join our groups, starting from January 4, 2016, every Sunday at 9:30. For only 30 € you have all the necessary equipment and the company of a qualified guide. Here are the details regarding our outings hiking in snow shoes !
WELCOME BACK ELISKI AND OFF-PISTE, WELCOME BACK ADRENALINE
If prudence is the operative word when snowshoeing, it is fundamental to put your safety in the hands of professionals guides when heli-skiing and off-piste skiing. Our  expert UIAGM guides and Air Service Center pilots will be happy to take you to the highest peaks of Monte Rosa, where the air is thin and where the alpine environment shows its more noble and savage facade. The heli-skiing and freeride tours represent a unique opportunity to practice extreme sports and experience the mountains from a unique perspective, chasing adrenalin and fun, with a guarantee of safety that you surely could not have if you were alone. Aside from random weather checks, accurate assessments of routes are made before leaving, taking the Avalanche Bulletins and the experience of the guides into account.
When everything is ready, you're off to your destination. Colle del Lys, Colle Ippolita, Valle Nera, il Cavallo ... these and other goals are the starting point for adrenaline pumping descents. More information about off-piste  descents and freeride paradise can be found on our website and in the articles of this blog. Please note that the reservation number is 0163 922993. Alternatively you can write an email to the email address skiguide@alagna.it .  When choosing Alagna.it means savouring the taste for adventure with respect to the mountain and the environment. Contact us for more information!
On this site, as many of you already know, you can build your vacation automatically or almost, but also choose the vacation package that best suits the tastes and personal needs of each one. Wonderful ideas to spend the winter in Alagna with family or friends, including track days, hiking, fishing, snowshoeing ... But there's more: next winter Alagna could be the perfect opportunity to live these experiences at an even more affordable price. This year we inaugurated the new section dedicated to best offers, all-inclusive proposals for those who like heli-skiing, freeride or simply the quiet of a house in the mountains. The solutions that we created range from Weekend Heliskiing in Alagna to Freeride Week, passing by the long bridge of the Immaculate on 8 December in the apartments of Casa Smitt.
SPECIAL DISCOUNT IF YOU BOOK BEFORE December 8, 2015
Alagna in winter is a paradise for freeride: so amongst our special offers we could not Not include offers dedicated to downhill skiing and snowboarding. Our proposal provides for a stay of 2 nights and 3 days with ski pass included, helicopter flight, accompanied by a guide, dinners and safety kit, all at a super discounted price. Some examples? House Meadows B & B + 3 days restaurant dinner with a roulette formula (3 dinners in restaurants in the center of Alagna) 900 € / person instead of 970, or half board at hotel Mountain of Light at 910 € / person instead of 990, or half board at residence Indren Hus at 880 € / person instead of 950. A complete special offer, to be booked by the 8 December, 2015 subject to availability.
How about an unbeatable week of freeride in Alagna, seven days including a ski pass, guides, dinners and safety kit. Where? In one of the apartments Casa Smitt, at 1170 EUR / person instead of 1290. Or in residence Casa dei Fiori at 1090 EUR / person instead of € 1210 ... and many more! For those who love to  lounge, spend a week from 8 to 15 December in the apartments Casa Smitt (5 bedroomed house in the center of Alagna), discounted by 15% to € 460 a week instead of 550. As above, book by 8 December 2015. You just have to sit down and choose the best solution, the snow is already here!
Looking for special customised offers? Send your request without obligation!
The arrival of autumn in Valsesia is accompanied by fairs, festivals and events , but also by a great desire to go out and enjoy the last days of warm sun far from the music and life in the country. Opportunities for a walk or a real trekking trip for one or more days are plentiful. There is no need to be an expert: simply wear a pair of boots, comfortable clothes and set off on one of the many "easy routes" chosen from the section Trekking and walks. For those who prefer more challenging walks, we recommend relying on one of our qualified guides found on this page. Either way you'll be spoiled for choice: to simplify your task, we suggest 5 good ideas for hiking in the autumn months of October and November. Ready?
1) THE TAILLI LAKES, A MYSTIC PLACE IN THE VALLEY OTRO
A trek unsuitable for children, but a fascinating one which leads to the Laghi Tailli, one of the most mystical places of all in Val d'Otro. A hiking time of 3 hours and 30 minutes, is what it takes to climb the 1,200 meters from the starting point to arrival at 2775meters. To welcome all hikers is a landscape of meadows, rocks, small ravines, valleys and of course the lakes, soft and lovely, carved into the rock.
2) THE PATH OF ART CAMPERTOGNO-ARGNACCA-CANGELLO
Focused on art, the sentiero di campertogno-argnacca-cagnello spans centuries of pictorial, history and architecture of our valleys. From the sixteenth century oratory of San Marco to the chapel of Scarpia, from the Church of Our Lady of Callone to the oratory of San Bernardo ... a path for those who love art, to be enjoyed in the open surrounded by an autumn landscape.
3) THE NATURE RESERVE OF THE SACRED MOUNTAIN OF VARALLO

Varallo and the Sacro Monte  are a-must- see for anyone visiting Alagna and Valsesia. In this corner of the Alps, elected as the Special Nature Reserve, many vestiges of the past, firstly the Santa Maria delle Grazie with its famous Gaudenzian wall, are preserved . Do not forget that the Holy Mount of Varallo remains the oldest of the "new Jerusalem", reproductions of the holy places of Palestine and the scenes of Christ's life which were spread during the anti-reform years.
4) THE PATH ON THE SLOPES OF MONTE ROSA
Another good idea for Autumn hiking is, Walser Trekking, the path on the slopes of Monte Rosa. It is a path that starts at a height of about 1450 meters up the waterfall, White Water to 2,070 meters up Alpe d'Fun Ekku. The tour is accessible to everyone and allows you to observe the towering glaciers of the southern slope of Mount Rosa from a privileged position.
5) THE VIA REGIA OF VAL VOGNA

And finally ... a small trek along a path followed by hermits, communities, settlers and adventurers over the centuries, on their way to reach the valleys on the French side via the Alps. The royal road of the Val Vogna is a circular route dotted with villages rich in Walser architecture, immersed in a perfectly preserved environment, where man and nature have been coexisting in peace for centuries.
Ready fo holiday? Clik here and ask for info!

With the arrival of the new summer season 2016, the Alagna-Valsesia proposal expands and includes new fantastic family weeks: vacation packages designed for families, offering you fantastic experiences with your partner and your children, during the summer. "Green Week" means spending the summer months in the mountains, at a time when the fields are transformed into green carpets full of flowers and perfume. The best month is August, but the summer begins in June and lasts until September. The opportunities to enjoy yourself are endless: walks in the woods, visits to mountain pastures, shopping in Alagna, fishing on the river Valsesia, high altitude hikes in search of some memorable photo opportunites. And for the more adventurous there are trips to Capanna Regina Margherita, in groups of more people and with the possibility of staying one or two nights.
FROM JUNE TO SEPTEMBER – FOR AN INCREDIBLE GREEN WEEK
At Alagna-Valsesia, we have numerous vacation packages to practice one or more activities during your green week. For those who want a full week from the first to the last day, we suggest the slow break "Walser valleys of Monte Rosa trekking", available from Saturday to Saturday from 15 June to 30 September. The fee includes everything you need to enjoy and relax with the family: an apartment for one week at one of the historical houses of Alagna, a 2 day guided tour, admission to the Walsermuseum and lunch at the refuge.
You can stay at Casa Smitt, Baita Walser Reale, Residence Indren Hus  o Residence Mary, cosy residences full of charm and stylishly furnished to ensure maximum comfort during your stay. Of course everyone has their own tastes and needs and to satisfy both young and old, we have decided to leave you total freedom of choice and customization. Creating your own holiday is easy: all you have to do is complete the online form with the type of accommodation desired, date of arrival and departure, any taxi and special requests ... We in Alagna will try our best to satisfy every desire!
Fishing in Valsesia: Fly fishing or Tenkara fishing?
It is said that fishing in Valsesia is a guaranteed extraordinary experience ... perhaps it's because of the variety of the territory, the beauty of the valley or the many nature reserves? The melt waters of the glacier Sesia on Monte Rosa, joins those of its tributaries on the way down to the valley, creating a most unique river for all water sports. Blades, waterfalls, gorges and soft depressions alternate fishing routes, leaving you breathless and supplying fishermen corners of pristine nature, immersed in silence broken only by the sound of water.
Fly fishing reserves are spread over all the valleys of Valsesia: Varallo, Scopello, the touristic feature "High Sesia Valley", the Piode Reserve, Torrent Egua and Torrent Sermenza. Each with their own references and specific rates. The waters are home to several species: "From Alagna to Quarona the Marble trout and Brown trout are the dominant species. Marble trout and its hybrids as well as Brown trout are found from Riva Valdobbia and their presence progressively increases downstream. The presence of Rainbow trout is significant, but that of Brook trout is sporadic. The Grayling, exclusive to the Po valley is widespread in the stretch between Campertogno and Varallo. For many years this breed of fish has been subjected to a careful policy of protection and repopulation by the Valsesian Sport Fishermen Society."

In addition there are numerous, fast flowing, tributary streams in smaller valleys creating a concert of gurgling sounds to the joy of the local fauna. For those who loved the cozy austerity of the mountains, there are mountain lakes from 2000 to 3000 meters above sea level, where Brown trout and Brook char can be found, and where only the mountain tops and those who have made it there, reflect in the deep, calm waters.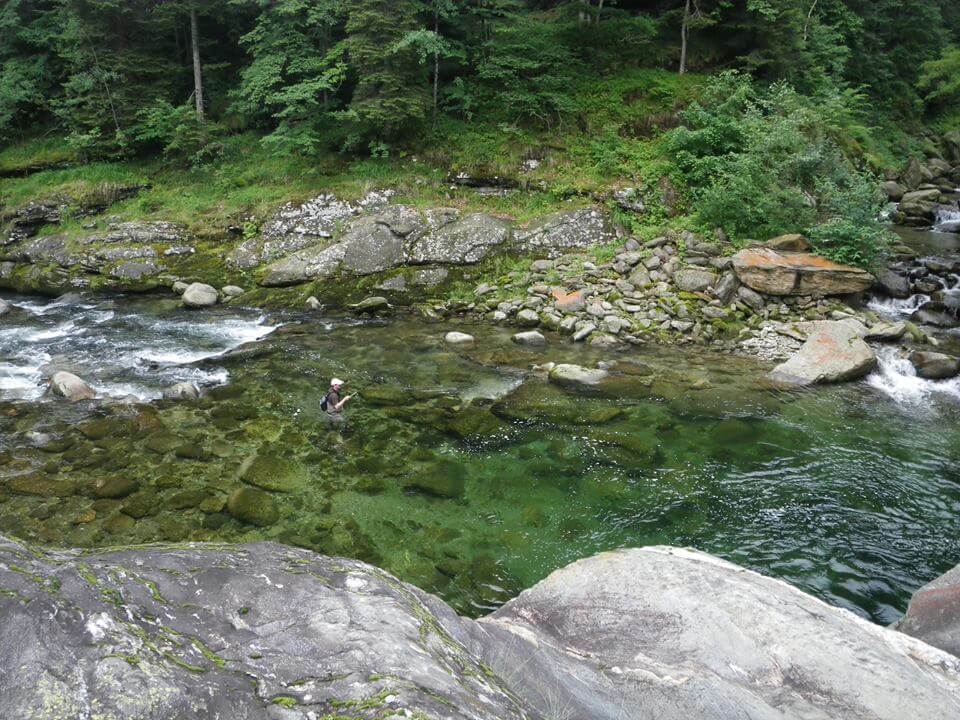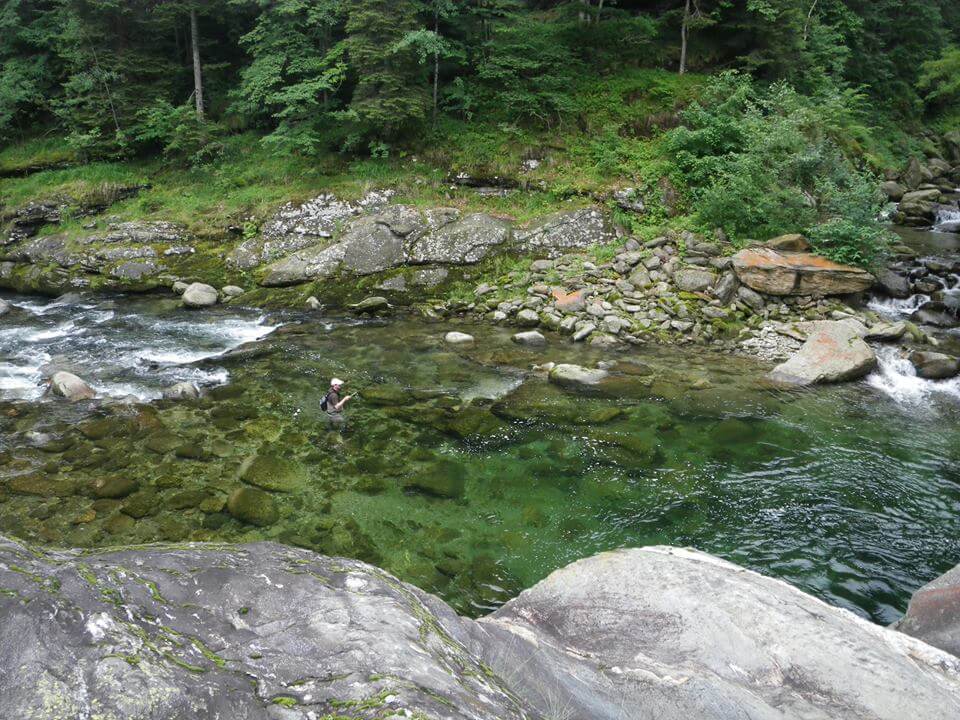 In Alagna we propose 2 different packages for fishing enthusiasts. We have specifically created the following offers:
1) Fly fishing on the river Sesia: marble trout, grayling from the Po breed, brown trout and rainbow trout for a superb fishing trip!
2) Fishing week end on the river Sesia A weekend of Fishing on the Sesia river and two days of relaxation in the reserves of Alagna and Piode.
Want a customised vacation? Create it yourself online in less than 1 minute!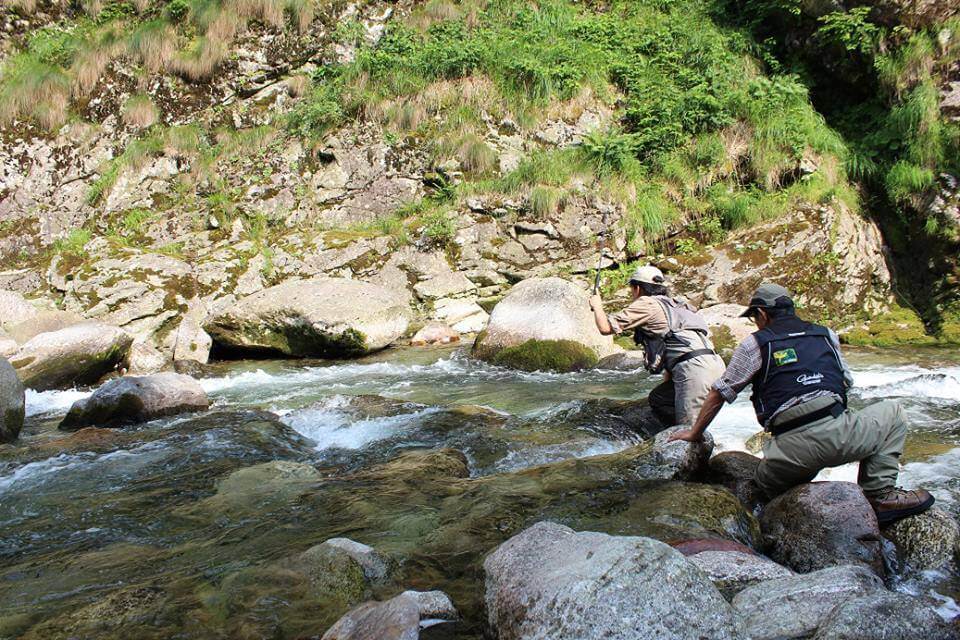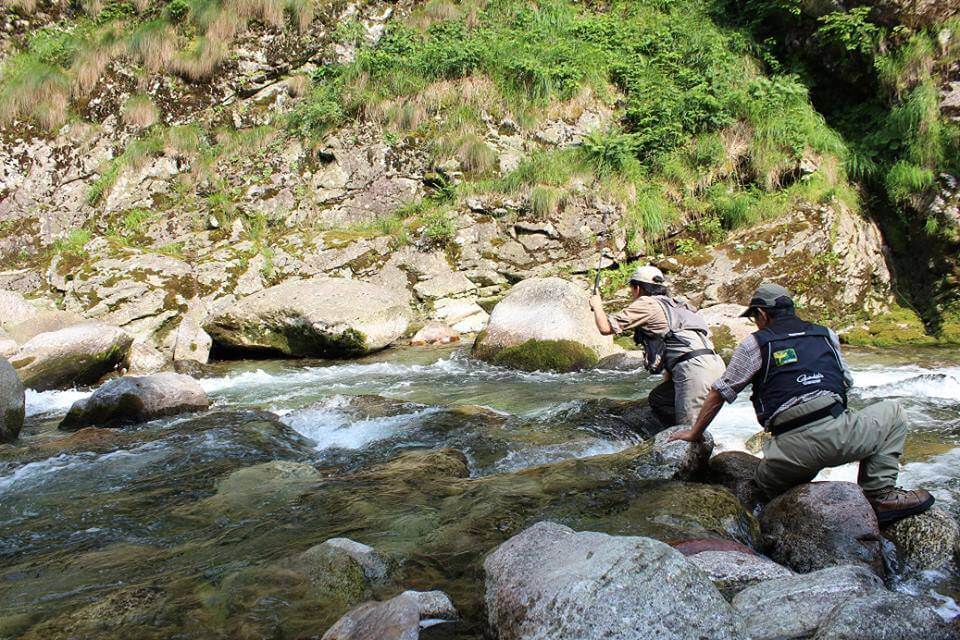 Some interesting facts aboutfly fishing
Fishing in Valsesia: the technique of Valsesian fly fishing
This technique is the fishing tradition in Valsesia. It requires a perfect understanding of fisherman with nature, the seasons and the territory. "Valsesian fly fishing" is a world in which fishermen take care of and study every detail regarding seasons, the hatching of the insects, the color and transparency of the water to create silks of various colors and bird feathers and choosing insects better suited to attract the prey.
Fishing in Valsesia: the Valsesian technique vs the Tenkara technique
The Tenkara fishing technique and Valsesian technique have many points in common and are therefore very similar as both use the same rod type as well as fishing lines and flies.
It's a really interesting fact that these techniques were developed in two worlds so far apart, both still practiced today, are so similar. In Valsesia in 2012 the two techniques were twinned with the presence of the Master of "Tenkara fishing" Masami Sakakibara!
A brief history of Tenkara fishing and fly fishing meeting points
Fly fishing has ancient origins, born in Europe and in Japan in the first centuries BC. The flies were created using animal matter including deer antlers and bird feathers. In Japan, the first flies were used for fishing in the sea. In the EDO period (about 400 years ago), the first flies were used for fishing Ayu, "sweet fish" (Plecoglossus Altivelis). Some documents related to the sale of flies for this practice have been found. Ayu fish is found in lowland rivers while the types of fish (Amago and Iwana) caught with the Tenkara fishing technique are found in mountain streams (at 2,000 to 3,000 meters above sea level).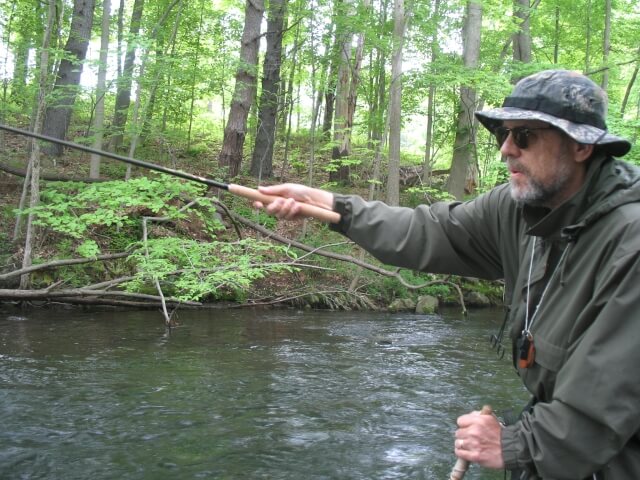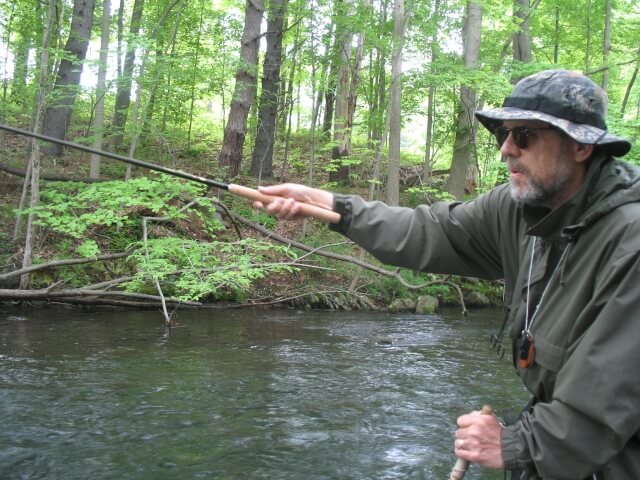 The Matag
There used to be fishing / professional hunters (Matagi) who practiced fishing in the streams. A manuscript speaking of these professional fishermen is the diary of a British consul, dating back about 120 years ago in which he describes a climb on the Japanese Alps (2992 m above sea level). The consul accompanied the fisherman Toyama Shinaemon. In it he explains that the technique used by these fishermen was fly fishing. The fishing equipment used by Toyama Shinaemon can still be seen in the Alpine museum in Nagano.
Tenkara, fly fishing and Valsesian fishing
The fundamental difference between English fly fishing and that of Tenkara is that when fly fishing a reel is used and in the Tenkara method, no. Before the invention of the reel, which dates back to the 19th century, a fixed barrel was used with the fishing line made of woven horsehair as is still used in the actual Tenkara method and that of Valsesian fishing. The Japanese fishing rods were made of various types of bamboo, strictly selected for their lightness and length. The construction technique of bamboo rods progressed significantly towards the middle of the EDO period (300 years ago) and this is documented in a number of manuscripts of the time. At that time reed plugs with their special sheaths for transportation (very similar to the sheaths of Japanese swords - Saya) already existed. The first flies used in fly fishing were the submerged type. The introduction of the use of floating flies dates back to the last 100 years of history. Floating flies were never used in the Tenkara fishing technique. Furthermore the Tenkara fishing technique was only used for subsistance fishing.
Discover the magic of Valsesia and enjoy your fishing holiday!
Summer is gone and the opening of the refuge Regina Margherita is for June 2016. As of June 25 it will be possible to stay over again in comfort with all the amenities (including the Internet) in what is the highest refuge in Europe, the magical "Refuge" Margherita . From a height of 4,554 meters, the Regina Margherita Refuge is an exciting destination for all those who love the mountains, high altitude trekking and pristine landscapes. We are situated on top of Punta Gnifetti in the Monte Rosa range (Pennine Alps), on the Swiss-Italian border between the towns of Alagna and Zermatt.
The refuge has been here since 1893, when it was inaugurated with great fanfare in the presence of Queen Margherita (hence the name). About a century later (1979), for reasons of space, but not only, the original refuge was demolished and in its place the current refuge-laboratory was built, home to the highest fixed observatory in the world. To date the facility has 70 dormatory beds, a bar-restaurant, communal bathrooms, electric lighting, 220 volt and - thanks to the Polytechnic of Turin - even Wi-Fi connection!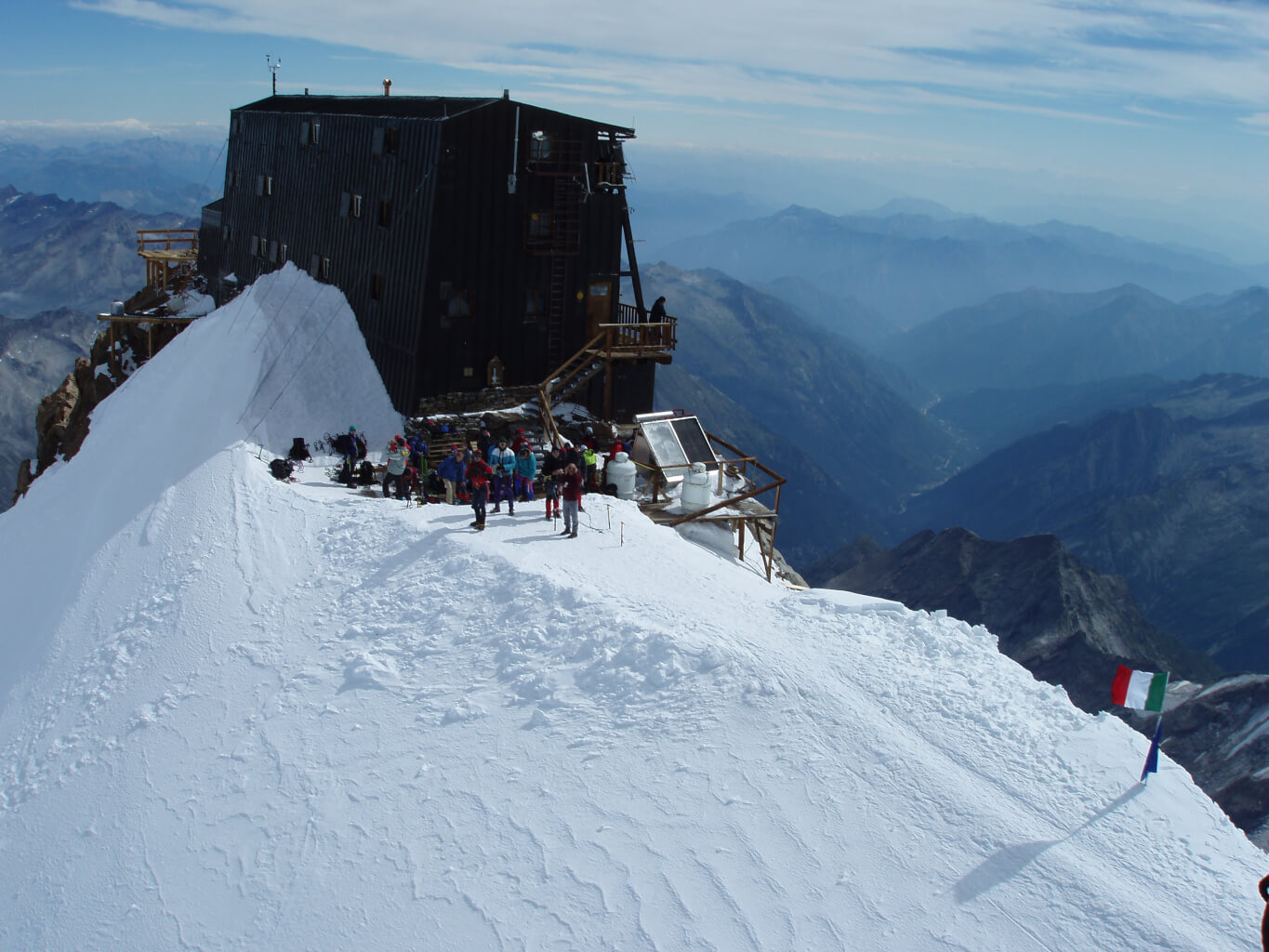 Road access to the refuge and Vacation packages for summer 2016
The climb to Margherita hut requires some preparation, but that does not mean that only the most experienced and trained can engage in trekking. In the company of UIAGM mountain guides, anyone with discrete knowledge and adequate mountain climbing equipment can get to the top safely. The main access roads are 3:
1) from refuge G. Gnifetti across the Lys Glacier which is an approximate hike of 4/5 hours entirely on the glacier ( classic route);
2) from refuge Monte Rosa across the Grenz Glacier which is an approximate hike across the glacier itself of about 5 hours ;
3) from the bivouac L. Resegotti towards the SE ridge(Cresta Signal). In this case the Alpine itinerary presents a considerably difficult level.
One of the best ways to experience the extraordinary beauty of refuge Margherita without endangering yourself and others is to join one of the many tours that are organised during summer.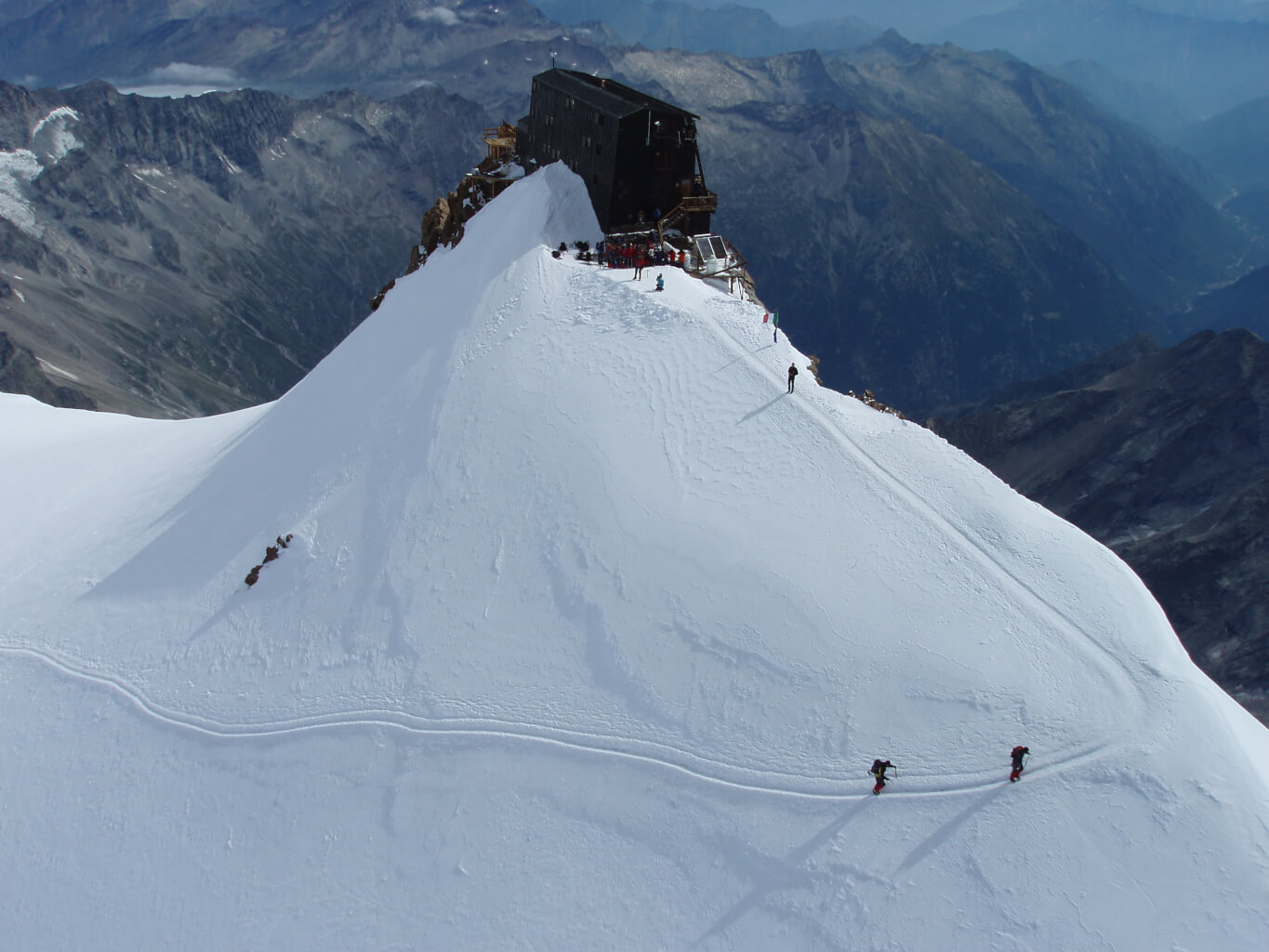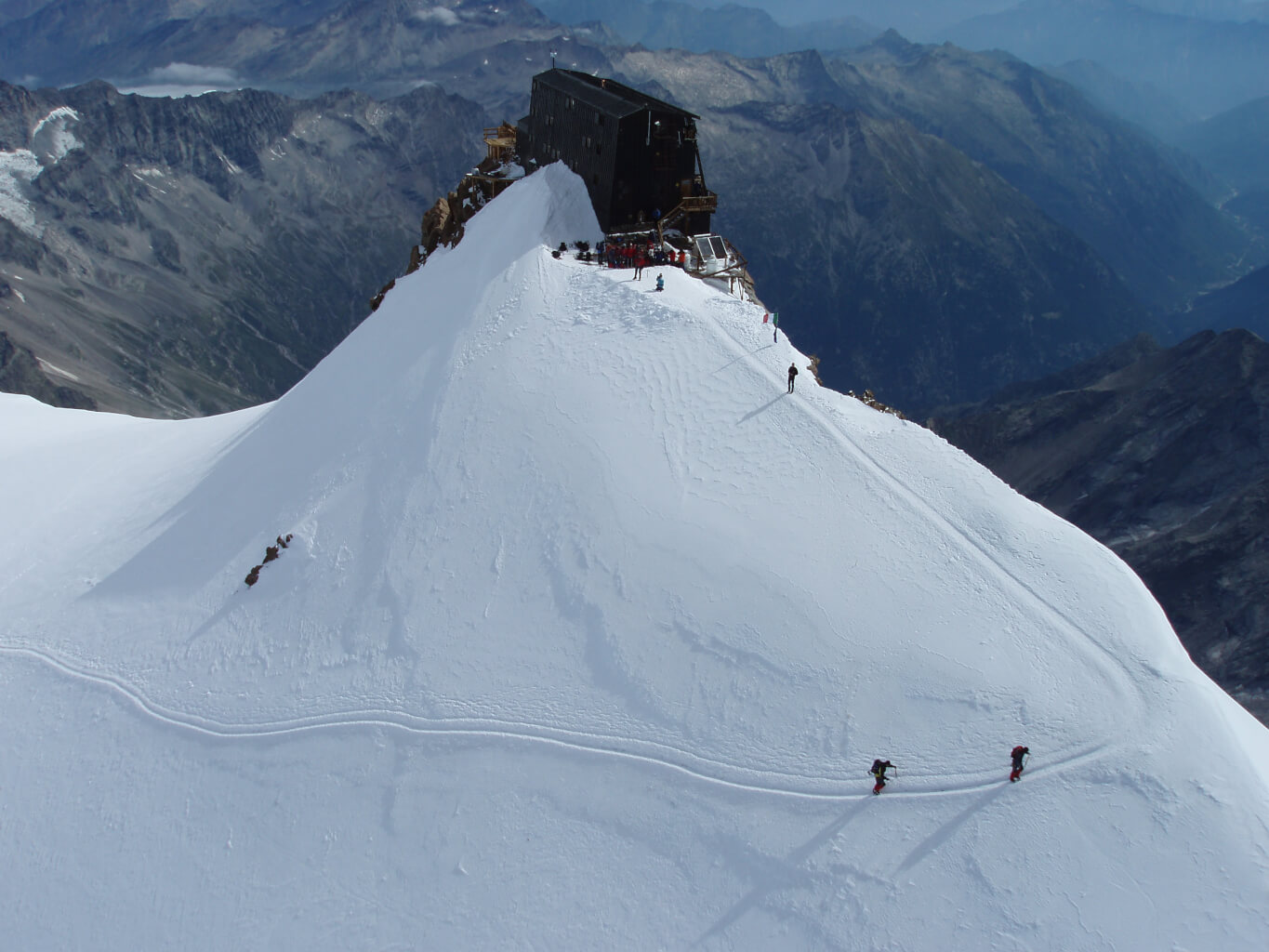 1) Trip to Capanna Margherita: 2 days of mountaineering with departure and return to Alagna with one overnight stop at refuge Gnifetti and reaching the refuge the second day.
2) Overnight in Capanna Margherita: 3 days of mountaineering with departure and return to Alagna, stopping over at refuge Gnifetti for the first night and the second in the highest refuge in Europe, refuge Margherita!
3) Ascent on foot to the refuge Capanna Margherita: 5 days of mountaineering and hiking, from Alagna until the heights of refuge Margherita.
Are you looking for a tailor made holiday? Do it on line in less than 1 minute!
Dall'allevamento alla trasformazione.
L'azienda agricola "Valsesia Cashmere" è una realtà che si fonda sul benessere animale, sull'ecosostenibilità, sul rispetto della vita e della natura, e il principio che ci ispira è che è moralmente giusto e materialmente possibile interagire con l'ambiente senza depredarlo, allevare degli animali senza abusarne, ottenere prodotti di qualità senza produrre inquinamento.
ALBERTO E FRANCESCA: fondatori di "Valsesia Cashmere"
Quest'avventura nasce nel novembre del 2008, con l'arrivo in Valsesia dei nostri primi 5 esemplari di Capre Cashmere, ossia Aristotele, Anastasia, Artemisia, Adelaide e Andromeda; a partire da quel momento i nuovi nati verranno "battezzati" ogni anno con nomi che hanno per iniziale la lettera dell'alfabeto successiva all'anno precedente. Dopo un periodo a Campertogno, in alta valle, le capre vengono spostate a Cavaglia Sterna, frazione di Varallo, dove col tempo a loro si uniscono altri animali: api, polli, pavoni, faraone, gatti, e ovviamente un cane da pastore, nella fattispecie una cagnolina di razza Briard di nome Anouk.
La capra Cashmere proviene originariamente dagli altipiani dell'Asia, è selezionata per vivere nei climi freddi ed ostili delle alte quote grazie al suo prezioso sottovello (il Cashmere, appunto) dalle straordinarie proprietà termiche. É una capra molto rustica e di poche pretese, che vuole stare all'aperto in qualsiasi stagione, prediligendo il freddo al caldo, e proprio questo rende il suo vello folto e pregiato; era quindi la razza ideale per vivere con noi a 1.500 metri di quota.
Il secondo motivo è puramente etico. É praticamente l'unica razza in cui nascere maschietto non è una sfortuna; i capretti maschi, infatti, se non servono per la riproduzione, vengono utilizzati per la produzione della fibra preziosa e non rischiano quindi di finire in forno!
C'è anche un altro motivo: quando, nel 2006, abbiamo visto le nostre prime caprette Cashmere ce ne siamo follemente innamorati…
Di qui l'idea di produrre un Cashmere totalmente Italiano, completamente ecologico e sostenibile sviluppando una microfiliera tracciabile dall'animale al prodotto finito.
Gita al Sas D'ot, 40' dal Ponte Gallo di Riva. Gita al balcone su Riva e il Monte Rosa, passeggiata in uso ai primi del '900 quando gli alberghi di Riva erano soliti organizzare in questo luogo pic nic e pranzi all'aperto
Vago nel bosco, un passaggio m'attrae attraverso il dirupo E mi prende il ricordo, d'esser stato già qui in altri tempi, dimenticati Un brivido lieve, il frusciar di una gonna un profumo di viola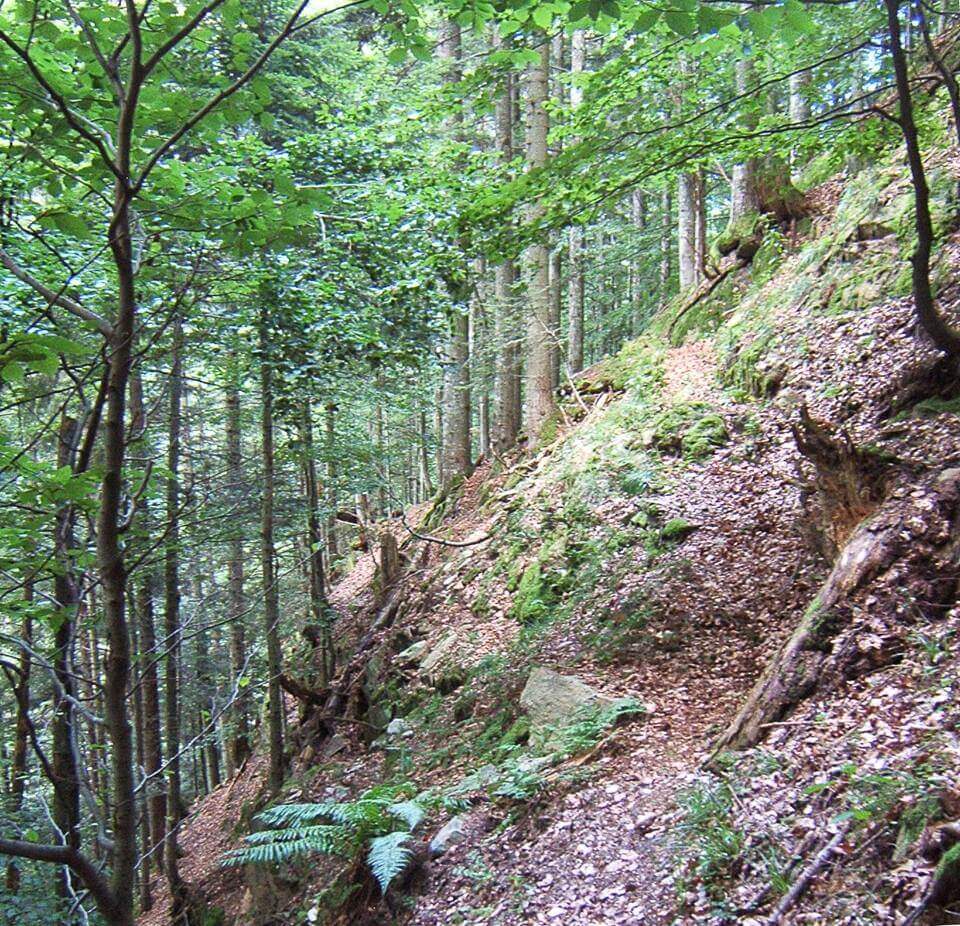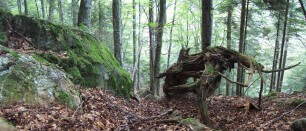 Varco la porta, e sono immerso in morbidi muschi. Velluto adagiato sulla vita che scorre. Dove son muri, prima eran coltivi che prima eran boschi, e nuovamente lo sono Così gira la ruota del divenire.
L'ombra del fitto si dirada alla luce Ora lo so, qui dovevo arrivare. Sulla valle è un balcone, di larghe vedute.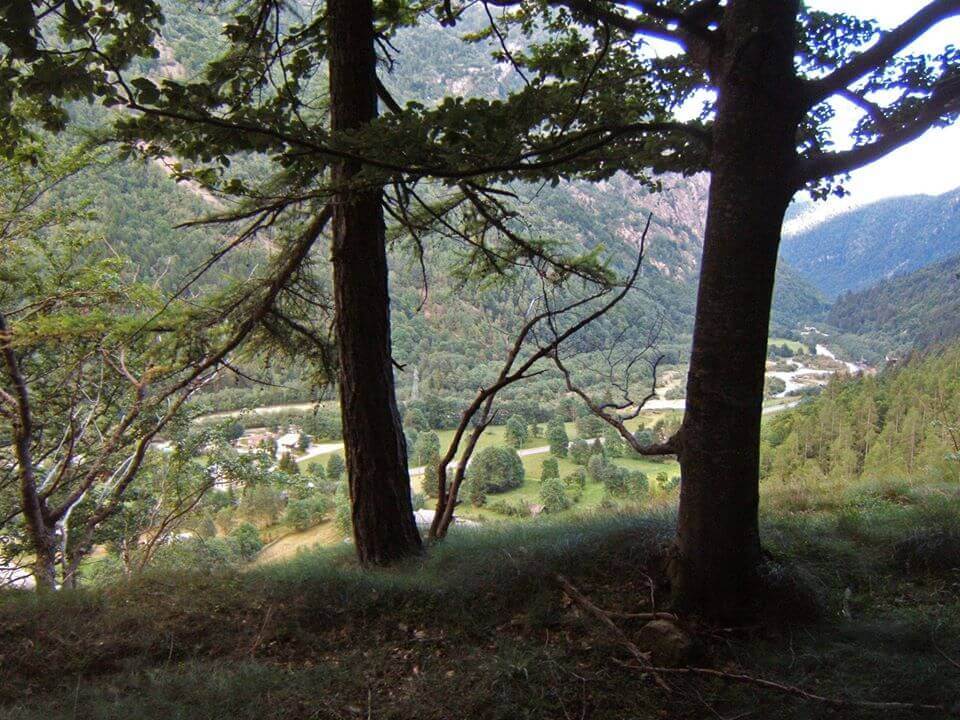 E ricordo le feste, il gelato, e le trine. Mi aggiro pensante, con passo lieve. Se ancor fossi fungo apprezzerei l'intenzione.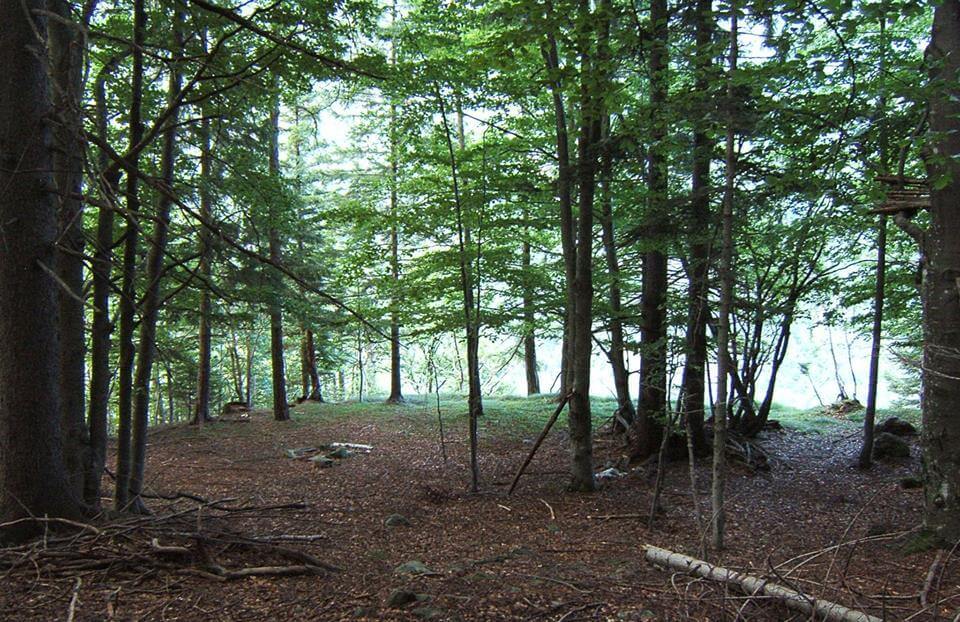 Dove sotto eran prati, e mucche festanti ora son case senza campane. Se coltivi qualcosa lo devi curare sennò sono erbacce, che dan poco raccolto.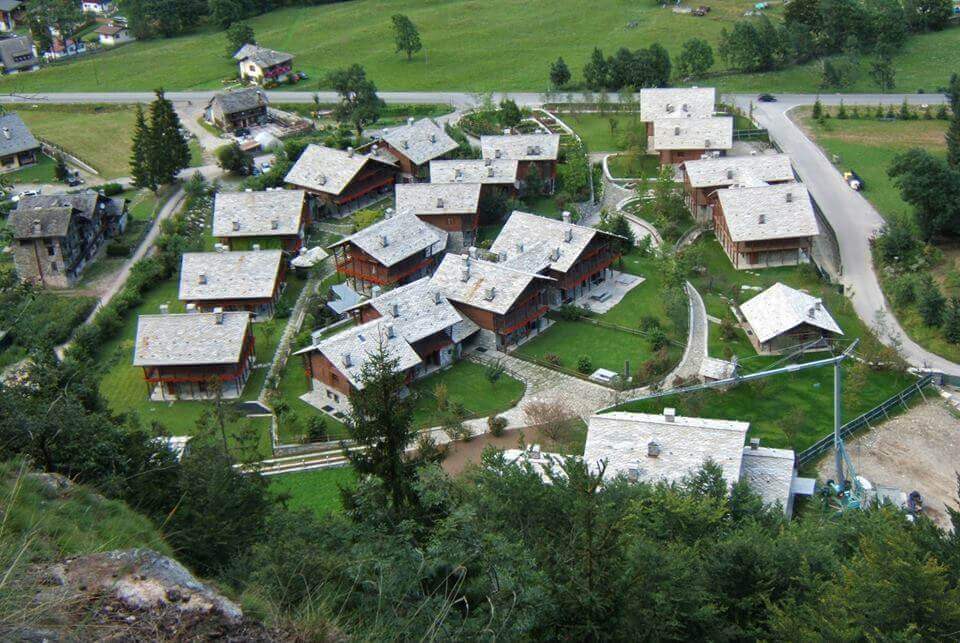 Ma eccolo il quadro e la cornice di rami, per vederlo un pochino mi devo addestrare...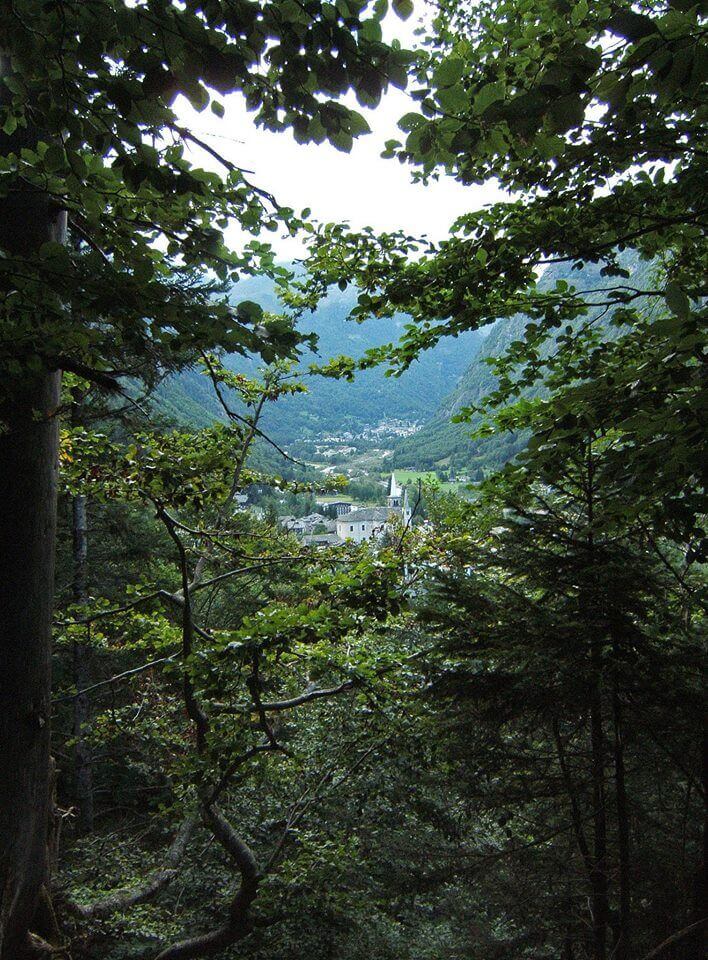 era più aperto nel profumo di viole ...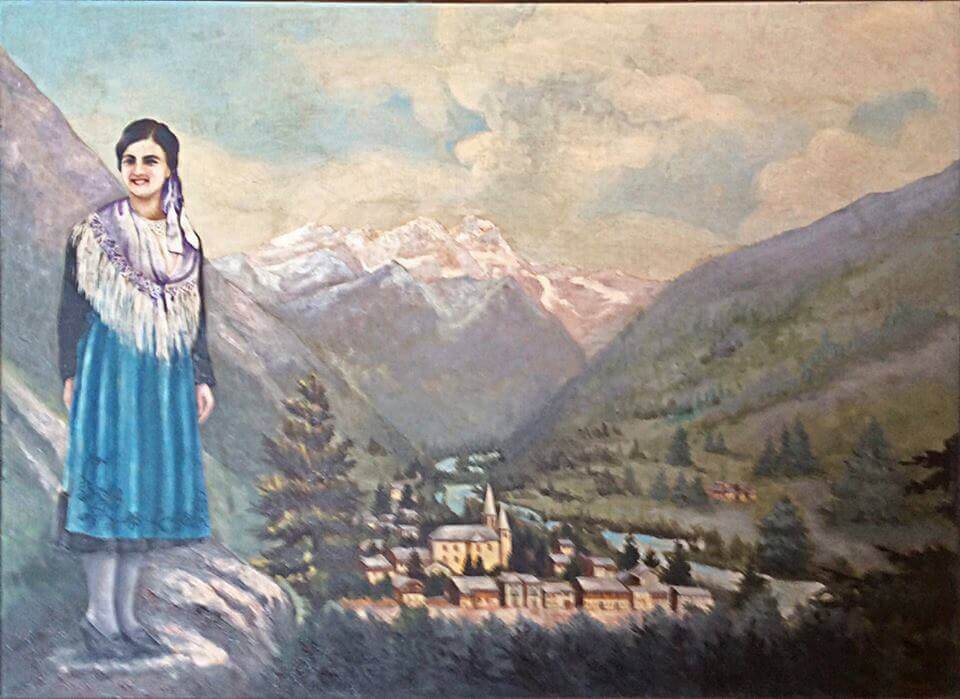 Ma il costone è ancor lì, che mi guarda di fronte e saluto quel cirmolo, che ha un falco tra i rami Solo tra i tanti, anche lui sul burrone un cuore esitante.
 Giovanni Enzio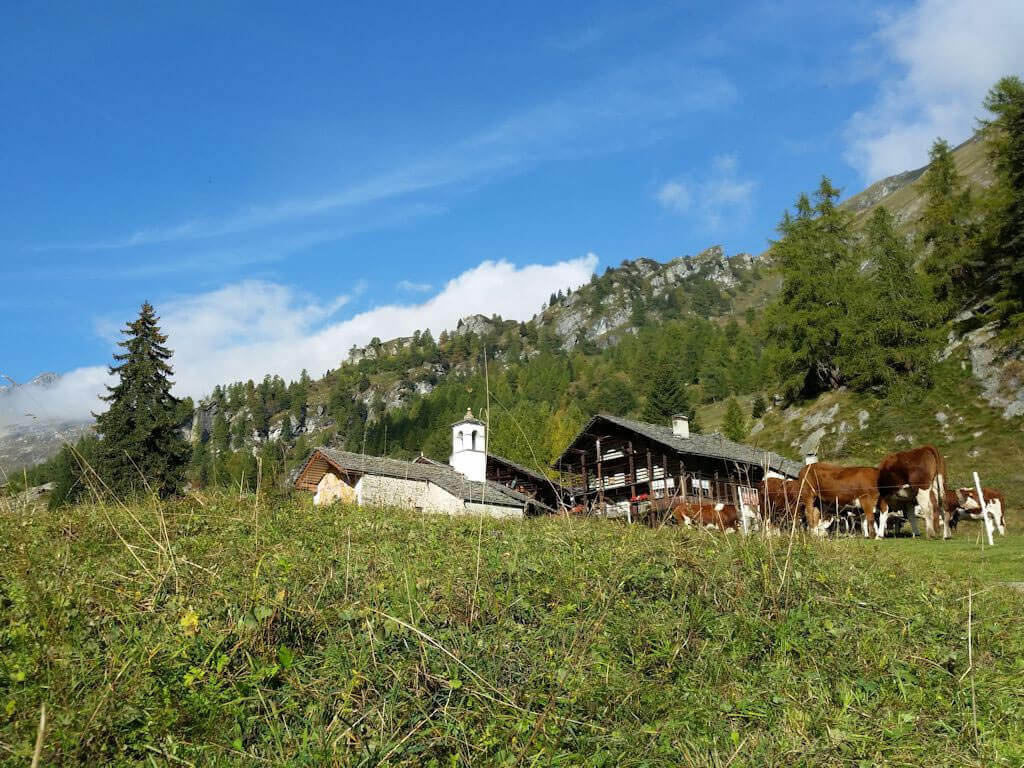 Per me andare a Otro è, ogni volta, un'emozione nuova, un mondo dove ritrovare me stessa, immersa negli armoniosi contrasti cromatici e suoni della natura che mi fanno entrare in simbiosi con tutto.
Era da mesi che non andavo a Otro, mi mancava e di recente ci sono tornata con un amico che non conosceva la valle, un'esperienza nuova che mi ha dato tanto nel poter trasmettere ciò che è per me la montagna, e la Val d'Otro in particolare.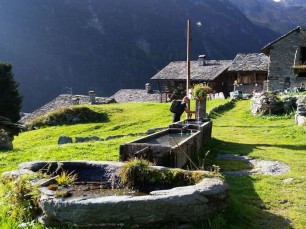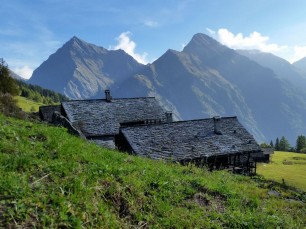 Siamo partiti da Alagna in una splendida giornata autunnale, di quelle in cui l'aria è intrisa di luce che fa risplendere i colori e di profumi tipicamente ottobrini.
Imboccato il sentiero n° 3 in Frazione Reale Superiore, nel bosco che accompagna fino alla piana si era avvolti dal brillare del sole tra le foglie ormai dorate, d'improvviso la scoperta della bellissima decorazione su un pietra raffigurante la Madonna ed una storia a Lei legata: "il Sasso della Madonna" che recita
"La Madonna ascoltò le loro preghiere e si caricò di tutti i loro fardelli.
Erano così pesanti che appoggiando la mano sul sasso per alzarsi,
lasciò per sempre la sua impronta"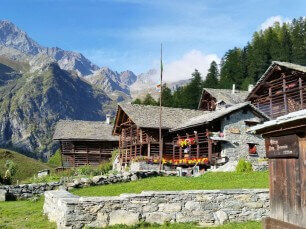 La salita continua fino ad arrivare nella piana dove, dove ci si trova in un anfiteatro naturale, accolti dalle mucche al pascolo, ormai scese dagli alpeggi più a monte, e non solo … il fascino delle baite Walser, immutate nel tempo porta sempre ad incantarsi nell'ammirarle.
Qui abbiamo percorso il classico giro tra le frazioni, partendo da Follu, per poi raggiungere Dorf con la sua splendida fontana monolitica. Quindi a Scarpia e a Pian Misura, l'alpeggio di Otro, per poi riscendere diretti a Ciucche e poi a Fellerech dove stavano ristrutturando una baita nel totale rispetto dell'architettura Walser della vallata.
Difficile è stato lasciare quei luoghi ed incamminarsi verso Alagna, perché Otro sa dare emozioni nuove ogni volta che la si visita.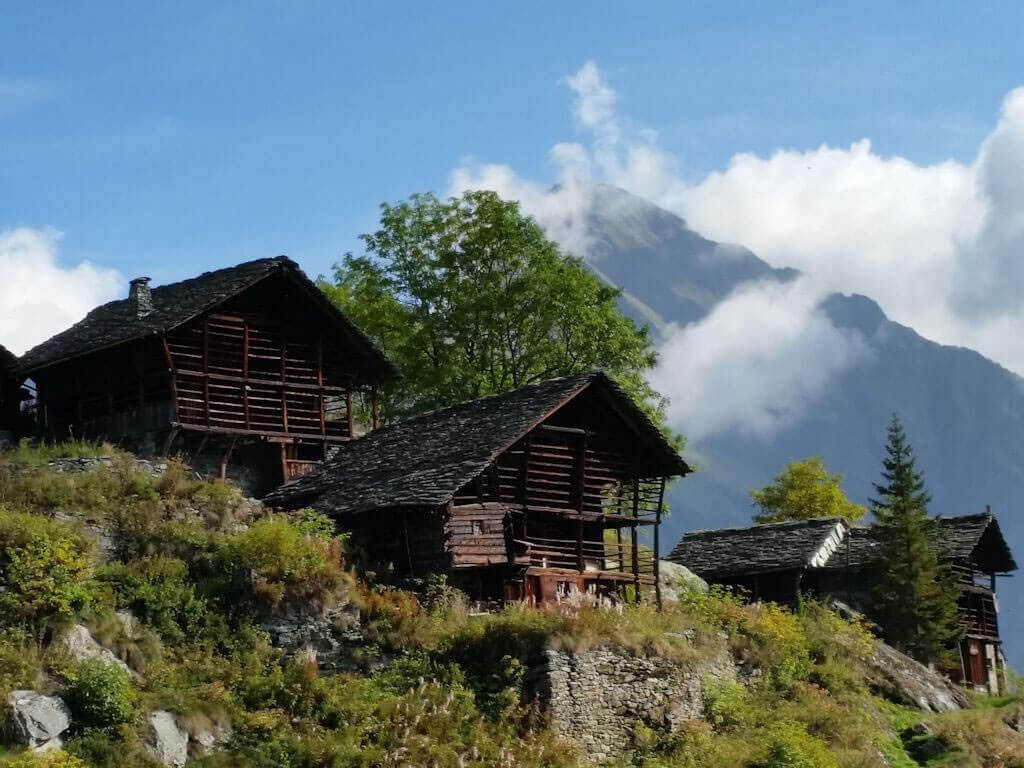 Gabriella Berlanda
Se volete fare una bella camminata al di fuori degli itinerari più noti e frequentati vi consiglio di provare a salire in Valpiana, un alpeggio nel comune di Mollia. Il percorso è molto suggestivo e si prende al di là di questa chiesetta, di fronte alla frazione Buzzo di Riva Valdobbia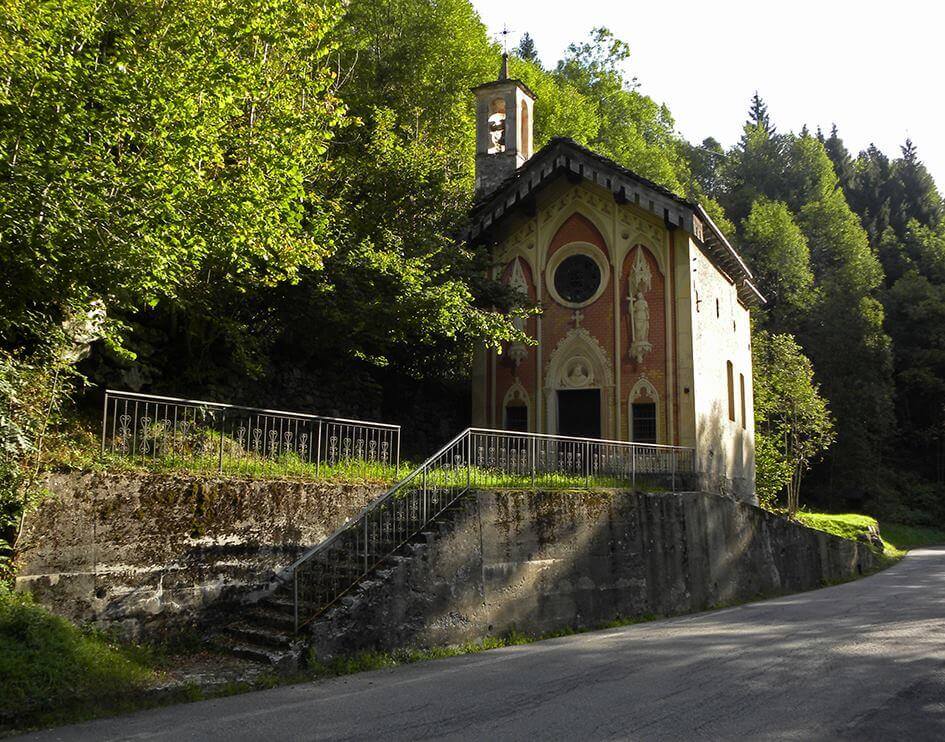 Il sentiero è segnalato con il numero 80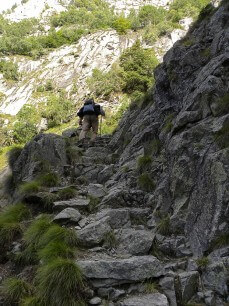 Nel primo tratto il sentiero si inerpica ginnico lungo un erto dislivello di 900 metri, con una gradinata sapientemente realizzata che supera i balzi rocciosi aggirandoli sulle cenge naturali presenti
Dove non era diversamente possibile il sentiero è stato intagliato nella viva roccia; nel complesso risulta ben visibile, solido e ben costruito.
Resto ammirato nel considerare il tanto lavoro che è stato necessario per realizzarlo quando era "fame d'erba"
A quota 1.450 metri si incontra questo antro, scavato sotto un grande masso.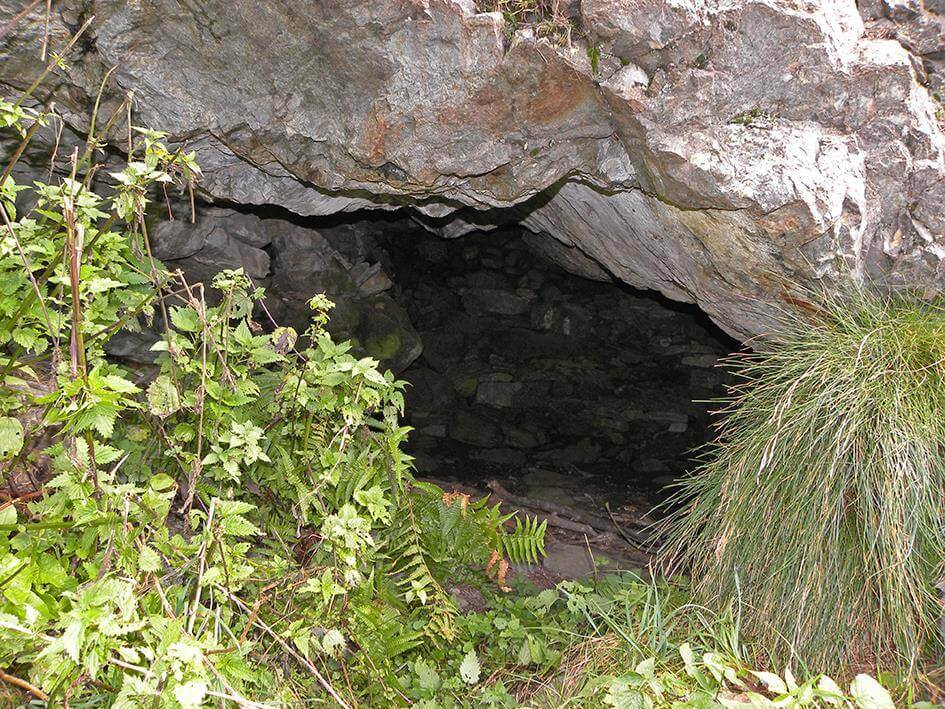 Ci sono entrato, e mi sono sentito come un topolino dentro una di quelle trappole che se appena tocchi qualcosa di sbagliato ti casca il soffitto addosso ...
Poco oltre, alla destra del sentiero, sgorga una fresca sorgente d'acqua. Alla quota 1.540, su una balza erbosa che si affaccia a strapiombo sul fondovalle, si incontra l'alpe Giacetto con i suoi maestosi frassini a candelabro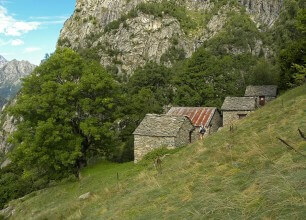 Questi alberi un tempo venivano devotamente coltivati nei pressi dei casolari, e annualmente venivano potati per utilizzarne il fogliame, che era considerato un utile foraggio integrativo per gli animali, e le frasche venivano utilizzate per alimentare un fuoco vivace per scaldare il latte e fare il formaggio
Questa ripetuta pratica ha fatto assumere ai frassini la caratteristica forma a candelabro, Lungo tutto il percorso la dimensione verticale regna sovrana
Sul lato opposto della valle è visibile il pianoro e il casolare dell'alpe Otgnoso
Sullo sfondo svetta il Corno Bianco e biancheggia il nevaio di Puio.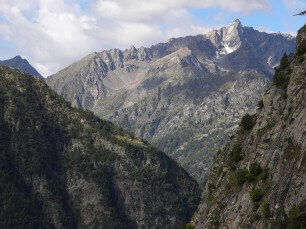 Sul lato opposto della valle è pure visibile il pianoro e i casolari dell'alpe Ghiaccio, incastonati tra ripide pareti rocciose
A quota 1.700 le latifoglie lasciano posto alle conifere
Sullo sfondo l'erto bastione roccioso della Punta Parete, regno e rifugio di aquile e camosci. Il giardiniere che si prende cura di questo versante è proprio un grande artista, e colori e profumi si mescolano armoniosi nell'aria. Siccome non hanno ancora inventato una macchina profumografica posso solo raccontarvi la luce, per gli aromi mi affido alla vostra immaginazione ...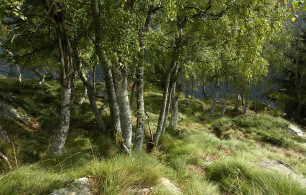 A quota 1.830 termina la salita del versante Valsesiano e si apre la visuale verso l'erba della Valpiana
Sulla cresta di sfondo, al centro, è visibile lo stretto intaglio chiamato il "buco del tuono"
Qui si trova un morbido panettone erboso che si affaccia a precipizio sui paeselli del fondovalle.
Una "possa" è d'obbligo per rimirare il vasto panorama e riprendere fiato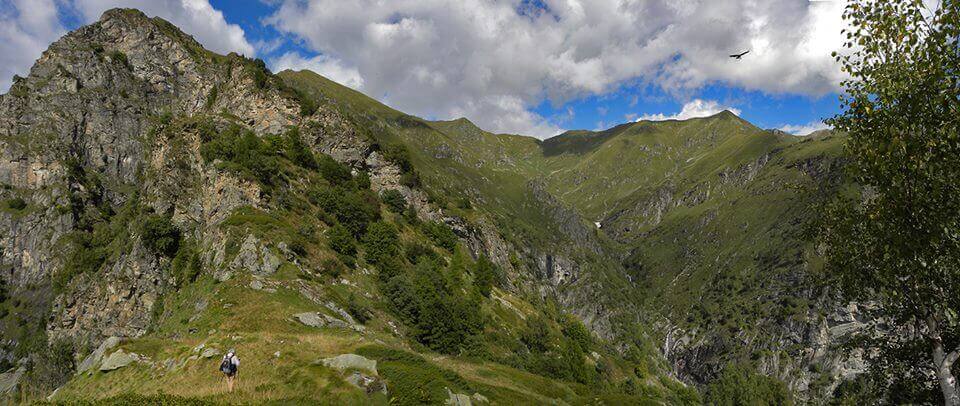 Da quassù mi viene da meditare sulle parole "valligiano" e "montanaro" e coglierne la sottile differenza, soprattutto in fatto di orizzonti.
Lascio il morbido panettone che ha ospitato il tranquillo spuntino della mia "possa" e intraprendo la seconda parte della camminata.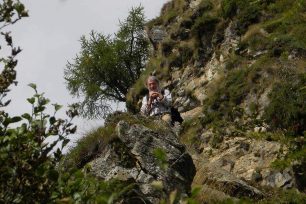 Ora il sentiero si inerpica per un ultimo tratto lungo una cresta rocciosa assai vertiginosa ma comunque agevole e ben percorribile. Il paesaggio mi assorbe, così mi sento un po' roccia silente che si crogiola al sole, e un po' gallo forcello infrattato tra i cespugli, fiducioso di poter sfuggire anche oggi alla zampata dell'aquila.
Il Passo della Cricca è collocato sulla sommità di questo sperone
Non ho dubbio nel pensare che percorsi alternativi sarebbero stati comunque più difficili da realizzare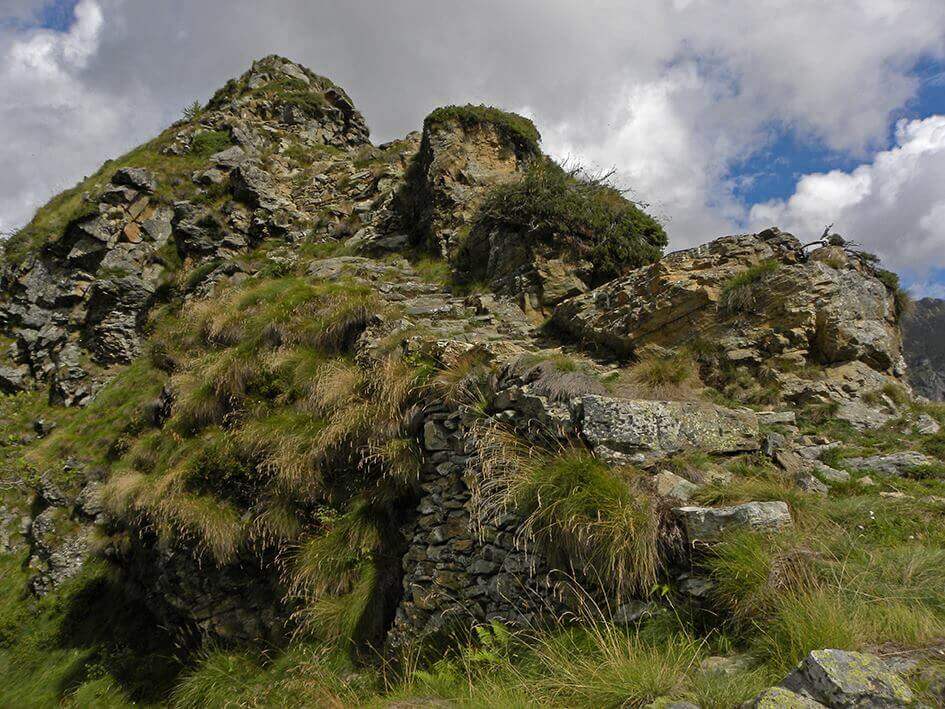 Giusto per ricordare che stiamo salendo in Valpiana il percorso gioca a fare equilibrismo sulla dorsale tra i due opposti strapiombi, ed ecco l'ometto del Passo della Cricca, a quota 1.910 metri, la porta della Valpiana, che come potete vedere di piano ha proprio solo il nome, Intanto laggiù il "buco del tuono" sta cambiando di umore (18)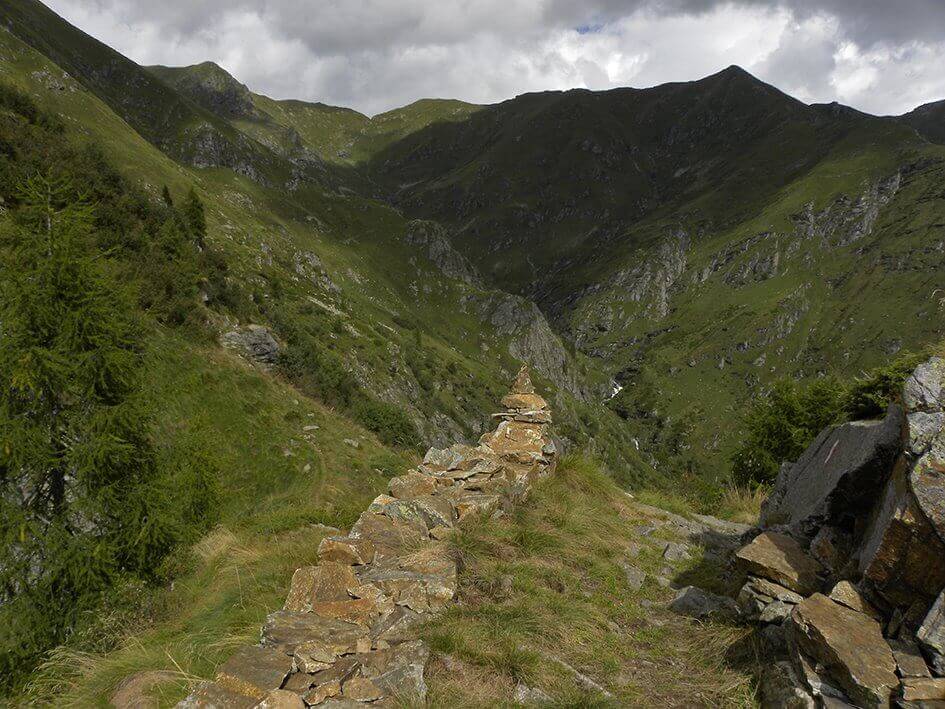 Nel fondovalle, in basso a destra, 900 metri più sotto, le case della frazione Buzzo mi ricordano da dove sono partito
Un poco più a sinistra è riconoscibile il ripido intaglio del Croso del Diavolo, detto anche Rio del Pecà ... chissà perché ...
E con questo ultimo tratto in equilibrismo tra i due versanti lascio la vista del fondovalle
Da qui in poi è tutto e solo "Valpiana"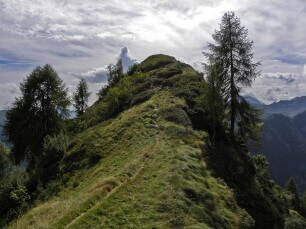 Oltre questa dorsale si trovano i casolari dell'alpe Valpiana.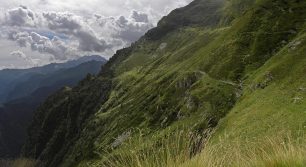 Mi volto indietro, e considero che effettivamente il sentiero in questo ultimo tratto è diventato pianeggiante, ancorché aggrappato sul ripido pendio. Alla sinistra dell'immagine è visibile il morbido panettone che ha ospitato la mia "possa" e poco più a destra è visibile il pinnacolo del passo della Cricca, entrambi a precipizio sul profondo intaglio scavato dal rio Valpiana. Ed ecco apparire i casolari dell'alpe Valpiana
Là in alto le nuvole ora nascondono il "buco del tuono" e mi rendono un poco timoroso e inquieto, so che se vogliono possono diventare demoni
In basso resiste un nevaio di accumulo di valanga; siamo alla fine di settembre, forse quest'anno riuscirà a sopravvivere all'estate e ricongiungersi all'imminente bianco dell'inverno
E' così che nascono i ghiacciai, ed io tifo per lui, magari riuscirà a crescere quel tantino sufficiente a far abbassare un po' le penne al distruttivo dilagante spadroneggiare umano Nella semplicità costruttiva dei casolari ammiro questa porticina pazientemente ricavata con punta e mazzetta dalla viva pietra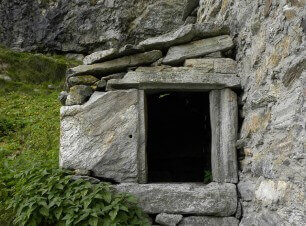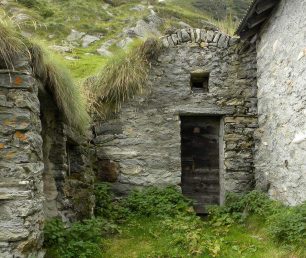 La cantina del formaggio.
Ai tempi della mia infanzia questo alpeggio ospitava mucche da latte di razza "antica" piccole e agili come capre
Ma ora gli umani preferiscono mucche esigenti, grosse e pesanti, impossibili da portare quassù, così questo alpeggio è diventato regno di capre e pecore.
Per la pausa pranzo scelgo di raggiungere l'acqua che scorre poco distante
Sul percorso incontro un recinto in pietra, fatto per liberare un poco di prato dai sassi, e diventare comodo ricovero notturno delle greggi
Il tempo di apparecchiare ed ecco scendere una pioggerellina leggera, di quelle che non bagnano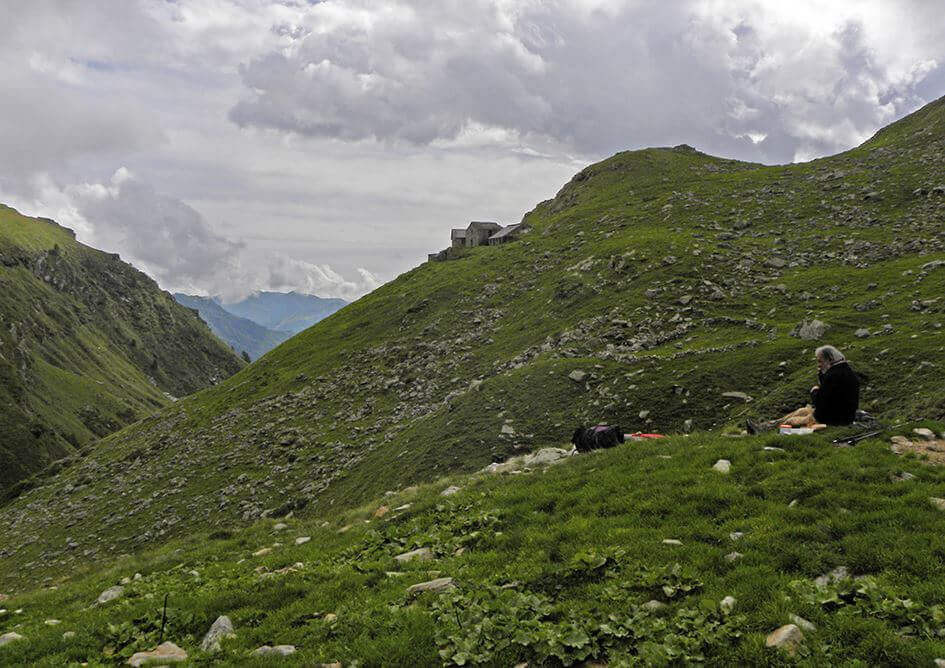 Le nuvole si stanno facendo più scure, e so che il "buco del tuono" non ci mette niente a risvegliarsi, così gli cantiamo una canzone, in allegria, magari per questa volta ci vorrà graziare ...
La mappa del percorso, tratta da OpenStreetMap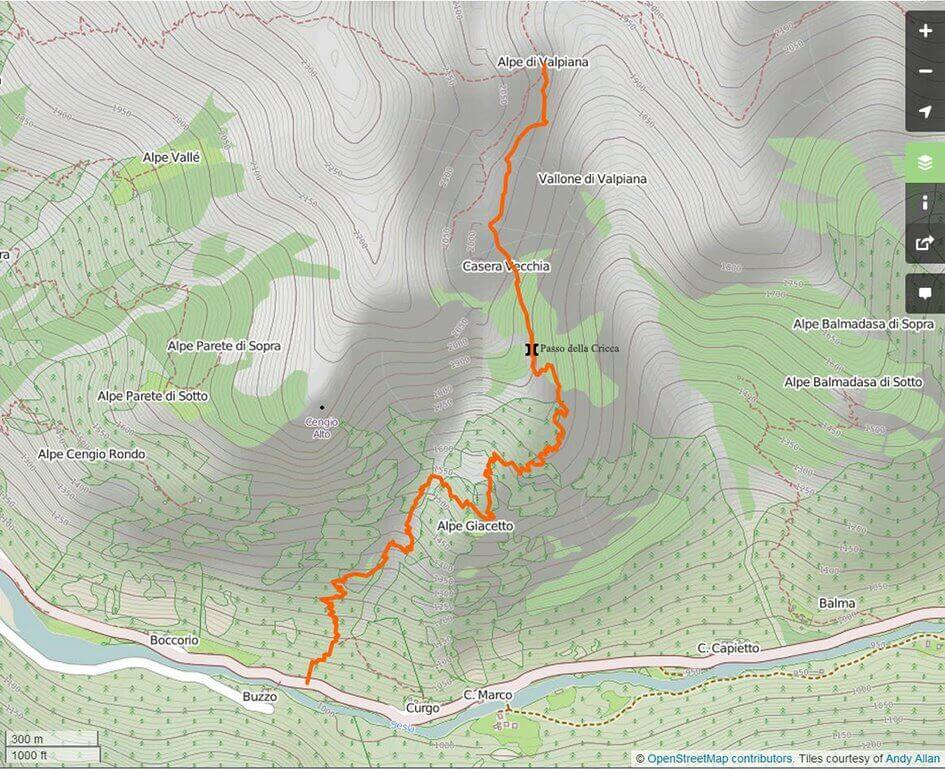 Un bel racconto sui pastori di Valpiana lo potete trovare qui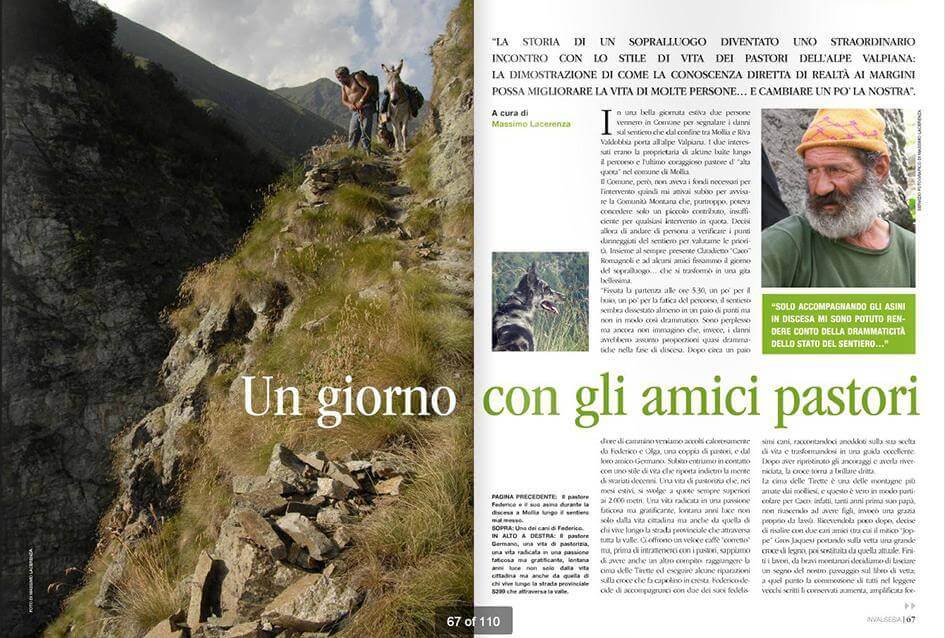 Enzio Giovanni